"Ready For It" May Be The New Song Off 'Reputation'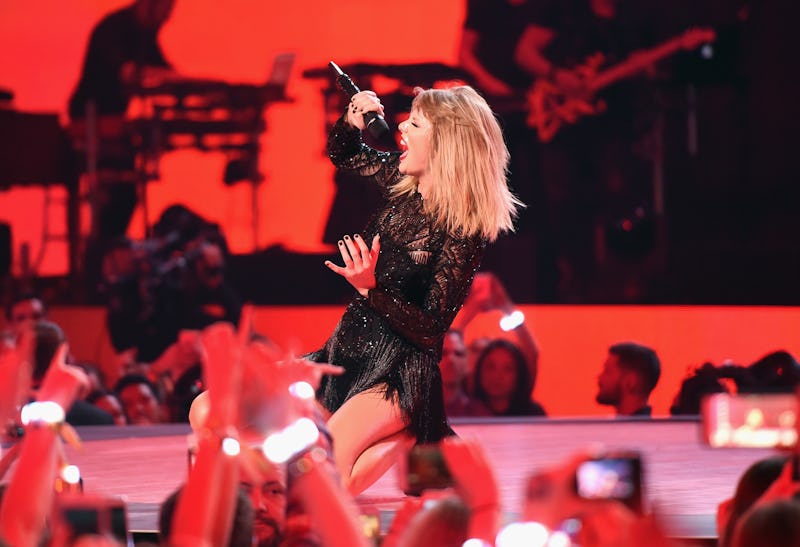 Kevin Winter/Getty Images Entertainment/Getty Images
Taylor Swift thoroughly shook her legion of fans Saturday by semi-dropping a new song in a seriously unexpected place. A snippet of Swift's new track was the backdrop for ESPN's college football promos this weekend, and the mysterious release has some wondering about the source of the new music. "Ready For It" may be a song off Reputation, Swift's eagerly awaited new album.
Part of the new song debuted on Disney television networks Saturday night as the media giant promotes both the beginning of its fall primetime TV schedule and the start of football season. Swift also gave ABC permission to use "Look What You Made Me Do" in a preview, further evidence of a special partnership between Swift and the brand. The title of the song hasn't even been officially confirmed yet, but both ESPN and ABC's official Twitter accounts posted "#readyforit" along with their promo videos, and the collective extrapolation has named the song independently.
People reported that "Ready For It" is in fact "new music off [Swift's] forthcoming Reputation album," but doesn't say whether that's straight from Swift herself. While it seems odd that Swift wouldn't coordinate the promos with a more official single release (as of Saturday night, the song wasn't available to stream on Amazon Music, Apple Music, or Spotify), you also have to consider her history as an artist. She hasn't put out singles outside of an album in a long time, and since she has an album coming out, it only makes sense that this new song is on the Reputation track list.
Swift should be looking at another huge success with "Ready For It" given the way her first single off the album has been received. She broke numerous records with "Look What You Made Me Do," including both YouTube and Spotify's day of release streaming records. Unfortunately for Swift, the critical reviews have not been as optimistic as the song's commercial success. NPR wrote that Swift's habit of trying to present herself as both the villain and the victim has become untenable, while USA TODAY highlighted the hypocrisy in Swift trying to critique society for being judgmental while spoofing her friends and exes on film.
Reputation is still very much a mystery, but as the release date approaches, Swift's music and marketing will show some insight into her goals for the album. The word teaser feels particularly apropos when describing this faux-debut for "Ready For It," because it has definitely left more questions than answers.