The One Reason Why 'Avengers 4' Will Probably Be The End For Robert Downey Jr.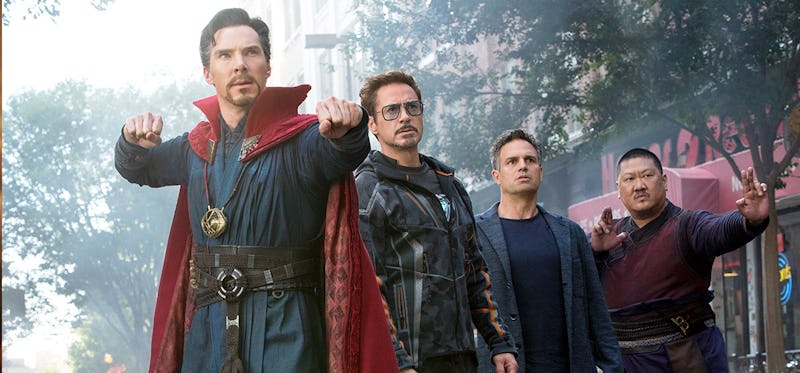 Walt Disney Studios Motion Pictures
How long can a talented millionaire superstar play a talented millionaire superstar in the Marvel Cinematic Universe? If you're Robert Downey Jr., the answer is 10 years and counting. But, with Avengers 4 just around the corner and rumors swirling about the fate of the original team of Earth's Mightiest Heroes, fans have started asking the question, is Robert Downey Jr. done playing Iron Man? For Marvel fans, it's impossible to picture the MCU without the actor. To quote Tony Stark, he is Iron Man. And yet, like all good things, this too must come to an end, but does it need to end now?
Like most of the original Avengers team, Downey is playing it cool when it comes to his role in the MCU past Avengers 4. Leading up to Avengers: Infinity War, Tony Stark and Steve Rogers (aka Captain America) were largely considered the favorites to die in the battle against Thanos. Spoiler alert — that didn't happen, but that doesn't mean the rumors won't gain steam again prior to Avengers 4's release. There's never really a good time to say goodbye to a role that has transformed your career, but Avengers 4 is as good a time as any. And while Downey has been less open about discussing his eventual end date than his co-star Chris Evans, he recently admitted that he has given some thought about his inevitable departure from the franchise.
For Downey, the calculation is simple: keep playing Iron Man until it stops being exciting. "I could have said when the first Avengers came out: 'It's never going to get any better than that. Everybody stop.' But to me it's always about people and opportunities, like the [Infinity War directors] Russos, who I adore," he said in an interview with News Corp Australia Network in 2017. It's true that as the MCU's longest-running character, Downey has gotten to work with new directors and cast members over the years, all providing fun new adventures in their own way. However, the actor added that he was very conscious of not holding on for too long. "I just never want to blow it for the last six or seven [MCU movies] I have done by dropping the ball because I decided to go do it one more time," he said. "I just want to hang up my jersey before it's embarrassing."
Downey's current Marvel contract only has him confirmed through Avengers 4, according to Den of Geek, which means that 2019 might be the perfect time for him to leave the role behind. Avengers 4 will be Downey's ninth Marvel film (not counting a cameo in The Incredible Hulk, which has, essentially, been dismissed from MCU cannon by the masses), and nine seems like as good a place to stop as any. It's also worth noting that, should the rest of the original Avengers cast (specifically Chris Evans) leave the franchise after Avengers 4, it might be strange for Downey to be the last man standing. Not to mention the fact that if the MCU wants to continue to evolve and flourish, certain storylines and characters will have to naturally come to an end. At a certain point, you have to know when to quit.
Granted, just because Downey stops playing Iron Man doesn't mean he has to stop playing Tony Stark. Should Tony survive Avengers 4, it's entirely possible that Downey could return for supporting roles or cameos in future films as a civilian. Marvel has no plans of recasting the role of Tony Stark after Downey decides his time is up with the studio. "There is nobody who can take over Iron Man from Robert. I don't think the audience would accept that," Infinity War co-director Joe Russo told CInemablend. "He never mentioned to us about leaving Iron Man, but it will happen at some point of time." Russo is right: there's no replacing Tony Stark, but Iron Man, well, that's another story. The superhero mantle has been passed on in the comics, and already MCU fans are eyeing Shuri from Black Panther to take over as the Avengers' resident tech crime-fighter.
Should Downey decide he's done playing Iron Man after Avengers 4, there's no question the MCU will mourn his loss. But no matter what happens, we'll always have a decade worth of awesome superhero movies.