The Sneaky Reason HBO's 'Room 104' Will Give You Déjà Vu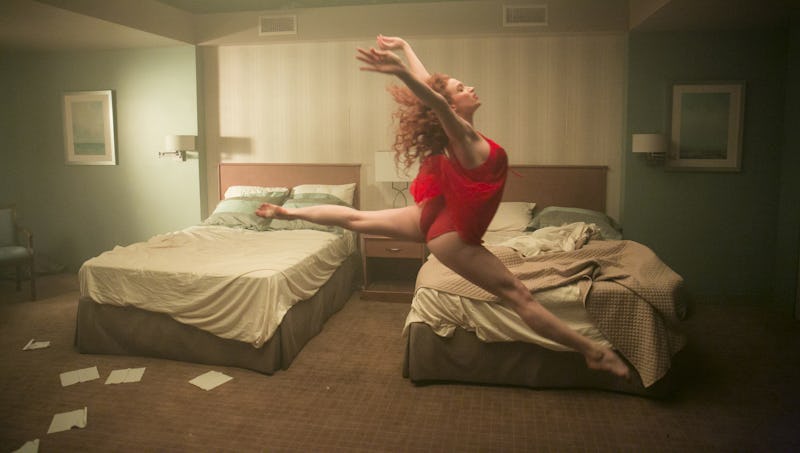 Jordin Althaus/HBO
As television continues to fall back in love with anthologies, HBO is kickstarting a brand new series of standalone stories, all of which have just one thing in common: a hotel room. But is Room 104 based on a real hotel? Where is the anthology supposed to take place?
The show was created by Jay and Mark Duplass, the sibling filmmakers who previously shepherded the short-lived comedy Togetherness and the current animated series Animals, both for HBO. (Their production company is also responsible for such bizarre indie gems as Baghead, Safety Not Guaranteed, and Creep.) Every half-hour installment of Room 104 will feature entirely new actors playing entirely new characters, the only thing linking them together being the fact that each story takes place within the confines of the same four nondescript walls of the same banal hotel room.
The only information about the show's setting supplied by HBO's official description is that the anthology takes place, "in a single room of an average American motel." The Duplass brothers gave a little more detail when they first announced the project back in August of 2016, telling Deadline that, "We've all seen stories set in seedy motels and high-class international resorts, but for years we've been fascinated by the funny, weird, sad, scary, absurd things going down in that corporate chain hotel near the airport."
While promoting the new series, Jay Duplass revealed to IndieWire that Room 104's hotel does have a specific location — Cleveland — but production takes place in Los Angeles, and the room's very nondescriptness means that the show could be taking place pretty much anywhere in the country. "What we're interested in mining is the magic in the mundane," he told IndieWire. "That is something that we have always worked on in our filmmaking. We find regular life to be really special and we like to go deep and find the intricacies there."
If the room feels familiar, that's because it looks like any boring $100 hotel room you might find in a corporate hotel chain outside of a major city's airport. The set remains static each week, featuring nothing more than two twin beds, a night stand, a television, and a bathroom. This isn't the opulent creepiness of The Shining's Overlook Hotel or the quirky uniqueness of The Grand Budapest Hotel. Instead of being a character unto itself, the room acts as a blank canvas onto which a different painting can be projected each week.
The Duplass brothers described this kind of hotel as "funny, weird, sad, scary, absurd," and the show succeeds at hitting these varied marks, if advance reviews are any indication. "The very anonymity of the room means it can be anything," Uproxx's Alan Sepinwall wrote in his review of Room 104. "The setting for a horror story of a babysitting job gone awry in the opening installment, or an improvised MMA arena for two female fighters preparing for a bout, or the stage for a wordless ballet between a jaded housekeeper and a younger guest."
Even though anthologies are becoming more common, most of their kind still tend to stick to one format: crime for Fargo, horror for American Horror Story, sci-fi for Black Mirror, etc. But the mundane setting of the new HBO series allows the show to reinvent itself every week and explore many different genres within the space of a single season. That alone should encourage viewers to check in to Room 104.