'The Get Down' Gets Creative With Its Record Exec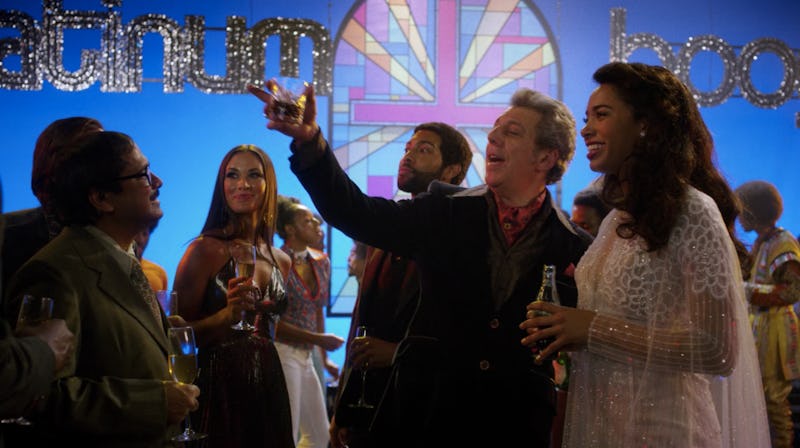 Netflix
The Get Down mixes fact and fiction as easily as Shaolin Fantastic can mix old records into an amazing beat. The show includes the odd real person as a character (including legendary emcee Grandmaster Flash), but isn't beholden to every detail of that person's life. (Spoilers ahead!) In Season 1B, Mylene continues to pursue her disco dreams, and that means meeting high-powered record executives like Roy Asheton, played by Eric Bogosian. The character appears briefly in the third episode, when he boasts about Marrakech Star Records and touts himself as the person you need on your side if you want to make it in the music business. Naturally, as Mylene's career starts to take off, it's with Marrakesh's help. But is Roy Asheton a real person with real clout?
There's no real record executive, past or present, by that name. But Roy Asheton may be a fictionalized representation of some real music history. In the Get Down universe, it's Asheton who's behind the rise of Donna Summer, one of Mylene's heroes and a real disco star. In a nod to her influence, Donna Summer's "Love To Love You Baby" scores Mylene's dalliance with Zeke in the movie theater in the eighth episode. In real life, Summer's fabulous disco career began at Casablanca Records, headed by Neil Bogart.
There aren't many other similarities between Asheton and Bogart. Casablanca Records was based in Los Angeles, not New York City. And the executive's career took a hit when Donna Summer sued Bogart, which, according to People, indirectly led to him leaving Casablanca. There wasn't time for a second act in the music business, since Bogart died of cancer in 1982 at just 39 years old, leaving behind a wife and children. Asheton is clearly a middle-aged east coast bachelor, so that's not much of a parallel. But according to his New York Times obituary, Bogart was called "the disco king" — a title The Get Down's executive would proudly claim.
On the show, fictional disco star Misty Holloway has a public breakup with Asheton, leading him to angrily reject her music and bring Mylene in to sing the sensual Gone With the Solar Wind soundtrack. There was no documented relationship between a big disco star of the period and her record producer, but that's the sort of dramatic detail that makes for good conflict, so it makes sense for The Get Down to include it.
Overall, Roy Asheton is a truly original character, from his hatred of religion to his bitterness over losing his relationship with Misty. But in the days of disco, real businesspeople like Neil Bogart helped real artists like Donna Summer find opportunities and define their unique sound.