Alison Brie's 'GLOW' Role Has Real Life Inspirations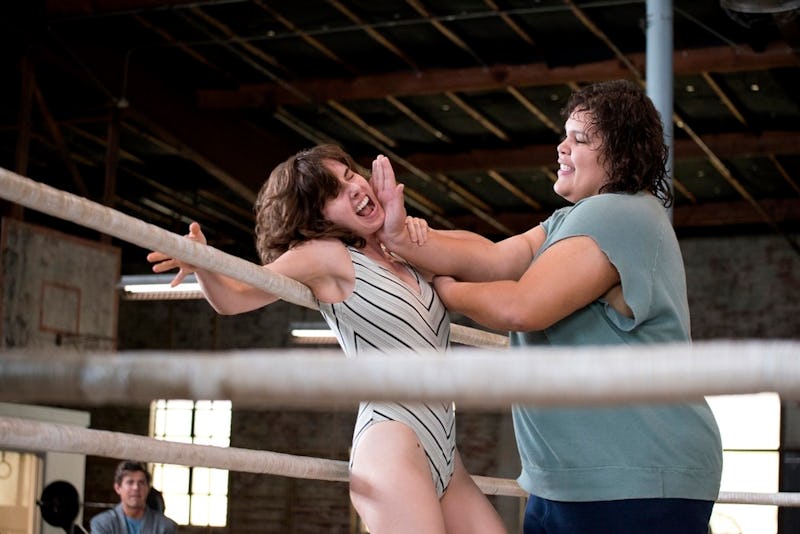 Netflix
Netflix has really started to stand out as the distributor of innovative programming with its constant stream of original content. And the newest addition to the Netflix repertoire is an original series about female wrestling called GLOW, which stands for "The Gorgeous Ladies Of Wrestling." The streaming series follows a group of badass women as they attempt to find success with their low-budget, campy show about female wrestlers. It takes place in the heart of the '80s, when the real series that inspired it was on TV. Alison Brie stars as Ruth Wilder, an out-of-work actor who finds her calling in the ring. Since the series is loosely based on a documentary, could Ruth on GLOW be based on a real person?
Well, it doesn't look like Ruth is based on one particular "Gorgeous Lady Of Wrestling," but the show itself dramatizes a combination of athleticism and theater that entertained audiences a few decades ago. A 1986 documentary entitled G.L.O.W: The Story of The Gorgeous Ladies of Wrestling looks at the amazing, first-of-its-kind series that showcased all female characters. The organization rivaled the male-centric World Wrestling Federation in talents and viewership, and many of its wrestlers even went on to find more success by joining the WWF after G.L.O.W's cancellation in 1990.
The show was ripe for adaptation, especially for a writer looking for an ensemble female project. "The camaraderie and the emotion, how deep it was for [the original women] and how the transformative the experience was what hooked us," creator Liz Flahive said at the GLOW panel at the Austin Television Festival, according to Deadline.
Ruth tries to make it in traditional film and television on the show, but finds that female parts are few and degrading. Even though she has no wrestling experience, she finds that GLOW fulfills her creatively in ways that auditioning over and over again didn't. It's reasonable to assume that some of the original G.L.O.W. performers also found purpose and fun characters to play in an unexpected place. Brie, meanwhile, became fixated on her own GLOW part, telling Entertainment Weekly, "I fought for this one."
Personally, I am obsessed with the ideas behind Netflix's GLOW. If you are looking for something to make you laugh and cheer for some intensely hardcore feminine awesomeness, look no further. Although this new series is fictionalized, knowing these women were inspired a real group of athletes should make it even more fun to watch.