Here's Why 'The Kominsky Method' Will Sound So Familiar To Actors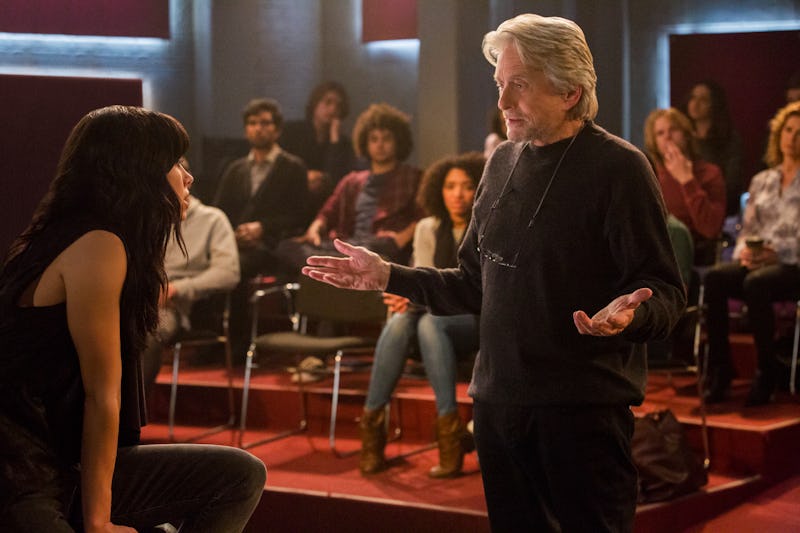 Mike Yarish/Netflix
TV super producer Chuck Lorre may have turned back the clock to explore the younger years of The Big Bang Theory's Sheldon on Young Sheldon, but his latest offering, Netflix's The Kominsky Method, explores what's on the other side of youth: Aging. Though Michael Douglas' Sandy Kominsky isn't based on a real person, the project is a very personal one for Lorre, who drew on his own personal experiences for the Netflix show.
Sandy is an acting coach who once had Hollywood fame himself. Though that's not autobiographical for Lorre, who isn't an actor, the creator of shows like Dharma & Greg, Two and a Half Men, and Mom has plenty of showbiz experience to draw from. And as for Douglas' character's job, viewers can draw comparisons to another acting legend when The Kominsky Method premieres on Nov. 16.
The Kominsky Method brings veteran actors Douglas and Alan Arkin together as best friends trying to navigate life in Los Angeles as they get older. Variety reported that at the summer press tour for the Television Critics Association (TCA), Lorre said, "The show began because of my desire to write about what I'm living, which is getting older and entropy and the decay of the flesh."
The 66-year-old Lorre further explained to Entertainment Weekly that his inspiration for the show came from his own aging. "I wanted to write about the experience of getting older: How that feels in terms of your body, your relationships, losing loved ones, being estranged from the culture. There's so much that goes on as you watch your body decay. So that was the impetus," Lorre said. "Internally, you don't feel your age. Everybody pretty much agrees with that. But then every once in a while you walk the past mirror and you go, 'Oh my God, who's that old guy?' That collision of perception is, I hope, where some of the comedy comes from."
Lorre's star also can relate to this idea of not realizing you've aged. "You get the script and say, 'They can't possibly be thinking of me for this part,'" Douglas told People, "then you look in the mirror and you go, 'Oh yeah, I get it.'" But that also appears to be one of the very reasons that led Douglas to do the TV series. "I do try to pick projects that resonate with me," Douglas said at the TCA panel per Variety. "I certainly understand Sandy Kominsky and some of the stuff that he's going through."
Sandy's acting star has waned, but neither Lorre or Douglas are has-beens by any means, nor are they acting teachers. Instead, Sandy's profession and the name of the show seems to be a play off the lessons taught by the most famous acting coach of all time — Konstantin Stanislavski and his "system," also known as "the method."
As Encyclopaedia Britannica outlined, Stanislavski was a Russian actor, director, and producer. After having a heart attack while performing in 1928, Stanislavski focused the rest of his career on educating people in the theater industry. The Stanislavski system is the basis for "method acting" since the main goal is for the actors' performances to feel authentic and for the audience to believe them. Financial Times notes that the components of Sandy Kominsky's particular acting method aren't clear. But the Netflix show has leaned into comparisons since the episode titles allude to Stanislavski's book on acting, An Actor Prepares. The episode names include "An Actor Avoids," "An Agent Grieves, and "A Prostate Enlarges."
Beyond Stanislavski, there are other acting teachers that The Kominsky Method may be paying homage to. For instance, TV Insider reported that Sandy says Diane Keaton is a past student. Interestingly enough, in a Los Angeles Times article where she discussed working with Douglas, Keaton also talked about training with Sanford Meisner. The Maggie Flanigan Studio explained in a blog post how the Meisner technique is a natural approach to acting that was partially inspired by Stanislavski's teachings.
While Kominsky will never live up to the legend of Stanislavski, Douglas' character is taking time to train the next generation of actors as he deals with his own personal problems. And you can see if Lorre's approach feels authentic when all eight episodes of The Kominsky Method hit Netflix.