'The Bold Type's Magazine Has A Very Real Inspiration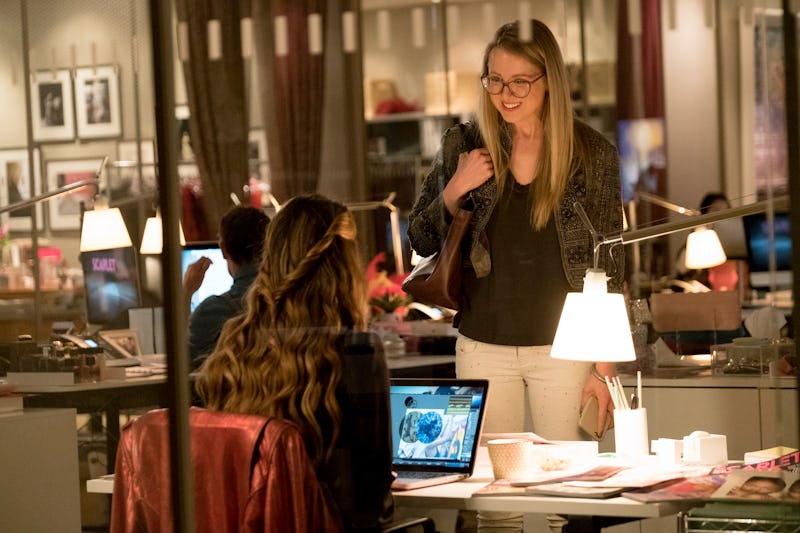 Freeform
Freeform's newest drama, The Bold Type, thrusts viewers behind the scenes of Scarlet, a glam and glossy women's magazine run by a staff navigating work, love, and sex amid the clamor of New York City. The publication itself is fictional, but the show should come backed with plenty of ripped-from-real-life inspiration, since Scarlet is based on a real magazine — and a pretty major one at that.
The Bold Type is executive-produced by Joanna Coles, the former editor-in-chief of Cosmopolitan, and has been marketed as a loose interpretation of her time there. Viewers already got a glimpse of Cosmo in action with So Cosmo, an eight-episode docuseries from E! following a number of the magazine's writers and editors, but The Bold Type is a scripted project that seemingly falls somewhere between Sex and The City and Netflix's Girlboss.
Melora Hardin (who you may know from The Office) stars as Coles' on-screen counterpart, Jacqueline Carlyle, while Katie Stevens, Aisha Dee, and Meghann Fahy play her dogged staffers: Jane Sloan, a newly promoted writer struggling to find her voice; Kat Edison, a social media director pushing for more daring and influential content; and Sutton Brady, an assistant with dreams of a fashion career and a clandestine in-office romance.
Their storylines blur the boundaries between personal and professional, but The Bold Type is, in essence, attempting to be a show about female empowerment. Where The Devil Wears Prada embraced the cutthroat side of media with steely taskmaster Miranda Priestly, The Bold Type aims to depict demanding but still supportive female figures. As creator and showrunner Sarah Watson told the New York Times:
"We always see on TV the women who are tough and not rooting for other women to succeed, and that's not the kind of mentors I've had in my life. I've had incredible female bosses, and I wanted to show someone one wants to bring up the next generation of strong women writers."
But while The Bold Type will certainly focus on timely, tangible issues like politics, Islamophobia, slut-shaming, and taking control of your own sexual pleasure — things that many women's magazines are covering, despite misguided preconceptions — it will also touch upon many of Cosmo's fun, silly, and delightfully chic aspects.
"I have hundreds of anecdotes that I've kept in a journal throughout my time at Hearst and Cosmo," Coles told the Times in the same interview. "Many of the incidents — including the incident in the second episode when someone gets a vaginal yoni egg, uh, stuck — are based on true incidents at the magazine."
So, Scarlet may be imaginary, but its inspiration is plenty real, and you can watch it come to life when The Bold Type premieres July 11.