Why You Might Not Be Seeing Scheana On The Next Season Of 'Vanderpump Rules'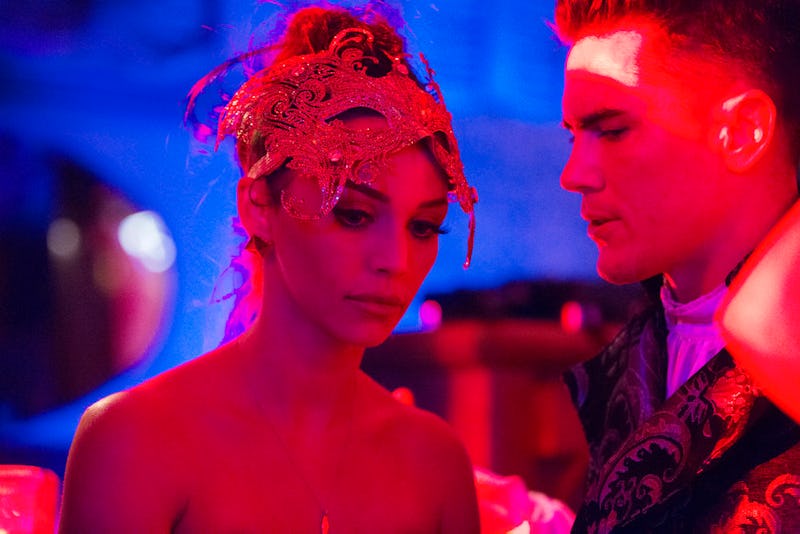 Isabella Vosmikova/Bravo
Scheana has been a staple on Vanderpump Rules since the show started. In fact, the whole backdoor pilot from Real Housewives of Beverly Hills was based on Scheana's relationship with Eddie Cibrian, because Cibrian had been cheating on then-wife and then-Housewife Brandi Glanville with Scheana (oops!) But now, six seasons later, Scheana could be ready to move on from SUR. But is it really possible that Scheana is leaving Vanderpump Rules?
It's hard to think about Vanderpump Rules without Scheana. What would it look like? She's been integral to a lot of the drama — remember when Stassi hated her and treated her like the new girl? Or when she was best friends with Katie until they weren't best friends before Scheana's wedding? And then when Scheana and Lala became besties? Or when Scheana got married in a crop top? Or divorced? Heck, Scheana even embroiled herself deep in the drama of Season 6 by trying to convince Brittany to go out with Adam, the new SUR bartender, even though Brittany was still with Jax, who is supposed to be Scheana's friend. Oh, and that whole thing with Scheana's ex-boyfriend Rob and how he didn't say I love you, allegedly. These are all big moments for Vanderpump Rules, so it's hard to picture the show without her.
That said, Scheana is expanding her reach beyond Los Angeles — she's recently wrapped up a starring role in the Las Vegas production of Sex Tips For Straight Women From a Gay Man at the Anthony Cools Theater at Paris Las Vegas. She was the aforementioned straight woman, and Chester Lockhart was the gay man. Her time seemed it could be up on the show because, as the Las Vegas Review-Journal reports, Scheana's contract ended at the beginning of May. The show's website doesn't list her as a lead anymore, either. Even so, Scheana was ready to try and do both the Vegas show and Vanderpump. She told the Las Vegas Review-Journal, ["Vanderpump] would start shooting the show in about mid-May, and that's where my priority would be, but I would want to do both, absolutely."
Following her Vegas vacation, Scheana got a new apartment in Marina del Rey, California. If you're a Vanderpump Rules fan, you know that Marina del Rey is not West Hollywood, AKA where Vanderpump Rules is mostly filmed. But not to worry — Scheana told a fan on Twitter that just because she doesn't live near SUR doesn't mean she won't be working at SUR.
So perhaps Scheana will return for Vanderpump Rules Season 7, and let's hope that Rob has absolutely nothing to do with it. Scheana and Rob broke up shortly after filming wrapping on Season 6, but if these two got back together for Season 7, I wouldn't be able to watch. I can't take hearing about how Rob can hang a television in 37 seconds and how he's such a man. Vanderpump Rules will lose viewers. Scheana has recognized how silly she sounded all season, though — on the Juicy Scoop With Heather McDonald podcast, Scheana said her endless stories were fueled by a little too much marijuana:
"Here's my excuse and my mom probably hates when I say this: Look y'all, I smoke a lot of weed. I tend to repeat myself a lot. I forget things a lot. I think I was just so impressed by him that I just kept saying it over and over again. Clearly, there are flashbacks. In flashbacks, I felt like I only told that story once, but no I guess I told it like 27 times."
Well, uh, if that's her excuse, maybe lay off the pot for Season 7, huh? At least we know there's a chance she'll be around for it, and we probably won't have to hear anything else about Rob. Fingers crossed.