Don't Expect Sean Spicer At The WHCD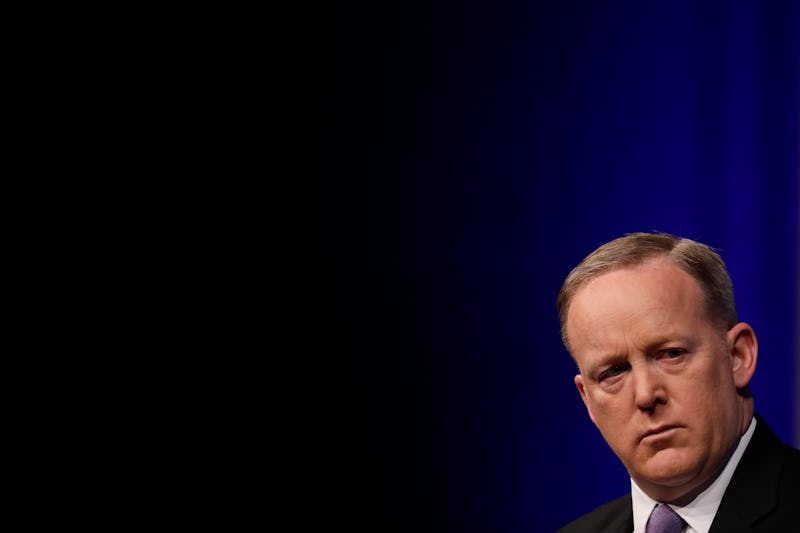 Aaron P. Bernstein/Getty Images News/Getty Images
It might seem like a certainty that the White House official most in contact with the press would go to the main event meant to signify a friendly relationship between the two entities. However, just like the president who he represents every day to the press, Sean Spicer will not attend the White House Correspondents' Dinner. President Trump announced that he wouldn't go to the event, and the whole White House staff has also vowed to stay away too out of solidarity.
There was some outcry after Trump said that he would skip the dinner in February. White House spokeswoman Sarah Huckabee Sanders explained on This Week with George Stephanopoulos that "it's … kind of naive of us to think that we can all walk into a room for a couple of hours and pretend that some of that tension isn't there." The tension she's referring to, of course, is the antagonistic culture that Trump has built up between himself and the media. Spicer, in his role as White House Press Secretary, has become an important figure in that antagonism. He didn't exactly start things out on the right foot with his comments about the crowd size at the inauguration, and he's never really been able to dig himself out of that hole.
The list of Sean Spicer's embarrassing moments on the job is a long one, and many of them are downright troubling — particularly when, for example, he's chosen to repeat proven falsehoods ("Michael Flynn was just a volunteer"), belittle reporters who are just doing their jobs, or bar respected news outlets from press briefings. It's unclear how much of that was at his boss' bidding and how much of it he decided himself, but either way, Spicer has not been putting the best public face on the Trump administration.
By attending the White House Correspondents' Dinner, however, perhaps Spicer could have attempted to make some light of his tense relationship with the press. Maybe he could have gotten at least the slightest bit of a new start. But it seems that he'll follow the president's lead on this one too, for better or for worse. With all of the missing guests from the White House's side and a few from the press' side as well, it's looking as though this year's dinner might be a subdued affair in comparison to, for example, the Obama years. A lot has changed between spring of 2016 and spring of 2017, and it appears as though the White House Correspondents' Dinner will simply fall into that pattern.