11 Of Sean Spicer's Most Embarrassing Moments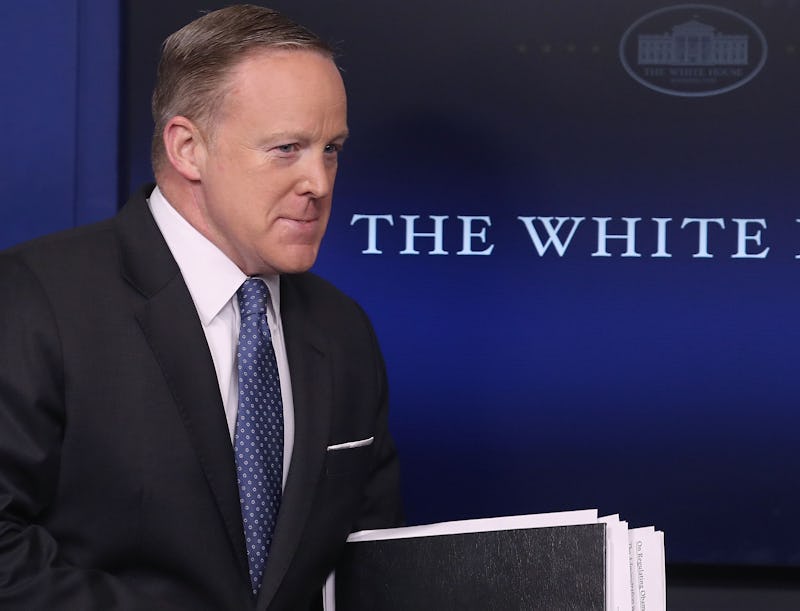 Mark Wilson/Getty Images News/Getty Images
Nobody would say that White House Press Secretary and Communications Director Sean Spicer has an easy job. But seriously, sometimes it's like he's purposefully making it more difficult for himself. Sean Spicer has a lot of embarrassing moments, running the gamut from "that's all right, man, it happens to all of us" type things to truly worrying behavior. Even before Melissa McCarthy brilliantly parodied Spicer on SNL, he had already cemented himself as the comedic face of the whole Trump administration. UPDATE: On Friday, Sean Spicer resigned as White House press secretary.
There have been more than a couple of statements to worry about buried in the middle of all that comedy. And that's where the true embarrassment is in all of Spicer's missteps and linguistic fumbles — just remember, this is the person who Trump feels is most qualified to act as the prime spokesman for his administration. Just as Trump has had some, let's say, growing pains in his first few months in office, Spicer has also run into some tight spots.
Spicer's job would be easier, of course, if he were speaking for an administration that was more tightly moored to reality. The fact is, though, that he's not. Every time he steps out in front of the White House press corps, there's a good chance he'll say something absurd — and here are the best examples of that.