Here's What Shawn Mendes Has To Say About Being Single These Days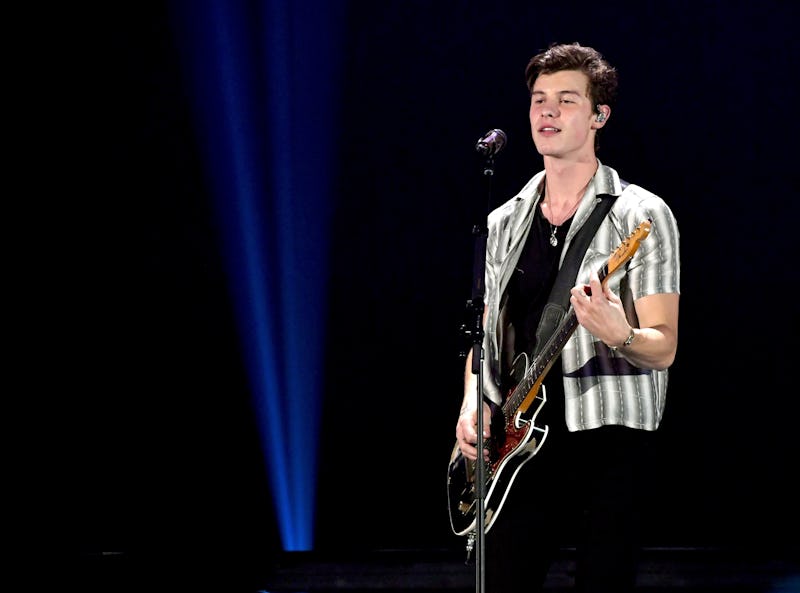 Kevin Winter/Getty Images Entertainment/Getty Images
Fans of pop star Shawn Mendes can all agree that he is handsome, talented, and good humored: So why is he still one of music's most eligible bachelors? Mendes is set to perform at the American Music Awards on Tuesday, Oct 9 at 8 p.m. ET on ABC. But will there be someone special cheering Mendes on from the audience? Is Shawn Mendes dating anyone fans should know about?
The "Lost In Japan" singer is single right now, according to Variety, and is actually totally fine with that. "I'm not currently dating anyone, but it's not because I don't have time — I don't know if I'd be dating anyone if I was home in Pickering, either," he told Variety. "It hasn't stumbled across me, and I'm not chasing it. Of course, seeing all those other artists and people in relationships, you think, 'Maybe it would be nice; who would be great for me?' And that's when you realize: 'This is wrong. Let it be. I'm not supposed to be with anyone right now.'"
So the right person for Mendes just hasn't come along yet, even though his name has been attached to some high profile women. Back in 2016, many fans suspected that Mendes and Fifth Harmony star Camilla Cabello were dating after they released a duet together, "I Know What You Did Last Summer."
But the pair shut down the rumors, claiming that they were just friends, as reported by Teen Vogue. "We're just really close friends. She is one of those people who is just very easy to connect with and still, to this day, is one of my greatest friends," Mendes told People. "You find that instant connection with people, and she's one of them."
More recently, Mendes had been linked to Justin Bieber's new fiancé, Hailey Baldwin. The two raised eyebrows when they attended the 2018 Met Gala together, looking extra beautiful and what many fans thought was extra lovey-dovey, according to Seventeen. But when asked, both Baldwin and Mendes assured the press that they were single. "We hang out and he's super-lovely and a very, very nice young gentleman," Baldwin told The Times UK in May of 2018. "But I am single."
Still, some fans weren't convinced and insisted there must be something more between the model and the "Stitches" singer. When Baldwin's engagement to Mendes' fellow Canadian popstar Justin Bieber was announced, some were ready for Mendes to spill the tea. But it seems like there just wasn't any tea to spill. Mendes told E! News after news of his friends' engagement broke, "I texted Hailey the day of and I said 'congrats' and yeah, that's what it is, I think everybody wants there to be more...there's not."
But even though that seemed to be the final word on any drama between the two, entertainment reporters and fans still won't let go of the theory that Baldwin might have broken Mendes' heart.
During an interview with Access Hollywood, the singer was asked whether he would perform at Baldwin's wedding. It got a little awkward. "Am I going to sing at the wedding?" he responded. "Of course I would sing. I'm not invited yet, but I'm sure something will happen soon."
Whether or not there really was some history between the two, Mendes seems to be doing just fine on his own, focusing on his career, and he's already got one American Music Award to prove it. Let's see if he can snag another this year.