What To Know About Shushanna's Relationship Status Post-Paradise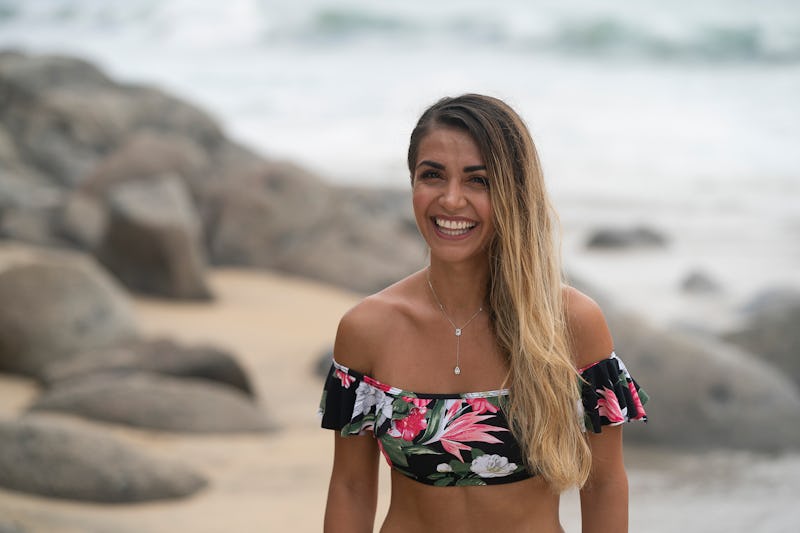 Paul Hebert/ABC
It's getting down to those final roses on Bachelor in Paradise, which means that couples are very quickly hurtling towards a finish line that could see them either engaged, or leaving Mexico heartbroken. But the past week of BiP proved that new arrivals can always shake things up, and no couple is completely in the safe zone. One of the fresh faces on the beach looking to make her mark was Shushanna, who found herself at the center of a ton of drama almost right after she arrived. With the BiP finale quickly approaching, fans are surely wondering whether her mission to find love was successful: is Shushanna still single after Bachelor in Paradise?
Unfortunately, Sushanna's Instagram is no longer a public account, so there is very little we can actually determine about her life currently. She does have a public Twitter account, but her tweets don't tend to reveal much about her personal life. It's safe to say that even if Shushanna was dating someone right now, we probably wouldn't have any idea. Reality Steve, you want to get investigating?
Since we don't have any concrete information to go off of, guesswork will have to suffice as to whether or not Shushanna has managed to find love in Paradise. But if last week's events are any indication, it seems highly unlikely that she has left the show with a life partner.
If you somehow managed to miss out on all of the drama from last week, here's what went down. Shushanna arrived and seemed immediately drawn to Kamil, which is understandable considering they both have European heritage and shockingly good looks in common. The couple went on a double date with Venmo John and Kristen (even though Kamil was pretty much coupled up with perpetual unlucky-in-love Paradise resident Annalise) but Shushanna didn't seem to be all that interested. Kamil returned and told Annalise that he just didn't feel it with Shu. That's when things went a bit off the rails.
Shushanna became convinced that Kamil was the only person for her, even after New Zealand Jordan gave her his rose. She spent most of the past two episodes attempting to convince Kamil that he had made a grave error in not being with her, and seemed to not really be hearing him at all when he kept reiterating that unfortunately, he was just not that into her.
Things escalated quickly when Shushanna turned down a date from Kiwi Jordan in favor of, once again, trying to convince Kamil that he really does like her, he's just really good at hiding it. Yikes. Things take a turn for the ridiculous when rumors start swirling that Shu is a witch, after her fellow cast members spotted her sitting alone for long periods of time on the beach. This was accompanied by what appeared to be Shushanna ritually burning Kamil's photo in a fire, though I have more than a sneaking suspicion that producers may have encouraged this behavior in order to better fit in with the "witch" plotline.
Putting these ridiculous (and problematic) accusations aside, Annalise decided that it was high time she told Shushanna that she needed to stop interfering in her relationship with Kamil. In a cringeworthy standoff, Annalise tries her best to convince Shu that there will never be anything between her and Kamil, while Shushanna tries to convince Annalise that her boyfriend isn't as into her as she might think. All this confrontation seems to do is make Annalise frustrated and drive Shushanna to tears.
Then, in a surprisingly quick bounce-back, Shushanna and Olivia have a conversation in which Olivia pretty quickly convinces Shu that she and Kiwi Jordan have a real connection. Too bad Shu had already rejected his date in favor of Kamil, causing Jordan to take Cassandra on the date. When Shu tried to rekindle things with Jordan, he wasn't really having it, leading to yet another Shushanna breakdown.
Things have been anything but easy for Shu on this BiP journey, and if she does manage to leave the show in a relationship, it will pretty much be against all odds.