'Six' Feels Ripped From The Headlines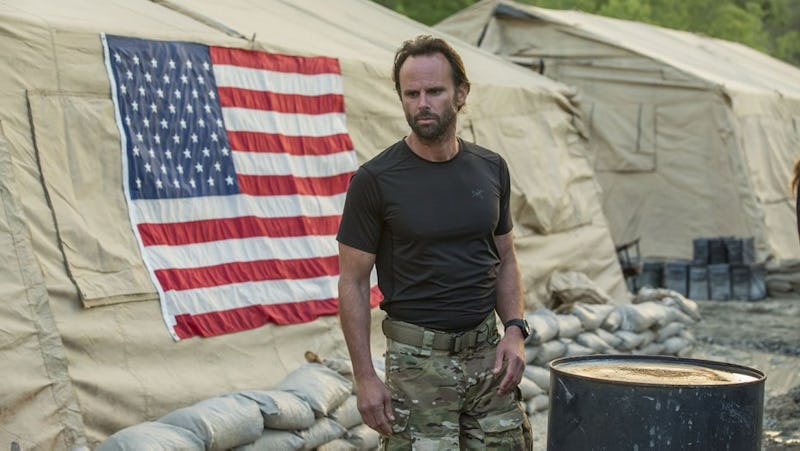 History
The History Channel's new modern military drama Six premieres Wednesday, Jan. 18, and it sounds seriously intriguing. The eight-episode season will follow Navy SEAL Team Six when a mission to take down a Taliban leader goes awry. Considering that "Navy SEAL Team Six" and "Taliban" are together in a sentence, it'd make sense if Six is based on the team that killed Osama Bin Laden. Yet while the group is known for their operation to assassinate Osama Bin Laden, the series will not be about that mission. Six begins in 2014 Afghanistan, three years after the takedown of Bin Laden.
According to History, Six's arc about a mission to eliminate a Taliban leader going off course when a U.S. citizen is discovered to be working with terrorists is fictional, although the series is inspired by real missions. History explains on the show's website that "the series authentically captures the inside world of America's elite Special Operations unit—what these SEALs do, their personal lives, combat, and the life-and-death decisions they make to protect and serve their country."
The series also strives to tell human stories about the soldiers themselves. The series jumps ahead two years after troop leader Richard "Rip" Taggart makes a questionable decision in Afghanistan, when Rip is captured by the Boko Haram. The brotherhood must put their differences aside and come together to rescue Rip.
And while stories like that are indeed fictional, one character was inspired by a real life military team leader. According to a Yahoo interview with David Broyles, a former military special operations leader who co-created the series, Armin "Fishbait" Khan, played by Jaylen Moore, is loosely based on Broyles' late team leader. Broyles said, "It was really important to show that there can be Muslim-American heroes, because I was mentored by one ... Especially when we're dealing with a Muslim-American antagonist, it's important to show that this is a personal choice in either direction."
Stories like this make Six a must-see, but if viewers are still curious about the work that takes place during the Bin Laden raid, which the show doesn't address, there are plenty of films to check out about the subject, like Zero Dark Thirty, Seal Team Six: The Raid on Osama Bin Laden, and the 2013 documentary Manhunt: The Search for Bin Laden. If you're a fan of these based on a true story SEAL Team Six stories, Six, is probably right up your alley, as while the soldiers on Six are fictional, the struggles and sacrifice they represent are not.