Mulder & Scully's 'X-Files' Boss Has A Big Secret & It May Come Out In Season 11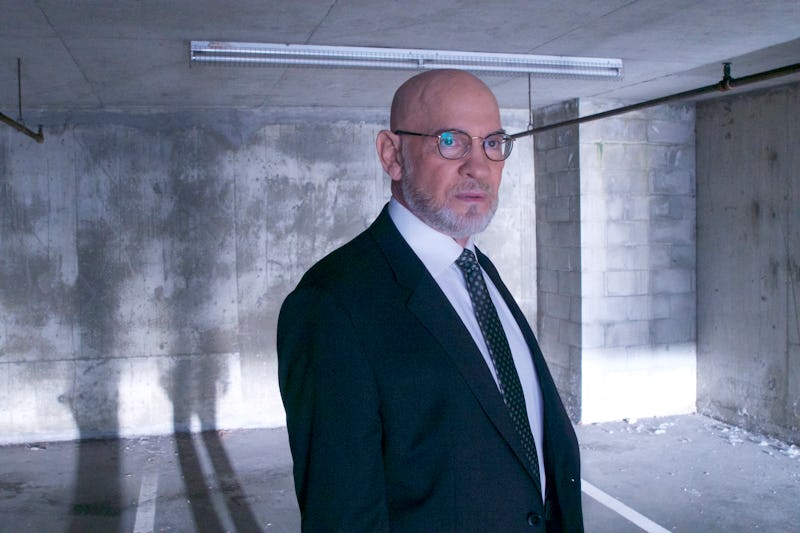 Shane Harvey/FOX
One of the trailers for the new X-Files season shows Assistant Director of the FBI Walter Skinner getting into a scuffle with Fox Mulder. Over the years, Mulder and Scully have gone back and forth about their boss and where his loyalties ultimately lie. So is Skinner still a good guy in The X-Files Season 11? Luckily, there's reason to believe that Skinner has not switched sides in the iconic series.
The provocative trailer in question was first released at the New York Comic-Con. In it, there are several snippets that could be meant to suggest that Skinner has become a turncoat. He's asked by the Cigarette Smoking Man to "betray the whole human race" and because of the editing we do not hear him respond. Later on, Skinner and Mulder can be seen getting into some kind of fight, pushing and shoving with their hands on each other's shoulders. Skinner is later approached by Mulder and Scully and pulls a handgun. "How did we get here?" he asks. So despite the three working together for years, there still seems to be a lack of trust. That very well could mean that Skinner has turned on his former friends.
Mitch Pileggi, who plays Skinner, fans the flames of speculation in another sneak peek. This one gives a bit of a behind the scenes look at the production of this new season. It shows that same scene where Skinner pulls a gun on Mulder and Scully and afterwards, Pileggi talking to the camera. Seemingly referring to that scene, he says, "We're shooting it right now and this is the sum of what happens," showing his hands covered in what appears to be blood. So, while it's not confirmed whose blood is meant to be on Skinner's hands, it is a bit of an ominous tease.
Of course, it is also likely that this tease is a bit of a red herring. For a show about conspiracy theories, that would make sense. Speaking to press at New York Comic-Con, Pileggi says that he still thinks of Skinner as Mulder and Scully's "champion in the FBI," which is a good sign. "He's there to facilitate as much as he can, what they're doing, without going beyond his own moral compass," the actor says. "There's a line in one episode, and Mulder goes, 'Where do you stand?' And he goes, 'I stand on the line that you keep crossing.' And now, he's OK, I think he's a little bit more OK than he used to be with them stepping over that line."
The actor also reveals that Skinner will be getting a spotlight this season, and that fans will get to know him better than they ever have. "There's a Skinner-centric episode that we're getting ready to shoot next that I'm really excited about," he says. "As revealed in some [episodes] in the original run, he does have some history with the paranormal, which is spoken to in [that episode] … He has a mystery about him, but I think you'll find out more about him this season than you ever have, and I'm happy about that."
So why the altercation with Mulder? Well, Pileggi thinks that Skinner may have always had a bit of a crush on Scully, which shows up in subtle ways. "I think he's got a little bit of a hankerin' for the redhead," he laughs. "But I always put a little bit of that into Skinner, whether there was maybe a little bit of a flirtation or him being uncomfortable with [Mulder and Scully's] relationship a little bit sometimes."
In an interview with TVLine, Pileggi said that his character's romantic feelings about Scully have lead to some "resentment towards Mulder." Their fight ended up being dialed back rather significantly from what was initially planned. "It was supposed to be a lot more violent," the actor said. "Originally, what the stunt people had blocked was a [real] brawl. And we were all like, 'These two guys are friends. Unless they are in some kind of drug-induced state, I don't think they would behave like that.' So we pulled it back quite a bit."
Regardless of how he and Mulder may clash, it's clear Skinner will have as interesting and vital a role as ever when The X-Files comes back. And when the chips are down, he'll always be in their corner.
Additional reporting by Sage Young.