Why You Might Not See Stormi At The Super Bowl For Her Dad's Big Night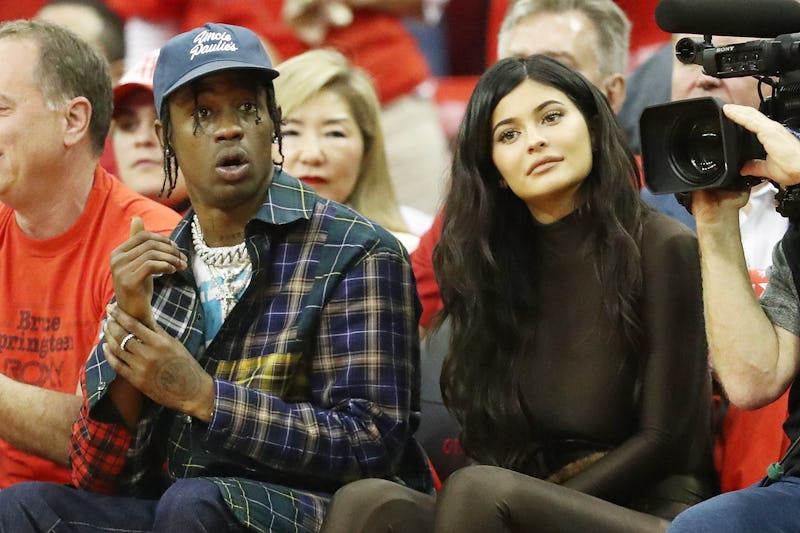 Ronald Martinez/Getty Images Entertainment/Getty Images
While they're both public figures, parents Travis Scott and Kylie Jenner don't often take their young daughter, Stormi Webster, out in public. And while her father is set to perform at the halftime show with Big Boi and headliner Maroon 5 during Super Bowl LIII on Sunday, Feb. 3 in Atlanta, Stormi didn't appear to be at the Super Bowl but was instead cheering on her dad while she watched him on TV.
Although Travis Scott took to the stage and performed "Sicko Mode" in a fiery performance, it looks like both Kylie and baby Stormi supported the rapper from the comfort of their own home (or at least a home). The social media influencer posted a sweet video on Sunday night, which featured a little baby — presumably Stormi — wearing a tie-dyed hoodie and watching the halftime show on TV. When Scott appeared onscreen, the baby giggled. Kylie captioned the post with, "PRICELESS."
And it makes sense that they wouldn't have made the trip from California all the way to Atlanta — after all, traveling with a baby can be difficult. Furthermore, little Stormi has had an eventful weekend, so it was likely too stressful to take a baby into the Mercedes-Benz Stadium, which filled with crazed Los Angeles Rams and New England Patriots fans.
Stormi turned 1 on Friday, Feb. 1, just days before the New England Patriots and Los Angeles Rams took the field at Mercedes-Benz Stadium. Kylie threw her daughter a festive birthday bash, per E! News, but it didn't go quite as expected due to rain in the forecast. However, the Kardashians still ended up having a smaller affair with a rainbow sprinkle cake and plenty of balloons. That same night, Scott performed at the Planet Pepsi pre-Super Bowl LIII party, where the rapper gave his daughter a special shout-out, per another E! News article. "This is a special day," he reportedly told the crowd. "It's my daughter's birthday! Let's go Stormi!"
Kylie also made a big splash on social media this weekend after sparking pregnancy rumors. She posted a cheeky Instagram in the wee hours of Super Bowl Sunday featuring her and Travis cuddling on the stairs. She captioned the post "baby #2?", which left fans reeling that she and Scott would be parents for a second time.
However, the Instagram account CommentsbyCelebs captured an interaction between Kylie and a fan in which she denied being pregnant, per E! News. "Are you pregnant" a fan asked, to which she responded, "No lol." That said, Kylie denied baby rumors the whole time she was expecting Stormi, per Elle, so if she is pregnant again, it wouldn't be the first time the social media influencer kept family news private (and it's entirely within her right to do so).
So even though Stormi wasn't physically in the stadium on Sunday night, she still supported her dad from afar as he made his Super Bowl debut. It looks like Travis Scott's biggest fan is also his smallest.