Finn Wolfhard's New Haircut Might Be The Latest Clue That 'Stranger Things' Is Ending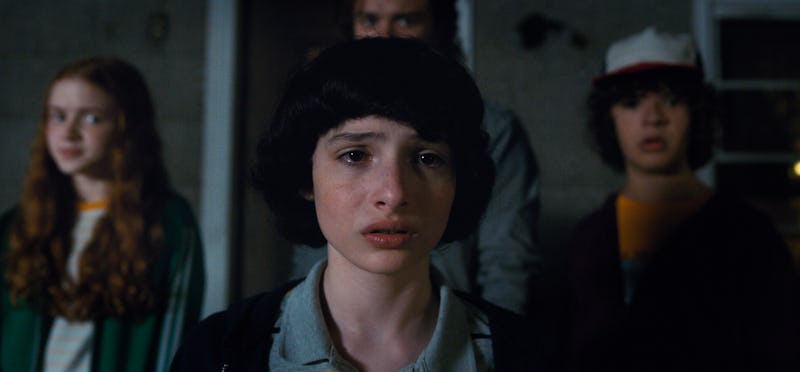 Netflix
In the past 24 hours, fans of Stranger Things might feel like they've entered the Upside Down. But there aren't any Demogorgons here, it's just a lot of tears and one possibly very symbolic haircut. See, Finn Wolfhard cut off all his hair and it's got fans wondering if Stranger Things 3 could be the final season of the Netflix hit series.
Wolfhard debuted his new haircut on Instagram on Wednesday, Nov. 14, just one day after celebrating the wrap of Stranger Things 3. "Spy Kids 3-D: Game Over," he wrote to explain the new look, which is not only shorter, but way more purple. Sure, the cut is for a new movie, but could it also be a sign that his days playing Mike Wheeler are over? It's a logical question considering the fact that, on the very same day, Millie Bobby Brown was saying a very tearful goodbye to her fellow cast mates after Stranger Things wrapped filming Season 3, which is slated to drop sometime next year. Brown even said a fond farewell to Wolfhard's hair on her Instagram Story Wednesday, according to Entertainment Weekly. Over a shot of Wolfhard's recently shorn locks she wrote simply, "Goodbye @finnwolfhardofficial hair."
The fact that Wolfhard seemed to immediately cut his off after filming was through definitely doesn't quiet down the whispers that Stranger Things is over. It's kind of a thing for actors to shed a role by also shedding their hair. For example, Emma Watson rocked a pixie cut after Harry Potter telling Metro UK, "I'd been on Harry Potter for ten years so I needed to mark the end of it in some way."
Often, a star's hair isn't really their own because they're contractually obligated to keep their hair a certain way for a project for continuity's sake. Jon Snow himself, Kit Harington has talked about cutting his hair short once he's done with Game Of Thrones. And because of that, he even trimmed his locks between Season 5 and 6 to try and sell the idea that Jon Snow had really died.
Now, it's possible Wolfhard really did just cut his hair for a movie, but there are other clues, namely the Instagram posts of various Stranger Things cast members, that there could be more to it then that. It started with Brown posting an IG story in which she said she was going to "cry all day fyi" since it was the last day of shooting.
That post also included a sweet message to Sadie Sink, a.k.a Max Mayfield. "I can't say good-bye," Brown wrote. She then told Noah Schnapp, who plays Will Byers that "this is not okay," which felt like a serious goodbye. One that was so emotional, it also seemed pretty final. As did her caption for her wrap party photos with Sink and Schnapp: "That's a wrap," with a heart emoji.
As of now, no one has confirmed whether or not Stranger Things is ending after Season 3. In fact, Netflix was quick to shut down rumors earlier this year that Stranger Things could be coming to an end soon. In February, Moviefone reported that Season 3 would be the Duffer brothers' last as show runners. "Don't drop your Eggos. Rumors that the Duffer Bros are leaving Stranger Things after season 3 are false," Netflix tweeted.
But, that doesn't mean it isn't ending soon. The Duffers teased back in the summer of 2017 that they expected Stranger Things to end after four seasons, not three. "We're thinking it will be a four-season thing and then out," Ross told Vulture. So, maybe they're done filming, but fans can look forward to more Stranger Things after Season 3. Though it hasn't been confirmed, it's possible that the show filmed two seasons at the same time to make sure the young cast didn't age out of the roles. Gotta love puberty, right?
So, maybe it's too soon to point to a haircut as a definitive sign that a show is ending, but Brown's tears might be enough to have Stranger Things fans grabbing the Kleenex just incase.