Susan Collins Is Exploring A Different Approach To The Health Care Bill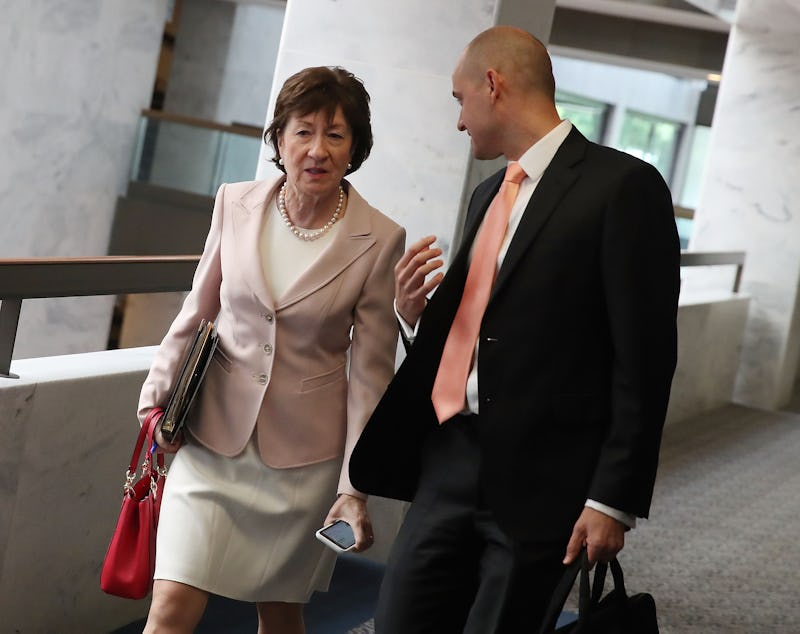 Mark Wilson/Getty Images News/Getty Images
With some added public pressure from President Donald Trump on Monday, Senators prepared to inch closer to the vote to begin debating a repeal of Obamacare on Tuesday. While the plans still remain controversial to several of the key players in the Senate, both opponents and supporters of health care reform wonder whether longtime critic of the House and Senate bills Sen. Susan Collins will vote against the health care bill debate.
As Politico reported on Monday, Collins has said before that she was against the vote — and the various, unpredictable repeal and/or replace combinations on the table. She seemed pretty confident in that answer, adding that she expected to vote "no" unless "it's going to be a brand new bill."
Collins came out against the Senate bill following the Congressional Budget Office's projections saying the bill would lead to 22 million fewer people being insured. Now, it doesn't seem like her GOP colleagues will be able to win her over. For Collins, certain aspects of the GOP bill, including the $770 billion cuts to Medicaid (and their devastating effects on rural communities) as well as provisions restricting funding for Planned Parenthood, were hard lines she couldn't cross for her constituents in Maine.
Instead, Collins said that she would prefer to see a bipartisan overhaul of Obamacare.
In fact, Collins never seemed all that confident about the Tuesday vote. She described the confusing situation in an interview with Face The Nation on Sunday:
It appears that we will have a vote on Tuesday. But we don't whether we're going to be voting on the House bill, the first version of the Senate bill, the second version of the Senate bill, a new version of the Senate bill, or a 2015 bill that would have repealed the Affordable Care Act now, and then said that somehow we will figure out a replacement over the next two years.
Collins and her GOP colleague Lisa Murkowski of Alaska have mostly been considered a "lost cause" by their peers looking to get enough votes for the debate, Politico reported. Meanwhile, Shelly Moore-Capito of West Virginia seems to also share Collins' concerns over the future of Medicaid under the Better Care Reconciliation Act (BCRA).
As Senate Majority Leader Mitch McConnell needs 50 votes for the motion to move forward and the details about any final replacement bill for Obamacare remain scarce, having a hard-pass from a centrist like Collins out of the gate isn't the most promising start.