Tarte Clean Queen Makes Deodorant Super Fun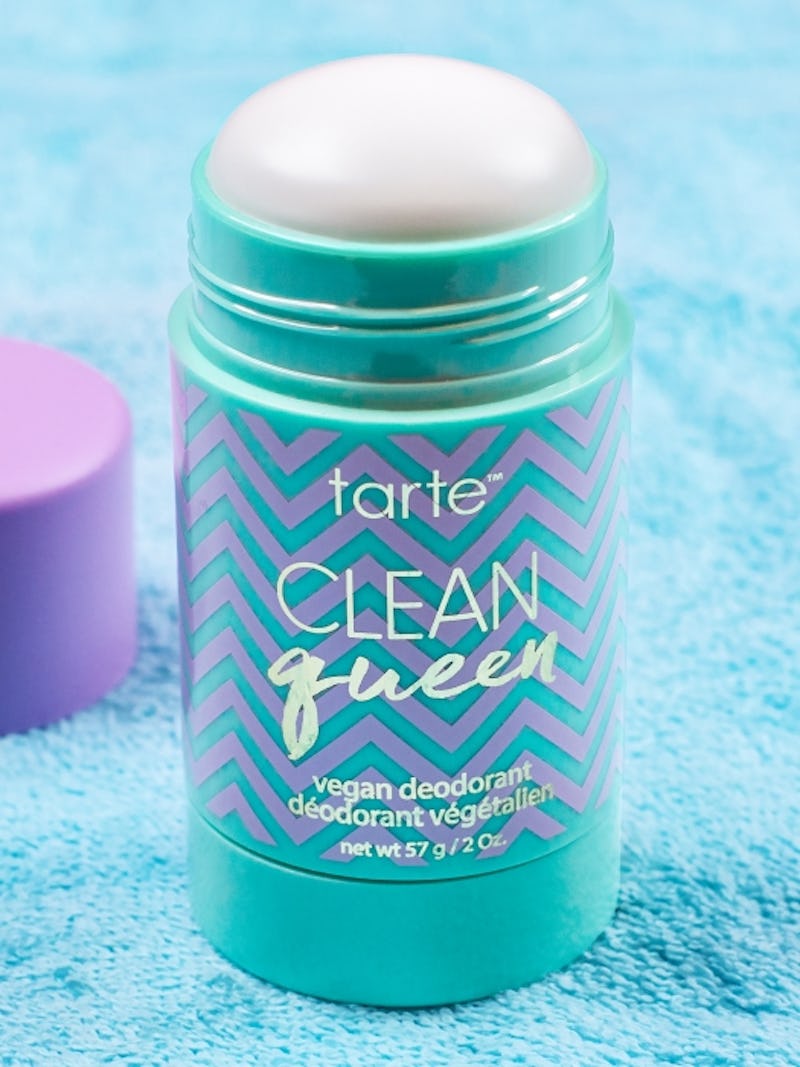 It seems like just yesterday the words "natural deodorant" were most often spotted deep in the skincare aisle at your local health food store. But the field's moved in leaps and bounds over the past few years, and natural deos these days smell great, look good, and most importantly, work. No shade if you're a traditional stan through and through — but if you want an option that works the same as traditional deodorants but without any potentially questionable chemicals, Tarte's Clean Queen Deodorant is here for you.
Tarte Clean Queen Deodorant, $14, Tarte
Everyone's favorite Insta brand just announced a new deo, available now for $14, and the good stuff abounds. And, because we're all wondering if Clean Queen Deodorant is aluminum-free, the answer is a glorious "yep." It's also vegan, cute as hell, and alcohol-free to boot. Look at its turquoise and purple chevron. They weren't fooling around. Dropped along with a whole deluge of incoming products — among them a Tarte dry shampoo, Tarte unicorn collection, and Tarte setting spray — the deodorant is Tarte's first in the genre.
Described as an "aluminum and alcohol-free natural deodorant that's non-irritating and chock full of natural odor neutralizers and conditioners," it's a new move for the brand, but not an entirely unexpected one.
Tarte Clean Queen Deodorant, $14, Tarte
Tarte's slowly been expanding into the skincare/hygiene space, with products like their self-tanner, exfoliating cleanser stick and vegan tooth whitener, and this deo pulls on that vegan, portable, peppily-packaged vibe.
Taking a look at the ingredient list, the top five ingredients are water, aloe barbadensis leaf juice, propanediol (a base ingredient), sodium stearate (a solidifying agent), and corn starch, so we're talking very clean.
Tarte Clean Queen Deodorant, $14, Tarte
If you've always been intrigued by natural deodorant but scared off by the dip-n-smush technique required by pot options, Tarte's deo joins the classic solid stick form à la Lavanila, Schmidt's and Tom's. The Clean Queen deo is currently only available on Tarte's website, and there's no word yet whether it'll be making its way to Sephora or Ulta stores. An internet-only love, but hopefully we'll see it on shelves along Boscia's Charcoal Deodorant (a fellow vegan fun-giver with a murky black cloud experience), soon. Who knew deodorant would get hot?
Boscia Charcoal Deodorant, $35, Amazon
Images: Courtesy of Brand