Fans Think Taylor Swift's New Video Is Copying Beyoncé & She Better Not Be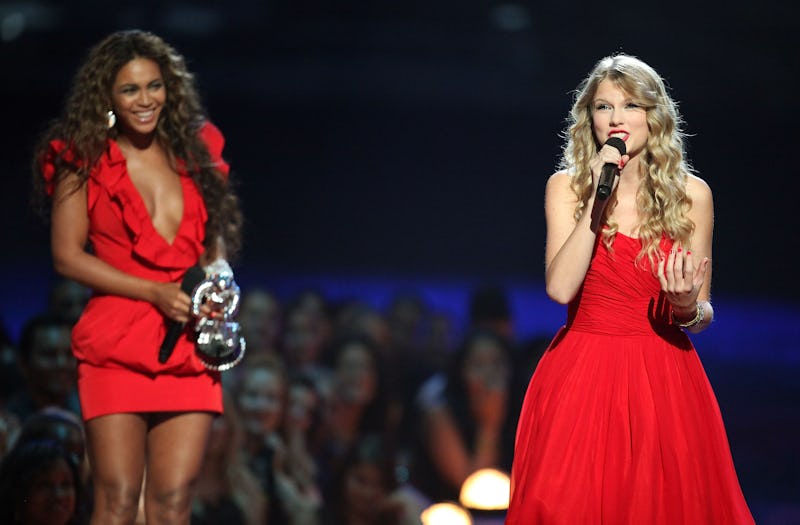 Christopher Polk/Getty Images Entertainment/Getty Images
The release of Taylor Swift's new song "Look What You Made Me Do" has made one thing very clear: She is not effing around, Kanye West! In the song and in the new merchandise that she has released, Swift borrows from, samples, and references a number of sources, West heavily included, but is Swift also copying Beyoncé with her "Look What You Made Me Do" video? The full video isn't even out yet, but a shot from the preview has people making comparisons already.
On Friday morning, the singer released a short preview of the video that shows her wearing snake rings (of course), biting diamond jewelry (sure), and... getting in formation? Yeah, the last shot in the preview shows Swift and several backup dancers wearing all black and standing in a line in a gaudy room. Swift is in a power stance with her hands on her hips.
While this scene doesn't look exactly like one Beyoncé has used before, it does have definite Beyoncé vibes, as some Twitter users have pointed out. In the video for "Formation", symmetry is used often and Beyoncé is shown in the center of a group of people in a number of scenes. Standing in front of a house, the singer is wearing all black and standing in the middle of a group of men who are also wearing black. There are also several shots of Beyoncé with her backups dancers where they are all in a line with Bey in the middle.
This setup has carried on through her live performances of the song, because, while "Formation" applies to black women coming together to fight for social justice, Beyoncé and her backup dancers are literally in formation to represent this.
As another Twitter user noted, the location of the scene in Swift's video brings to mind another Beyoncé video, this one a promotion for her Mrs. Carter World Tour. In the promo video, Beyoncé is in a golden palatial room that looks similar to the on in Swift's video. Notably, the tour promotion clip features a close-up of rings and gold nails, much like Swift's video does.
Of course, Beyoncé doesn't own hanging out in palaces, gold nail polish, or standing in a straight line with your backup dancers, but, with the "Formation" comparison in particular, it's not a surprise that Beyoncé would come to mind. "Formation" and the album Lemonade as a whole were huge and, because of the social messages involved, impactful in a way that pop music often isn't. "Formation" is still fresh on the minds of anyone who follows pop culture.
There's also the fact that this is Taylor Swift we're talking about. Her album is called Reputation because she has such an unfavorable one in the public eye right now, "Look What You Made Me Do" is clearly at least partially about Kanye West, and people were ready to pick her and her new music apart before it even came out. Swift's choices have been constantly questioned throughout her career and her feminism has, as well. Many people are ready for Swift to do something like insensitively reference Beyoncé even if that isn't something she would actually do.
Add that to the other references Swift made in the song, including sampling Right Said Fred's "I'm Too Sexy," possibly being influenced by Peaches' "Operate" (which could also be a very pointed Mean Girls reference), and using a similar font and sweatshirt design to West's The Life Of Pablo merch on her own, and it's not impossible that she'd also borrow a little something from Beyoncé.
Hopefully, though, she isn't doing it on purpose. While Swift can go wild referencing the things going on in her own life like, well, her years-long drama with Kanye West, a purposeful reference to Beyoncé's "Formation" would be uncalled for (as far as the world knows Beyoncé hasn't done anything to her). On top of that, it would be inappropriate, since it'd be referencing a song about black women's empowerment in a song about extracting revenge on your enemies (one of whom is a black man, if the song is indeed referencing West in particular).
When it comes down to it, the world will have to wait to see the full video to see if there really is a clear Beyoncé reference. But, for now, it's more likely that Swift just wanted to look badass wearing all black in a castle.