Taylor's Album Release Date Isn't Purposefully On The Anniversary Of Kanye's Mother's Death, So Just Stop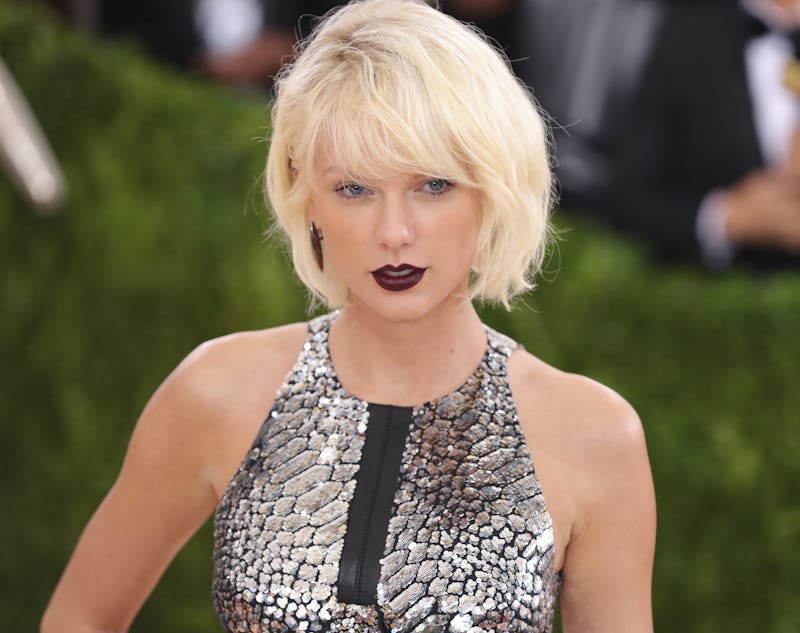 Neilson Barnard/Getty Images Entertainment/Getty Images
Taylor Swift has spent the last week reclaiming the snake, and people are responding in a lot of ways. After Swift's new single "Look What You Made Me Do" dropped on Thursday night, the lack of planned release dates for future singles mean that the one concrete thing we have to look forward to is her Reputation album, slated for release on Nov. 10. But some detail-oriented fans have noticed something unfortunate about that date in light of Swift's infamous feuds from the past few years: Reputation drops on the anniversary of Kanye West's mother's death. While Swift has done a lot of things in the last year alone that has made public opinion of her take a turn for the worse, suggesting that Swift's timing has anything to do with this tragic, hurtful anniversary is taking it too far.
There's such a massive difference between manufactured career moves designed to make Swift look better than her enemies (and sell lots of records) and potentially kicking someone on the anniversary of their mother's death. I'm no Taylor defender, but this leap is beyond gross and unfair.
Update: On Friday, a publicist from Swift's label confirmed that the release date was a coincidence in a statement to BuzzFeed. "It is standard practice that releases come out on Fridays," they said. "And we locked in this release date based on other Universal Music Group releases."
Earlier: And look, I get why people are ready to assume the worst of Swift. Her "snake" reputation has debatable origins, depending on how far back you've been suspicious of her, but she's earned it. She claimed that feminism was the "most important movement" and that there was a special place in hell for "women who don't help other women" and then released "Bad Blood" about an unnamed female artist who "tried to sabotage an entire arena tour," popularly believed to be Katy Perry. Then Nicki Minaj lamented the lack of artists of color recognized by the 2016 MTV VMAs, and award ceremonies in general, and Swift inserted herself to ask her not to "pit women against each other" then didn't speak on the intersectional issue when Minaj directly asked her to. Then Calvin Harris released "This Is What You Came For," and Swift's team later confirmed that she had actually written the song under the pseudonym Nils Sjoberg, which Harris believed she did because she needed "someone new to try and bury like Katy [Perry]". Swift and Harris broke up amicably, but she was photographed less than a month later having a date on a beach with Tom Hiddleston. Then there was her her very publicized relationship with Hiddleston, which many people thought was a publicity stunt right up to the "I Heart Taylor" shirt despite denials from Hiddleston. And finally, there was when Swift claimed to never have been consulted about "Famous" before Kim Kardashian released a Snapchat video on National Snake Day of a phone call revealing that Swift had heard at least some of it.
The petty and manipulative evidence is undoubtedly there, and the internet has collectively decided to never be taken in by her problematic behavior again. But that's not enough of a basis to assume that Reputation is being purposefully released on the same day that Kanye West's mother died in 2007. And the fact that her first single from the album, "Look What You Made Me Do," is already believed to be a Kanye West/Kim Kardashian diss track isn't evidence, either. It's a ridiculous leap to assume that her feud with Kanye "made her" clap back at him on the day of his mother's death.
Swift has been many things over the years — ignorant and petty, more manufactured than her platform of authenticity would have you believe, and certainly less innocent than that same platform had established. However, purposefully setting an album that could contain more potential disses for the day a man's mother passed away isn't petty; it's cruel and downright disgusting behavior. This is the woman who used feminism in order to benefit herself and responded to subsequent PR setbacks by disappearing from the public eye entirely. She's a woman whose actions can be defended — even if, in the case of "Famous," the defense was poor and not embraced by the general audience — not a woman who would publicly kick a man when he was down. And, as even the most casual Kanye fan knows, that time of year is incredibly hard for the rapper.
In 2015, Kanye spoke to Q magazine about his mother's death, saying that he considered her something that he sacrificed to be as successful as he is. "If I had never moved to L.A. she'd be alive," he said. "I don't want to go far into it because it will bring me to tears." In 2016, the rapper was famously hospitalized for "exhaustion" in November after behaving erratically off stage and on Twitter and then canceling the rest of his Saint Pablo Tour; reports claimed that this was all partially triggered by the anniversary of his mother's death. His mother's profound impact on him can be felt in the things that she inspired, from his creative business DORINDA to his album 808s and Heartbreak (especially "Pinocchio Story"). To attack Kanye purposefully on the anniversary of one of the worst times in his life goes beyond simple cattiness, goes beyond any potential of a PR spin. It would be the last nail in the Old and New Taylor Swift's coffin.
Now, let's look at the facts. Since her first studio album, Swift has released them in either October or November — and always within the range of the Scorpio star sign dates. Her October albums were released on the 24th, the 25th, the 22nd, and the 27th. Her November albums — Fearless and now Reputation — were released on the 11th and soon to be the 10th. It's far more likely that Swift is just falling her same fall release pattern of an album out around the same day as the last. Granted, the Nov. 10 release date will be the first time that Swift has released an album on a Friday instead of a Monday or a Tuesday, but most mainstream albums are released on Fridays (or, more accurately, Thursday nights). The more likely explanation is that the New Taylor Swift, who got "smarter... in the nick of time," is just, gasp, following typical album distribution patterns.
I can't and I won't defend Swift from any of the actions, misinterpreted or otherwise, that have led her to her current point in public perception. But I will defend her against this.