Why Taylor Swift's "New Year's Day" Could Actually Be About Harry Styles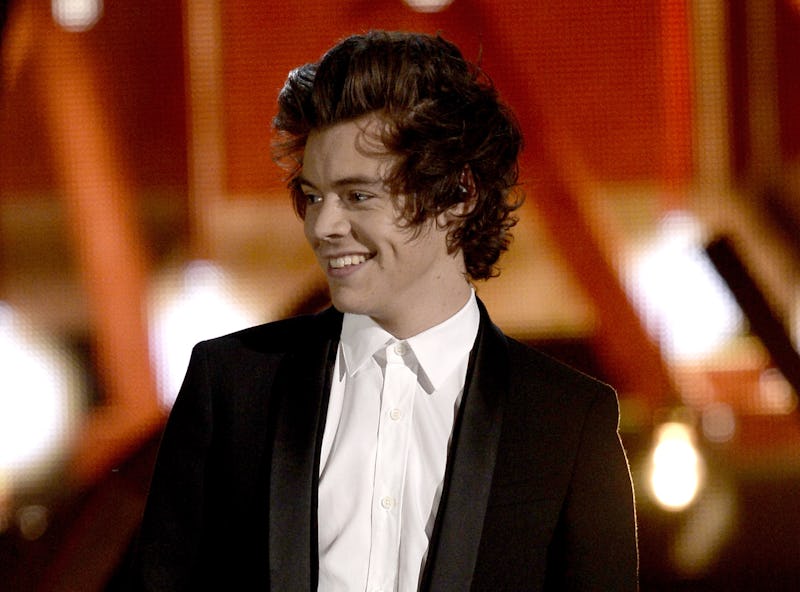 Kevin Winter/Getty Images Entertainment/Getty Images
Another Taylor Swift album, another game of "guess who?" The singer's career has been defined by hiding clues about Swift's ex-boyfriends in her songs, and Reputation is no different. Even before the album came out, fans wondered if the "New Year's Day" lyrics were about Harry Styles, who Swift dated for a few months in late 2012 and early 2013. Those who didn't think the singer would be announcing that she and Joe Alwyn were engaged pointed to the fact that Swift and the former One Directioner broke up around New Year's four years ago. Now that we've heard the full song, is there any chance that Swift's "New Year's Day" is about Styles? Well, it really seems like that may be the case.
It's worth noting, of course, that it has been rumored that Swift told fans who went to her Reputation listening parties that any love song on the album is about Joe Alwyn. However, there are several "New Year's Day" lyrics and images that seem to throw back to the couple once known as Haylor, rather than Alwyn & Swift.
"There's glitter on the floor after the party
Girls carrying their shoes down in the lobby
Candle wax and Polaroids on the hardwood floor
You and me from the night before"
It was noted back when the 1989 album came with the song "Out of the Woods" — popularly believed to be about Swift's relationship with Styles and containing the line "You took a Polaroid of us" — that Styles has been associated with Polaroid cameras in the past. However, the really compelling evidence that these lyrics could refer to Styles is the fact that Swift and Styles shared a kiss in Times Square on New Year's Eve 2012 before, according to the Daily Mail, taking a taxi to a hotel (lobby).
This becomes particularly important, given the next verse of the song:
"You squeeze my hand three times in the back of the taxi
I can tell that it's going to be a long road
I'll be there through the toast of the town babe
Or if you strike out and you're crawling home"
This would line up perfectly with Swift and Styles' New Year's night celebrations — and with their subsequent breakup a few days later. In an April 2013 Vanity Fair interview, a friend of Swift's claimed the two broke up because Styles cheated on Swift, won her back despite her misgivings, and then "disappears one night and after that it was like he just didn't want to keep going" only to attempt to text her again after she ended it. (At the time, a representative for Styles called all of these claims "undeniably false.")
The "New Year's Day" lyrics would also match up with the 2015 One Direction song "Perfect," popularly speculated to be about Swift. In it, Styles sings,
"If you like causing trouble up in hotel rooms
And if you like having secret little rendezvous
If you like to do the things you know that we shouldn't do
Then, baby, I'm perfect for you"
Though the former boy bander denied at the time that the song was about Swift, the fact that Swift never responded to the song publicly, but "New Year's Day" contains similar imagery, could lend more evidence to the Haylor theory. Especially if the line, "Hold on to the memories, they will hold on to you," is meant to be an indication that this is a past relationship she's remembering.
Then, of course, there's "Please don't ever become a stranger whose laugh I could recognize anywhere." That lyric could certainly apply to Tom Hiddleston, who has an incredibly memorable laugh that one could certainly recognize anywhere. However, so does Styles, as evidenced by the many, many laugh compilation videos on YouTube. And the lyric seems particularly resonant when you consider that, in January 2015, TMZ captured a video of an awkward reunion between Swift and Styles in the lobby of the Sunset Marquis; though the video was taken from too far away to see any audio, Styles does appear to be laughing when Swift appears to see him and subsequently avoid him.
However, as with most Swift songs since Speak Now, if "New Year's Day" is about Harry Styles, then Swift isn't about to confirm it. The singer has continued to describe her relationships in just enough detail to keep people talking, but that's all it is — talk. Only Swift knows the truth.