This New Study Says The Future Of Rock Is Female & TBH, It's About Time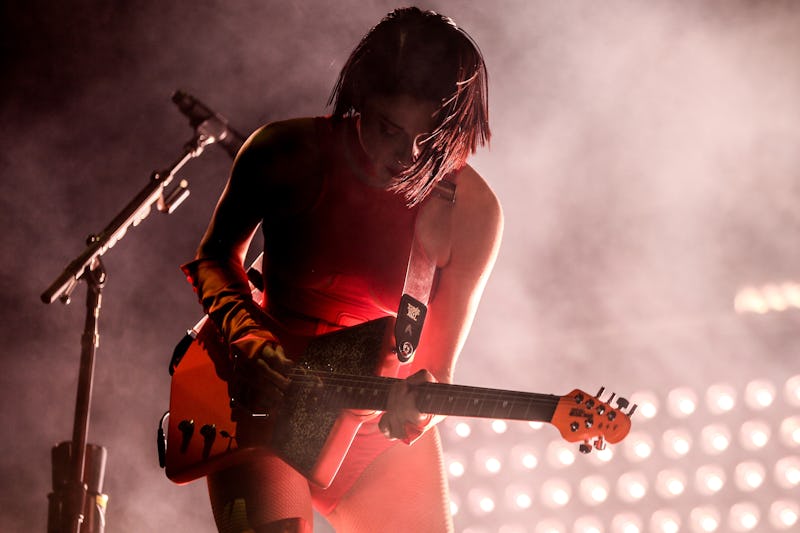 Rich Fury/Getty Images Entertainment/Getty Images
Even though Sister Rosetta Tharpe was one of its first pioneers, it could be argued that rock 'n' roll has spent much of its lifetime being an all-boys club. Guys have grown up with posters on their walls of Radiohead, Jimi Hendrix, Prince, David Bowie — all the big guitar boys. But what about the women? Well, with the likes of St. Vincent proving that females can be master guitarists too, girls are starting to rock out more. In fact, 50 percent of new guitar players are now young women. So, is the future of rock 'n' roll female?
According to an article from legendary guitar makers Fender, girls really are taking over, as it reports that "women continue to define the emerging guitar market", since they're allegedly "accounting for 50 percent of all beginner and aspirational players." Fender conducted the study alongside neuroscientist and author of the best seller This is Your Brain on Music, Daniel J. Levitin, to gather insight into how people are playing music today. Levitin's book is all about how and why music is so important to us — scientifically speaking. But everyone already knows that music is one of the best parts of life. And by "music," I specifically mean 'Africa' by Toto.
"Is the future of guitar female?" Fender asks. That's been the suspicion for a while now, especially since The New York Times stated that "Rock's Not Dead, It's Ruled By Women," and used 25 rock ladies to back its claim. Among them was emerging DIY musician Soccer Mommy and the vastly under appreciated guitarist and singer Vagabon.
It is thought that the article may have been in response to The Washington Post's contention that there must be a "lack of guitar heroes," as the Post reported that guitar sales were down back in June 2017. And while the New York Times proved that wasn't true — just that the guitar heroes may just have become guitar heroines — it looks as though rock isn't dying, but only shifting.
But it's not like women have never rocked before. While there's an outpouring of female and non-binary acts across the rock music landscape today, they're only continuing an incredible history of women in rock. There were the Riot Grrrls of the '90s, Joan Jett and Stevie Nicks back in the '80s, Joni Mitchell and Patti Smith strumming in the '70s. And they were all taking Sister Rosetta Tharpe's lead from way back in the day. Women in rock have always existed, they've just been kept hidden. Take Tharpe — as the Guardian attested back in March 2015 — she was "the godmother of rock 'n' roll," influencing the likes of Elvis and far more than can be listed here along the way.
But Tharpe wasn't officially acknowledged until recently. You'd think that she'd have always been right, front, and centre in the Rock & Roll Hall Of Fame. But nope. The godmother of rock 'n' roll wasn't even inducted until 2017.
So, while it's true that there are plenty of excellent female guitarists out there today, who are inspiring young women with an aptitude for rocking out, there's never been a shortage of inspiration. Only now, it's plain for all to see.