11 Riot Grrrl T-Shirts With Major '90s Vibes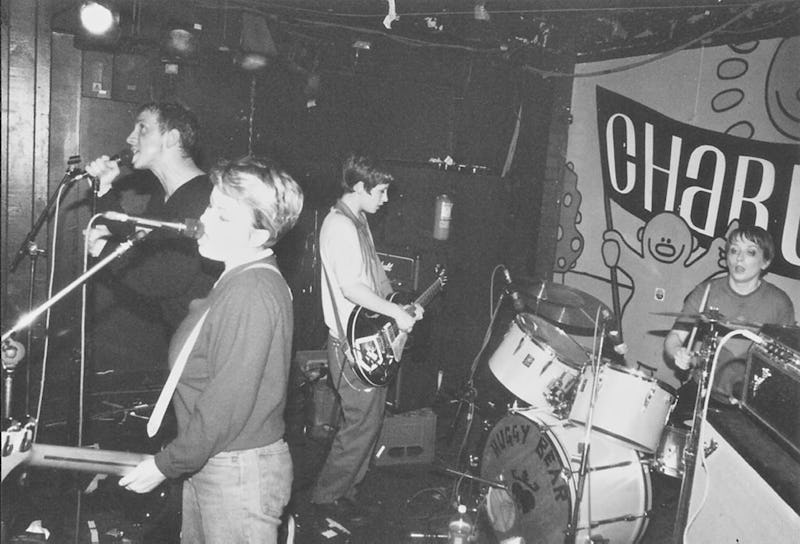 The '90s was a pretty historic decade for music. Nirvana soared to popularity with the grunge scene on the West Coast, and the riot grrrl movement found its voice. Fueled by bands like Bikini Kill, Bratmobile and Babes In Toyland, the genre inspired a third wave of feminism by calling out misogyny in their music. Many of the bands' songs protested against issues such as sexual assault, domestic violence and commercial culture. Zines were also produced that challenged gender-expectations and discussed the stereotyping of women.
Inspired by artwork found in these zines and on the bands' album covers, many riot grrrl T-shirts featured radical slogans and tongue-in-cheek-humor. Take L7's brilliant iconic Smell The Magic T-shirt, for example. It's crude, funny and isn't exactly the time of tee you'd wear round your gran's house over the holidays — in other words, perfect for millennial riot grrrls everywhere.
Let's take a stroll down memory lane and look at some of the authentic and re-produced '90s riot grrrl T-shirts.
1. Bikini Kill
Bikini Kill T-shirt, $13, Etsy
Etsy has taken it's love for Bikini Kill's Kathleen Hanna to a whole new level. You can buy everything from What Would Kathleen Do? Patches to Rebel Girl necklaces. My personal favorite buy is this Bikini Kill tee.
2. Babes In Toyland
1993 Babes In Toyland Tour T-shirt, $81, eBay.
Sold during their '93 tour for second E.P. 'Painkillers', wear a piece of riot grrrl history with this authentic Babes In Toyland tee. It'll make you wish that polaroid cameras were still as popular.
3. L7
1990 L7 Smell The Magic T-shirt, $269, Etsy
Admittedly, this L7 Smell The Magic tee isn't exactly cheap. If authenticity isn't something you care about, you can buy a reprint of the original design from Lo-Fi Merch for just over $20.
4. Bratmobile
Bratmobile T-shirt, $28, eBay
One of the first-generation riot grrrl bands, at $28 this Bratmobile tee is a steal — and you can even wear it with matching pins.
5. Sleater-Kinney
'90s Sleater-Kinney T-shirt, $50, eBay
Calling Carrie Brownstein fans! Multiple vintage Sleater-Kinney T-shirts are surfacing on eBay at the minute. This 1997 design was created in support of the band's third album, Dig Me Out.
Not a fan of blue? You can also get it in green for $65.
6. Huggy Bear
Huggy Bear Our Troubled Youth T-shirt, $17, Etsy
This tee features the artwork of Huggy Bear and Bikini Kill's joint album, Our Troubled Youth. It's also being printed as a sweatshirt and hoodie. Enjoy.
7. Babes In Toyland
Babes In Toyland Nemesisters T-shirt, $72, Etsy
Still mourning the break up of Babes In Toyland? I hear you. Numb the pain with this vintage tee that features the artwork of their last album released in 1995, Nemesisters.
8. Bikini Kill Fan Zine
Bikini Kill Fan Zine T-shirt, $12, Etsy
I wasn't kidding about how many rad Bikini Kill-related T-shirts there are on Etsy.
9. L7
L7 Slap Happy T-shirt, $78, Etsy
Released in '99, this L7 tee features the artwork of their sixth studio album Slap Happy and was one of the more badass ways to bid farewell to the decade. *NSYNC, who?
10. Sleater-Kinney
Sleater-Kinney All Hands On The Bad One Album T-shirt, $12, Etsy
Hey, this one may be cheating slightly. It's a reprint of an '00 design, but if Sleater-Kinney proved anything it was that riot grrrl wasn't just a '90s movement — the idea of wild, unabashed girl-powered feminism certainly translates in later decades.
11. Le Tigre
Le Tigre Get Off The Internet Inspired T-shirt, $23, Etsy
After Bikini Kill broke up, Kathleen Hanna was determined to continue creating music with Le Tigre. This tee was inspired by her 2001 song 'Get Off The Internet.' The track slams lazy internet activism and encourages people to hit the street to stand up for what they believe in. Sounds more relevant than ever, right?
These riot grrrl tees are pretty rad, and they're perfect for the new dawn of radicalized feminism this country is about to see. Wear your heart on your sleeve (literally) and go rage.
Images: Wikimedia Commons; Courtesy Brands