Women Are Calling Out The New iPhone For Being Sexist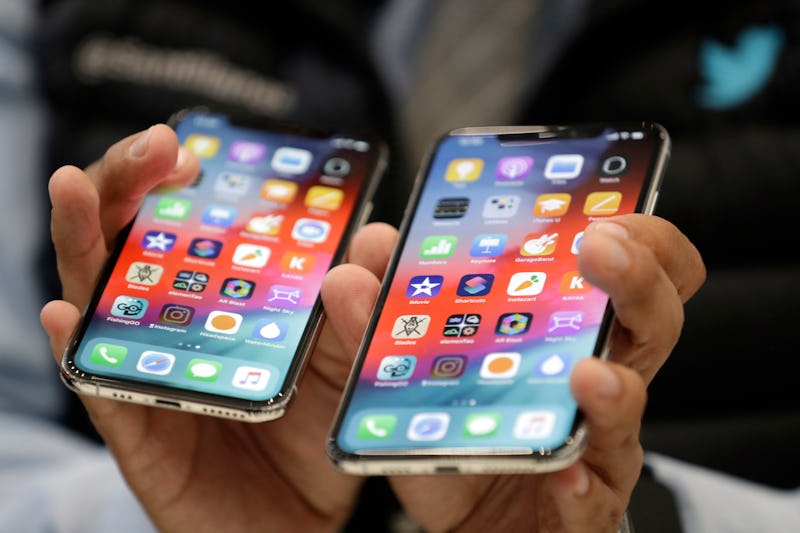 Marcio Jose Sanchez/AP/Shutterstock
Every September, Apple announces the launch of a few new products. This year, the mega tech company is releasing a range of snazzy new phones. But one of Apple's phones has received a negative response from lots of women thanks to its huge screen size. So, is the new iPhone Xs sexist?
Phone trends seem to come in waves. When they first made their way into our lives, they were huge. Then it was a race to see who could make the smallest flip phone. Now, phone companies are going big once again.
The iPhone Xs is Apple's biggest phone yet. The standard option has a screen display measuring 5.8 inches but the Max version is even bigger at 6.5 inches. If you're a man reading this, you probably won't see the issue. A bigger screen makes for easier reading, right? Well, not if your hands struggle to hold the thing.
Several women took to Twitter to criticise Apple's latest design strategy, lamenting that the iPhone Xs Max (which replaces the home button with, yes, more screen) will be far too big for the average woman's hand. Many are also not happy with Apple's decision to discontinue the much smaller iPhone SE.
This is something I can definitely relate to. Although I don't think I have particularly small hands, several people have pointed out my pixie-like appendages so it must be true. Give me a Plus or a Max-sized phone and I'll struggle to simultaneously hold it and stretch my thumb across to the other side of the screen. What am I supposed to do in this scenario? Hold it with two hands? No, I refuse to be my mum.
According to technology company Experts Exchange, the average woman's hand height is 6.7 inches with a width of 2.9 inches. Men, on the other hand, tend to have a hand height of around 7.4 inches and an average width of 3.3 inches. It's easy to see why men don't have a problem using bigger phones.
Women, however, run the risk of dropping their new gadget and smashing the screen. This wouldn't be such a big deal if Apple hadn't just risen its screen repair prices rather significantly. The company states that a smashed iPhone Xs Max screen will cost £326.44 to fix. That's a pretty big jump when compared to the £166.44 for the iPhone 8 Plus (which has a 5.5 inch display). Even the standard iPhone Xs screen repair will set you back £282.44.
A lot of people think that calling Apple sexist for launching a bigger phone is ridiculous. (And of course, the size of rival Samsung's devices aren't much different.) But several notable women think it's all down to male domination within tech companies.
Sophie Walker, leader of the Women's Equality Party, mentioned Apple's gender pay gap as a possible reason. "Apple's UK headquarters has a gender pay gap of 24 percent and men's bonuses are 57 percent higher than women's," she told The Telegraph. "Until companies like Apple have women represented equally at senior levels, women's needs are an afterthought."
Feminist activist Caroline Criado Perez also told the paper she had developed repetitive strain syndrome (RSI) after using a supersized phone. "I genuinely have RSI from having an iPhone 6, and it went as soon as I switched to an iPhone SE. It just baffles me that Apple doesn't design with [women's] bodies in mind," she commented, adding: "Soon there will be no iPhone that fits the average woman's hand."
I have contacted Apple for comment but am yet to hear back. For now, cherish your smaller phones before they become nothing but a distant memory.