Karrueche Tran x ColourPop Is One Encore Only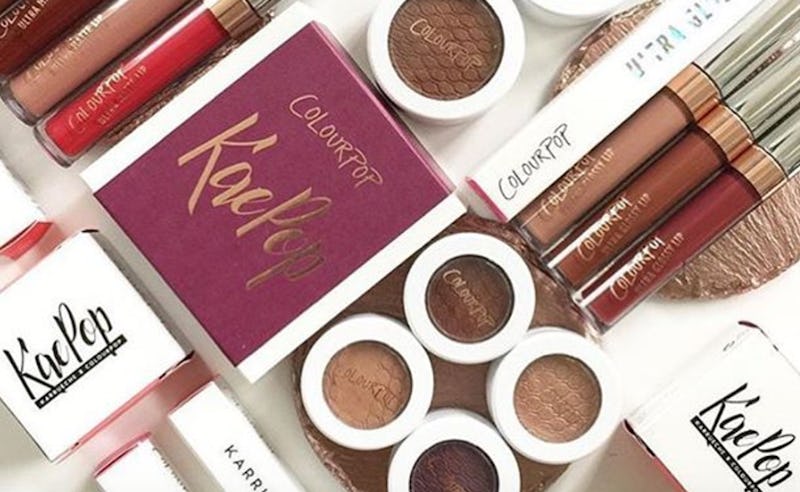 It's back for an encore. Karrueche Tran and ColourPop launched their KaePop Collection in 2016 and it was full of limited edition products. In a truly crowd-pleasing move, ColourPop is bringing back the KaePop Collection, which was super '90s-inspired and had an additional round of statement-making lippies in three glossy and one matte shade. Is Karrueche Tran x ColourPop KaePop returning as a permanent collection? Or is this a one-off restock?
According to a pair of posts on the official ColourPop Instagram, the KaePop collection is back for a limited time only — it'll be shoppable while supplies last. Once the supply is exhausted, it's buh-bye again. It's still one helluva an encore, though!
KaePop returns to the ColourPop site, which is the beloved, L.A.-based indie brand's sales platform, on Tuesday, Feb. 28 at 1 p.m. ET/10 a.m. PT.
The return of KaePop is quite a welcome reprise, since the on-trend and affordable products slay all day and all night. There are tons of neutral shadows and lippies, as well as a statement red lippie and bronzers.
Don't delay in shopping the Karrueche Tran x ColourPop KaePop collection while you can. It's here for a good time, not a long time. Since ColourPop's products are crazy affordable, you can load up your cart and wear these colors deep into the fall.
KaePop is chock full of wearable neutrals and pretty colors, right? The shades and products won't be bound by a season, either. You can wear them whenevs.
Wouldn't it be rad if Tran and ColourPop did yet another collection sometime in 2017?
The KaePop lip range was fire times four. Even if Tran and CP don't team up for yet another brand new set of products, you can still enjoy this return of KaePop.
Images: ColourPop/Instagram (2); Karrueche Tran/Instagram (1)