The 'Hocus Pocus' Remake Will Be Missing This Big Part Of The Original's Charm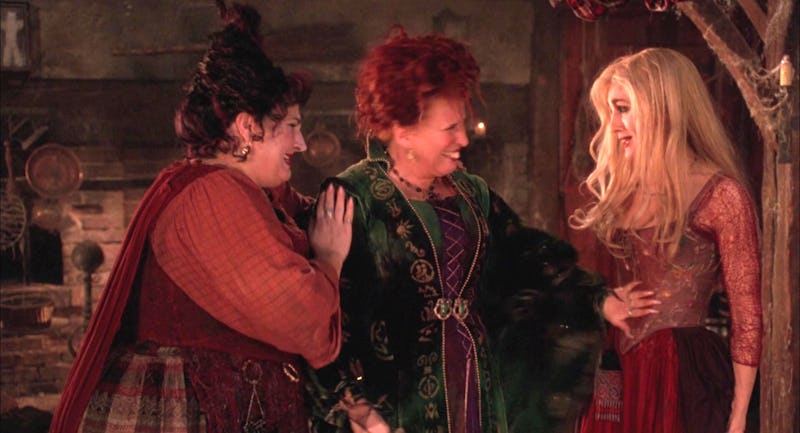 Buena Vista Pictures
Whether you want it or not, a Hocus Pocus TV movie remake is coming to a television near you, courtesy of the Disney Channel. There's no word yet on when this TV remake will premiere; in fact, there's not a whole lot we currently know about the project, leaving fans with a whole lot of questions. But the whether the original Hocus Pocus cast appears in the remake is, perhaps, the most important one.
While the original Sanderson sisters, Sarah, Mary, and Winifred, are straight-up iconic, it's unlikely we'll see Sarah Jessica Parker, Kathy Najimy, and Bette Midler reprising their roles. Deadline reported that the Hocus Pocus remake will have an entirely new cast. Knowing that this isn't a sequel, but a remake, it makes sense that the originals wouldn't be back. This is for a new generation of kids who need their own Sanderson sisters, as hard as that is to admit.
This new version of the movie will be written by Scarlett Lacey, a writer and producer on the E! series The Royals. And this remake was something that one of the film's original co-writers Mick Garris — who wrote the script with Joe Dante — teased in a recent interview with Forbes, saying there have been "rumors of a Hocus Pocus sequel for the last 10 years that will not die."
Garris said that he "heard they are developing the script, I haven't been involved in it but I think there will be a sequel it might be for Disney Channel or Freeform or ABC. I think it will be for television but I hear that it is moving ahead." According to Deadline, the new Hocus Pocus will be a "reimagining," not a sequel — just another reason why Parker, Midler and Najimy won't be back. Though, let's be honest, it would be great to see one if not all of these witches return for a cameo.
The director for the movie has not been announced yet, but it's unlikely Hocus Pocus' original helmer Kenny Ortega will be back, since the new movie is looking to move in a new direction. He's reportedly not currently involved with the remake. That being said, it's still early in the process and Ortega has been a staple of the Disney Channel since his work on the mega-hit High School Musical. Disney may eventually decide to add a little bit of his magic into the mix. Especially since the movie's original producer, David Kirschner, who also produced The Addams Family, another Halloween classic, will be back.
Another question that anyone who loves Hocus Pocus and watches it every year around this time wants to know is whether the Sanderson sisters will be singing "I Put A Spell On You"? On the one hand, Hocus Pocus wouldn't be Hocus Pocus without it. On the other hand, who could sing it as well as Bette Midler?
It's such a classic that there's always a question of whether it can actually be redone. Maybe they have to pick another witchy song like "Do You Believe In Magic?" from the Lovin' Spoonfuls or go completely modern and have these witchy women sing Bruno Mars' "24K Magic." If they throw in a few of Mars' moves, they're bound to put a spell on anyone.
For those that aren't under the spell of this announcement, though, think of it as an excuse to rewatch Hocus Pocus. Who knows? This time around, it may convince you that a remake isn't such a bad idea. After all, it gives you a chance to dream cast everyone's favorite cat-turned-total hunk, Thackery Binx.