'The Wrong Neighbor' Is Quintessentially Lifetime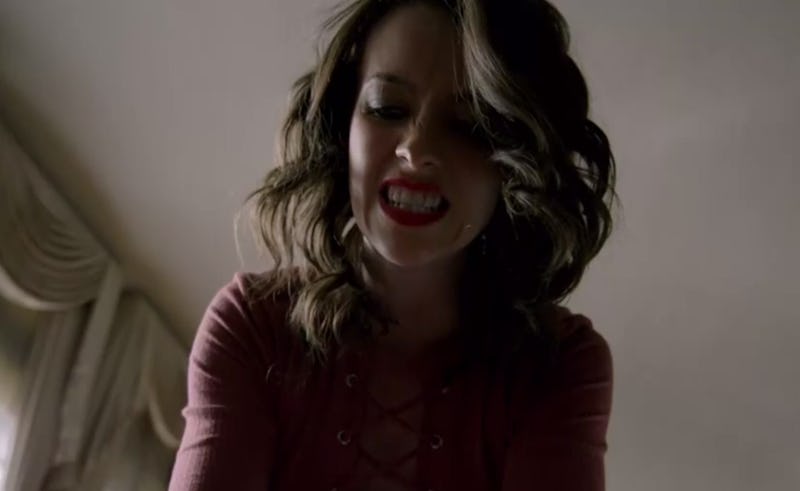 Lifetime Movie Network
Whether they're based on true stories or made up by writers, Lifetime movies are well known for being extremely over-the-top and dramatic, full of stories about happy marriages ending in tragedy and stalkers who live next door. The Wrong Neighbor seems to cut from a very similar cloth — but is The Wrong Neighbor based on a true story, or is it a fictional narrative?
First, here's the description of the movie on the Lifetime Movie Network website:
A recently separated father and his teenage daughter become the deadly obsession of their neighbor -- a beguiling, deranged young woman willing to do whatever's necessary to take her rightful place as their wife and mother.
The Wrong Neighbor stars Steve Richard Harris (The Young And The Restless) in the leading "dad" role; Andrea Roberts (General Hospital) plays his estranged wife, Cristine Prosperi (Degrassi: The Next Generation) as his daughter, and Ashlynn Yennie (The Human Centipede) as his new terrifying neighbor. Michael Madsen of Kill Bill and Sin City also plays a role as a character named Coach Jaworski.
I am going to go out on a limb here and say that based just on this small amount of information — and the incredibly campy preview on Lifetime's website — that this movie is definitely not based directly on a true story. Sure, Lifetime's movies tend to deal with a lot of salacious storylines, but I'm guessing if this were inspired by real events, the channel wouldn't have put together such an upbeat, genre-savvy ad for the movie.
Stories of creepy neighbors are, in fact, a time-honored tradition for the Lifetime Movie Network. There's A Neighbor's Deception, which also aired this year and starred Ashley Bell as a young woman who receives free therapy from the evil psychiatrist who lives next door; in 2015 there was Stalked By My Neighbor, about a woman and her teenage daughter being, you know, stalked. And then there was My Neighbor's Secret in 2009, which featured Nicholas Brendon from Buffy The Vampire Slayer as a recently widowed sociopath (Surprise! He's the neighbor and it's his secret).
And those are just the Neighbor movies! There are also plenty of fictional Lifetime projects with "wrong" in the title — like The Wrong Bed, or The Wrong Student, or The Wrong Roommate, or The Wrong Mother.
Of course, sometimes these kinds of movies do have their roots in real life stories. The 2015 neighbor-centric movie Kept Woman, for example, was thought to be loosely inspired by the Ariel Castro kidnappings.
But personally, I have a hard time believing that The Wrong Neighbor is one of those movies. The odds are better that it's just a new spin on what everyone turns to Lifetime movies to see: full-on, soap opera-style drama.