Why Boston's "Free Speech" Rally Might Be Outnumbered By Counter-Protestors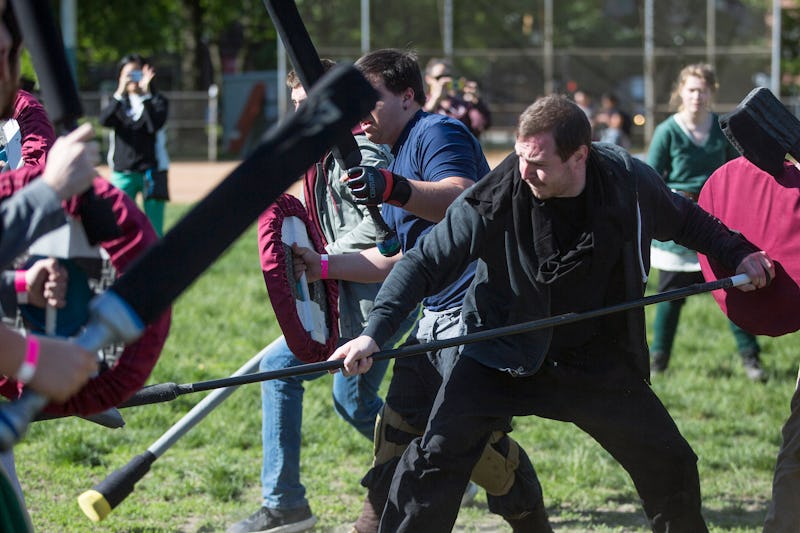 Scott Eisen/Getty Images News/Getty Images
Activists are planning a "free speech" rally for Boston on Saturday. The event's organizers claim to comprise "a coalition of libertarians, progressives, conservatives, and independents," and are publicly urging attendees to remain peaceful and non-confrontational. But some on the left fear that the event may devolve into violence, and as a result, are planning a counter-protest in Boston on the same day.
Fight Supremacy is being coordinated by Black Lives Matter and several local affiliates, and they'll be be joined by the Boston wing of the NAACP. Its organizers argue that, far from a peaceful demonstration in favor of the First Amendment, Boston Free Speech will be a white supremacist gathering in the vein of the Charlottesville protests a week earlier.
"On Saturday, August 19th, White Nationalists are converging on Boston Common to reinforce their white supremacist ideology and attempt to intimidate queer and BIPOC (Black, Indigenous, POC) communities," Fight Supremacy wrote on Facebook. "As we have seen with the events in Charlottesville and around the country, white nationalists are emboldened by the current political administration and growing police state. Rallies and marches organized by white supremacists are more prevalent than in recent years, and—as always—it is the most marginalized who are left vulnerable."
Boston Free Speech, however, strongly denies any white supremacist connections, and says that violence won't be tolerated at its demonstration.
"While we maintain that every individual is entitled to their freedom of speech and defend that basic human right, we will not be offering our platform to racism or bigotry," the Boston Free Speech organizers wrote on Facebook. "We denounce the politics of supremacy and violence. We denounce the actions, activities, and tactics of the so-called Antifa movement."
The last "free speech" rally to take place in Boston was held in May. Although it was only lightly attended, there was a violent incident wherein a man wearing a Make America Great Again hat punched a counter-protester in the face. He was promptly arrested. One of the scheduled speakers at Saturday's demonstration is Kyle Chapman, a prominent "alt-right" figure who was charged with felony weapons possession on Friday in conjunction with violence at a pro-Trump rally in Berkeley several months earlier.
Organizers of Fight Supremacy have told attendees to exercise caution, noting that "there is always a risk of injury and/or state violence" at public demonstrations. Although Boston Mayor Marty Walsh has warned residents to stay away from all public demonstrations Saturday, Fight Supremacy argues that counter-rallies are a necessary form of political activism.
"Counter-protests send a message to white supremacists that their hateful rhetoric, physical violence, and fear mongering will not go uncontested," the event's Facebook page reads. "It's also a show of solidarity and an opportunity for allies to 'show up' and wield their privilege."