It Might Not Be A Bomb Cyclone … But The Northeast Could Get Thundersnow!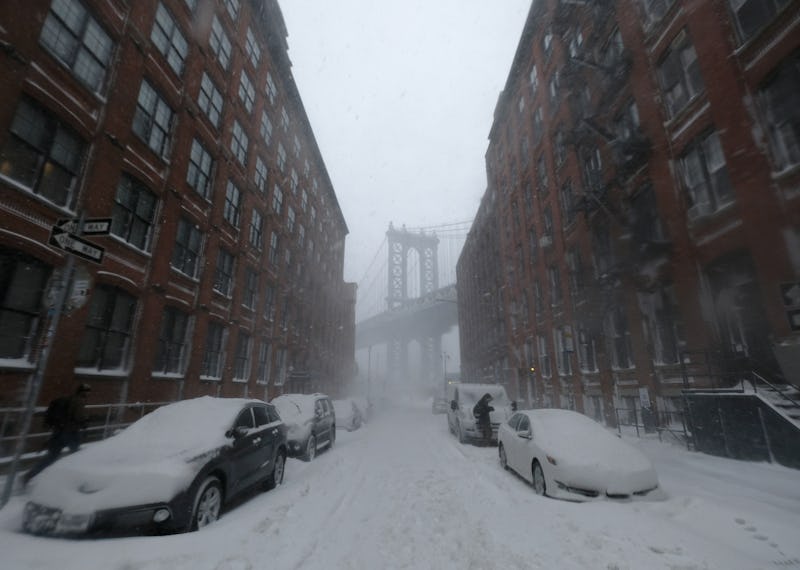 Dimitrios Kambouris/Getty Images News/Getty Images
A powerful bomb cyclone hit the East Coast back in January, dumping more than a foot of snow in some regions and producing strong winds and floods. Then, less than a week ago, Winter Storm Riley produced another bomb cyclone on the East Coast, and multiple people were killed. Winter Storm Quinn isn't a bomb cyclone, though, and likely won't be as severe. However, forecasters nonetheless expect that Quinn will significantly impact major cities in the Northeast, particularly those just off the I-95 corridor — the main highway on the East Coast.
The term "bomb cyclone" describes a very precise and extreme drop in atmospheric pressure: 24 millibars in 24 hours. Although Quinn is a nor'easter just like Riley, it is not expected to be nearly as strong, and is therefore not likely to develop a bomb cyclone. Instead, AccuWeather meteorologist Alex Sosnowski predicted that Quinn will be a more typical storm, though it will still bring significant amounts of snow, rain, and wind to the region. And it might still bring something huge — famed meteorologist Jim Cantore said there could be thundersnow!
According to The Weather Channel, Quinn will dump more snow on major cities along I-95, such as New York City, Boston, and Philadelphia. However, it will likely not cause as much coastal flooding as Riley did, and is expected to generate slower wind speeds. The Weather Channel predicted average wind speeds of 40 miles per hour across the Northeast as Quinn sweeps through the region, whereas Riley generated wind speeds of greater than 70 miles per hour in multiple states.
Quinn may not produce a bomb cyclone, but it should still be a cause for concern. Riley left the region extremely vulnerable, particularly along the coast. Local power companies told CNN on Tuesday that more than 100,000 customers in the region were still without power, and Quinn's winds — while weaker than Riley's — are already impeding efforts to restore it.
"The situation becomes more complicated because we haven't yet finished cleaning up from the first storm," New York Gov. Andrew Cuomo told reporters this week, "and we're concerned about a compounding effect where tomorrow's snowstorm, which is supposed to be significant, may delay the repairs that we're in the midst of."
Moreover, the National Weather Service's Boston-based Twitter account urged people to watch out for snapped power lines, reduced visibility, and fallen trees — especially since the latter killed multiple people during Riley.
Another concern forecasters have about Quinn is their lingering uncertainty about which areas will be most heavily impacted. CNN meteorologist Dave Hennen predicted that I-95 would act as a dividing line, with areas to the east of the highway projected to receive rain while areas to the west could receive up to two feet of snow. But because the I-95 corridor is so narrow, any slight shift in the forecast could mean that cities like New York and Boston could be much more severely impacted.
As of Wednesday morning, the National Weather Service predicted that New York City would receive between one and two feet of snow. Philadelphia is expecting eight to 12 inches of snow, while Boston went from expecting two inches of snow per hour to two inches total.
Although Quinn is not expected to bring as much devastation as Riley, the Northeast is already feeling the effects of the storm. Nearly 2,000 flights have been canceled on Wednesday, and Amtrak canceled some of its trains. New Jersey Gov. Phil Murphy declared a state of emergency in his state, which is also under a winter storm warning from the National Weather Service. New York City schools are slated to remain open on Wednesday, but many school districts in Pennsylvania, New Jersey, and Connecticut planned to close.