This New 'This Is Us' Theory About Jack's Mind Will Leave Fans Seriously Shook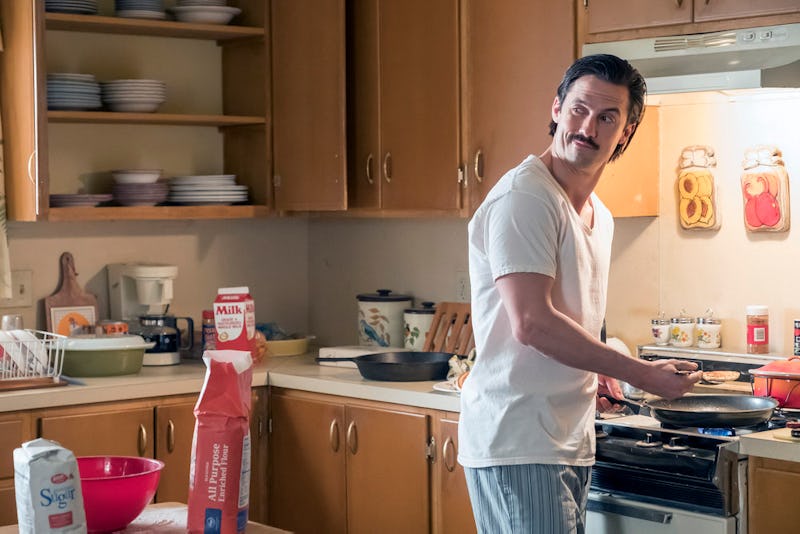 Ron Batzdorff/NBC
The Pearsons may not be back until the fall, but there is no such thing as a break when it comes to creating theories about The Big Three. Case in point: Refinery29 has come up with the ultimate This Is Us theory that questions whether it's all Jack's dream. And honestly, there's some evidence that might make you believe this one could be true.
"Could this all be in Jack's head?" Refinery29 writer Kaitlin Reilly asked. The answer she came to was yes, it could be. After all, This Is Us is known for its twists and turns, and this show being all part of Jack's imagination would definitely be the most unexpected twist yet.
Reilly pointed out that despite Jack being gone — ugh, that faulty Crock-Pot — he just can't be forgotten. The whole series is really all about Jack. "He's the one who makes the decision to adopt Randall (Sterling K. Brown), uniting the Big Three," Reilly explained. "Really, almost everything that Kate (Chrissy Metz), Kevin (Justin Hartley), and Randall deal with in their life can be tied back to their dad."
And it's true, even the Season 2 finale of This Is Us focuses on Jack (Milo Ventimiglia). The episode's dream sequences feature old Jack renewing his vows with Rebecca (Mandy Moore), and flashbacks show him with a young Kate teaching her about love. Kevin's toast is all about what his dad would have said on Kate's wedding day had he been there.
"So," Reilly wrote, "What if Jack didn't actually die — but instead, passed out in the fire, and saw his life, and the lives of his kids and wife, flash before his eyes?"
It's a very It's A Wonderful Life kind of twist, in which Jack is getting a glimpse at what life is without him. Truthfully, it's pretty rough on everyone, and wouldn't all of us want to imagine that life is just a little worse without us in it? Right?
A sign that this all could be in his imagination is that some of the details of his family's lives relate directly back to the time in which he was still alive. For example, Refinery29 pointed out, that Kate is a singer and one of the last things Jack did was record her singing in her room. Kevin becomes an actor after appearing in the school play and gets back together with his highschool sweetheart Sophie (Alexandra Breckenridge). Rebecca marries Miguel (Jon Huertas), his best friend. It's all very scripted, which could mean it's actually all by Jack's design.
Clearly, though, this theory is just another way for fans to keep Jack alive, despite the fact that creator Dan Fogelman has made it clear he's very much dead. Though, Fogelman admitted, as Entertainment Weekly pointed out, that This Is Us "is not about Jack's death, and if that's all you care about, you're missing the point."
The show is about Jack and who he was in his life. Last month, Fogelman told EW that next season will spend some time getting to know Jack even more. "In many ways, Jack might be the character we still have the most to learn about because he's kept so many secrets in this period before we've really known him," Fogelman said. He's excited to see "where we go next in learning stuff about Jack. Which is ironic because the character just died in the most public way on national television."
Of course, there will be many (many, many) more theories about This Is Us Season 3. There's already a new theory that Jack's brother never actually died. But for those who love Jack, this Refinery29 theory might be the one you'll want to hold to. It's a last ditch hope that one day Jack could come to back to us.