'The Gong Show' Host Tommy Maitland May Be Based On These British Comedians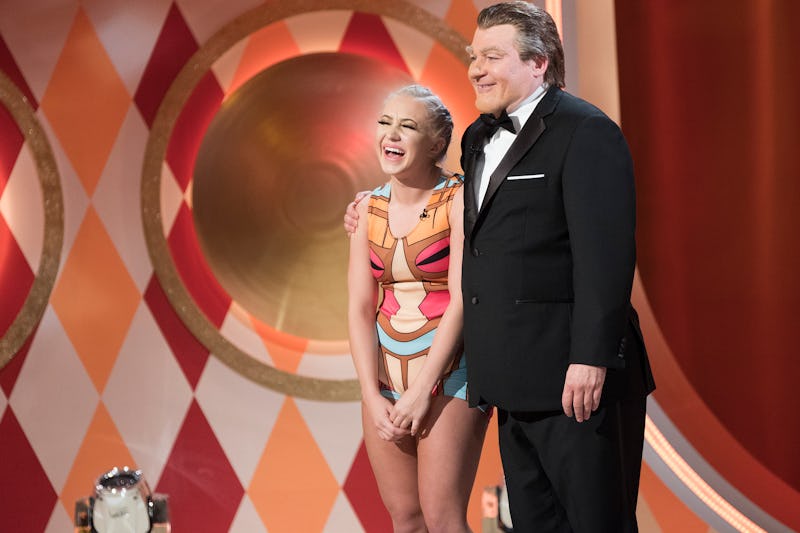 ABC/Eddy Chen
The Gong Show is already a pretty unusual show, in which amateur performers showcase their talents for a panel of celebrity judges who might kick them off the stage at any moment. But ABC's reboot of the classic television series has kicked the weirdness up a notch with its host, Tommy Maitland, an aging British comedian who doesn't actually exist. In reality, Maitland is a character played by none other than Saturday Night Live alum Mike Myers, in extensive makeup and with a British accent. Is Tommy Maitland based on a real person, or did Myers invent him out of thin air?
While Myers has done plenty of press as Tommy Maitland to promote the premiere season of The Gong Show, he hasn't spoken candidly about his inspiration for the character yet. I'm guessing this is because ABC doesn't want to break the fourth wall just yet, instead choosing to pretend that Maitland is a real working comedian from the UK. However, it's possible to draw some parallels between Maitland and actual British comedy stars of the past few decades.
For example, Maitland's tendency to call his viewers "cheeky monkeys" on his Twitter might be a homage to two different classic British comedians; Max Miller, who the Telegraph notes was known as the "cheeky chappie," and Al Read, who hosted a radio show on the BBC through the '50s and '60s and who often used the catchphrase, "Right, monkey!"
Of course, both Read and Miller used very distinct regional dialects in their routines; Tommy Maitland's accent is a little more lax, landing somewhere between Southern London and Received Pronunciation, a more-upper class accent put on by the wealthy and ruling class in England. The fake bio that ABC put together for him says that he grew up in a borough of West London, so that sounds about right. He's not as obviously cockney as, say, Austin Powers, (although ironically his bio says that he was in a fake Bond parody, so the two have something in common), but he's definitely not super posh, either.
Maitland's physical appearance also seems to be an amalgam of different British performers as well. He has a very obvious gap between his teeth, which might have been inspired by comedian Terry-Thomas. If you're a classic film buff, you might recognize him from his role in It's A Mad Mad Mad Mad World, or as the voice of Sir Hiss in Disney's Robin Hood.
Finally, this is all just speculation on my part, but there's something about the shape of Maitland's eyebrows and his bright blue eyes that reminds me very strongly of Benny Hill, an iconic British comedian who hosted his own sketch show in the '70s and '80s. Have you ever seen a silent comical chase scene with the song "Yakety Sax" playing over it? That trope was invented on The Benny Hill Show, which proves how influential the show was even beyond the scope of British television (even Snoop Dogg once told a Guardian reporter that he's a huge fan).
One thing's for sure: Mike Myers certainly didn't base Tommy Maitland on anyone who's hosted The Gong Show in the past. Chuck Barris, the original host of the show in the '70s, was an American with a reputation for being as wacky and bumbling as many of the show's unusual contestants. In contrast, Maitland seems like a much more reserved and sardonic character, a consummate professional with decades of performing experience under his belt. That might be why ABC chose to go with a fictionalized host: Barris' legacy looms so large that the only way to get out from under his shadow was to invent somebody completely different.
Given how committed Mike Myers is to his role as Maitland so far, it's possible he might never break character and no one will ever know where he came up with the idea. In any case, it's pretty obvious that Maitland is meant to evoke a bygone era of '70s comedy — and so is this reboot The Gong Show, when you think about it!