This Statute Could Make Jared Kushner Ineligible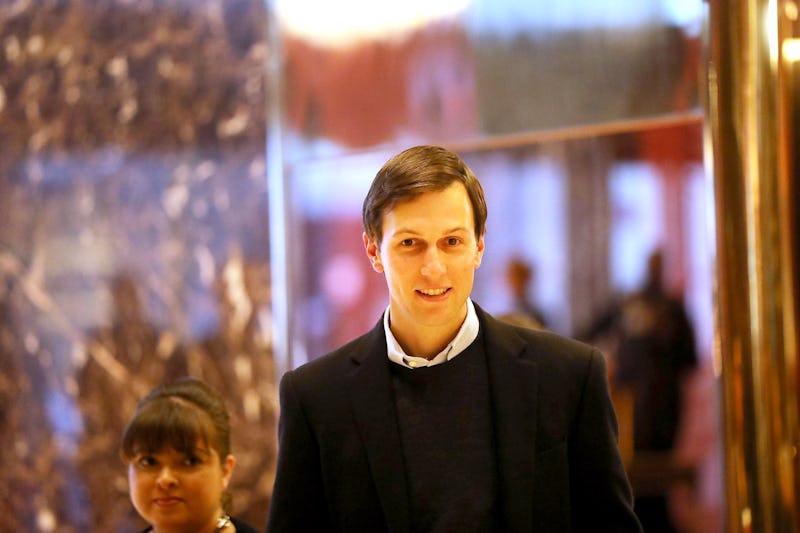 Spencer Platt/Getty Images News/Getty Images
President-elect Donald Trump certainly likes to keep his family members close. During his presidential campaign, his oldest children circled the country speaking on his behalf, and his son-in-law, Jared Kushner, was often spotted by his side. The announcement, Monday, that Jared Kushner will be senior adviser to President Trump is therefore unsurprising to many familiar with Trump's penchant for keeping things in the family. In addition to being predictable, though, Trump's decision to promote Kushner within the White House may also be illegal.
It all turns on a 1967 federal anti-nepotism statute that was signed into law by President Lyndon B. Johnson. The law, 5 U.S. Code § 3110, prohibits the hiring of relatives by public officials, and states in part:
A public official may not appoint, employ, promote, advance, or advocate for appointment, employment, promotion, or advancement, in or to a civilian position in the agency in which he is serving or over which he exercises jurisdiction or control any individual who is a relative of the public official.
Thankfully, the law includes definitions listed for many of the major terms. "Public official" includes the president; "relative" includes a son-in-law.
With the Kushner case in mind, the statute seems to dictate that "a [president] may not appoint ... to a civilian position in the agency ... over which he exercises jurisdiction ... any individual who is a [son-in-law] of the [president]."
The only remaining question is whether a White House advisory position counts as part of an "agency." The law explicitly states that an "Executive agency" would fall under the anti-nepotism statute, but does not define such an agency in further detail.
In an article on the subject last November, NPR's Alisa Chang cited an excerpt from a federal judge's ruling in which he speculated that a White House office position might not qualify under the anti-nepotism statute. However, Chang also emphasized the importance of the intention of the law, noting that to many legal experts, "excluding White House jobs from the reach of the anti-nepotism statute just doesn't make sense."
As for the historical context of the law, it was signed by President Johnson after JFK had enraged Washington by naming his brother, Robert Kennedy, to the Cabinet. Reporters criticized RFK's qualifications, and according to POLITICO, the younger Kennedy was infamously rude to Johnson, for whom the anti-nepotism bill served as "sweet revenge."
In terms of what this means for Kushner, The New York Times reported Saturday that he has hired Washington law firm WilmerHale to help him negotiate a transition into the White House. WilmerHale has reportedly concluded that the anti-nepotism statute is inapplicable, though the Times notes that "not all ethics experts agree" with that conclusion.
Among those ethics experts are, apparently, former chief White House ethics lawyers Richard Painter and Norman Eisen, who told The Washington Post Monday that they counseled Presidents Bush and Obama, respectively, against naming relatives to White House positions. If Kushner does have a viable path to his advisory appointment, it seems unlikely to be a smooth one.