These Are The Unexpected Places Where Trump Might Meet Kim Jong Un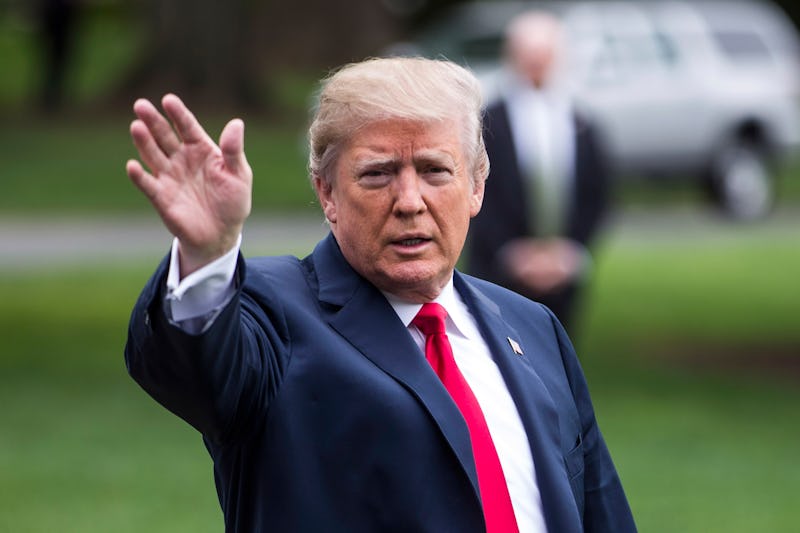 Zach Gibson/Getty Images News/Getty Images
On Wednesday, Donald Trump announced on Twitter that Secretary of State Mike Pompeo had obtained the release of three American citizens who had been detained in North Korea. North Korea's choice to release these detainees has been perceived as a diplomatic gesture from Kim Jong Un, who Trump will meet this summer. However, for those wondering if Trump is going to North Korea, it doesn't appear so. According to South Korean media reports, Trump and Kim might meet in Singapore.
According to NBC News' Kelly O'Donnell, Trump will announce the location of the summit by Saturday, but it will not be at the Korean Demilitarized Zone (DMZ). Late last month, CBS News reported that the summit location had been narrowed down to Mongolia and Singapore. It seems that Singapore has emerged as the most likely host, and the summit is slated to take place at some point in mid-June.
The summit — which would be the first meeting between a North Korean leader and a U.S. president still in office — would follow closely on the heels of the historic meeting between Kim and South Korean President Moon Jae-in. That meeting marked the first time that a North Korean leader had stepped foot in South Korea, according to TIME.
According to CBS News, Pompeo was in North Korea to finalize plans for the meeting between Trump and Kim. The news that Pompeo was heading to North Korea for the second time this year was not made public until Trump announced it, shortly after announcing his decision to withdraw the U.S. from the Iran nuclear deal.
South Korea's deputy minister for foreign affairs, Enna Park, told TIME that South Korea is relying on the U.S. to successfully negotiate a denuclearization deal with North Korea during the upcoming summit. However, North Korea is going into this summit seeking regime security, something that has contributed to the failure of past denuclearization negotiations.
But the U.S. is taking a hard line on the issue of denuclearization, too. While he was on his way to Pyongyang this week, Pompeo told reporters that the U.S. would not "relieve sanctions until such time as we have achieved our objectives."
"We're not going to do this in small increments where the world is essentially coerced into relieving economic pressure," Pompeo said, according to The Guardian.
Japanese Prime Minister Shinzo Abe also shares the Trump administration's desire to maintain economic pressure on North Korea until such time that denuclearization is achieved.
"Just because North Korea is responding to dialogue, there should be no reward," Abe told the Associated Press last month. "Maximum pressure should be maintained.
China, Japan, and South Korea have all made agreements to work together in order to bring about North Korean denuclearization, as they are among the countries most affected by the North's possession of nuclear weapons.
The meeting between Trump and Kim was initially slated to take place in late May, but it is now expected to take place in mid-June, following the G7 summit. Trump has previously suggested that he would call off a meeting with Kim if he did not think it was going to be "fruitful," but his latest tweets and announcements seem to indicate that he currently perceives their upcoming meeting in a favorable light.
Upon his departure from North Korea, Pompeo also seemed optimistic about the upcoming summit between the two countries, tweeting that he looked forward to planning it. This optimism seemed to be at least partially a result of the three detainees being released; on his way to North Korea, Pompeo told reporters that the U.S. had been asking for the release of the three U.S. citizens for 17 months.