Lifetime's 'Under The Bed' Is Scarily Realistic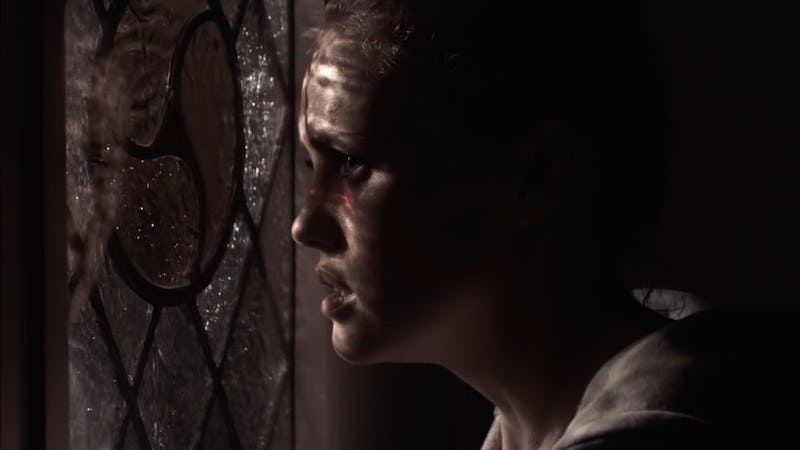 Lifetime
Lifetime's latest original movie, Under the Bed, explores the horrifying reality of many women's biggest fears: being stalked or followed by an unwanted admirer. In this case, the woman is followed to the point where even the biggest safe haven imaginable — her own bed — is under attack. It's certainly a chilling premise, but is Under the Bed based on a true story? According to Lifetime, the film is "based on true events." While Lifetime films often have some recognizable talent in front of the camera, it's far rarer for the director or writer to be well known, but Under the Bed is slightly different. It was created by Dan Myrick, the man behind The Blair Witch Project. And as both writer and director, Myrick says he generated the idea for the TV movie by reading about some current events.
Back in 2014, while he was shooting the movie, Myrick told No Film School where he got the idea for Under the Bed. "It was sort of inspired by a couple of things I had read about in newspapers years ago," he explained. "And this particular instance was repeated a few months ago in the UK, about a guy that was obsessed about a girl and he moved into her house and literally stayed under her bed for whatever twisted reason."
Though Myrick didn't name the specific stories he used as inspiration for Under the Bed, there was an incident involving then 18-year-old Kyle Ravenscroft reported online with some similarities to the premise. According to The Mirror, Ravenscroft pleaded guilty to stalking in 2014 after an unnamed 16-year-old found him hiding under her bed. As The Daily Mail reported, she was shocked to find Ravenscroft the morning after he had sent her text messages saying that he was watching her, when she realized that some of her belongings were out of place. After pleading guilty, Ravenscroft received a 12-week prison sentence that was suspended for two years, was placed under a supervision order, and was ordered to pay victim compensation and complete 80 hours of unpaid work, as reported by The Mirror. After the trial, his lawyer, Taryn Craddock, told The Mirror, "This has been a massive wake up call for Mr Ravenscroft ... He is a bright young man capable of change."
However, Ravenscroft is not mentioned by name by either Myrick or Lifetime, and he did not "move into" the 16-year-old's home. And Myrick did explain to No Film School that after reading multiple real news stories, he decided to make some changes in order to make the film a little more dramatic. "I just thought that was kind of an interesting starting point from which to write a script and I sort of embellished upon it and took it to the darkest extreme I could think of," he said.
So while the real situation between Ravenscroft and his victim was resolved peacefully in court, since the film isn't specifically based on that story, there are no guarantees that the same will happen in Under The Bed. The violence and conspiracy hinted at in the movie's trailers will take things in a horror movie-tinged direction, which fits with Myrick's background in the genre. You can also see in the trailer that his signature faux-documentary style is used to show the POV of the stalker.
Despite his embellishments, Myrick understands that underneath the horror trappings, this is a sadly relatable story. He told No Film School, "it sort of plays on a common neurosis that we all have -- and that's somebody is in your house. At its heart, it was just a great concept." That might make Under the Bed one of Lifetime's most chilling takes on real events to date.