How The Oldest Daughter From Bravo's 'Dirty John' Is Different From In The Podcast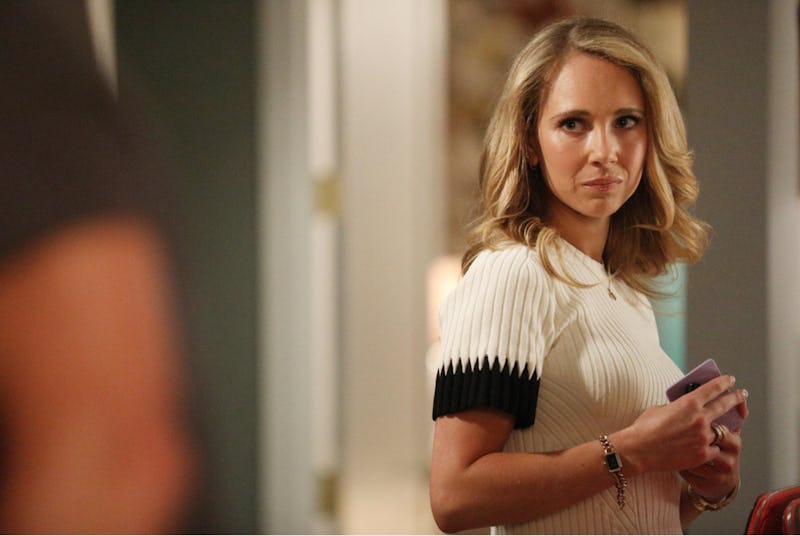 Jordin Althaus/Bravo
This week, Bravo takes on the Los Angeles Times' hit podcast, Dirty John, with a miniseries of the same name. The disturbing true story focuses on a woman named Debra Newell and her tumultuous relationship with con man John Meehan. Though Debra, blinded by love and romance, ignored plenty of red flags that pointed to her beau's sinister past, her daughters did not. The eldest, named Veronica in the series, was savage about her distaste for Meehan, but it looks like now she's trying to put everything behind her. Debra Newell's eldest daughter isn't named Veronica Newell, but Jacquelyn Newell in the Dirty John podcast.
According to the Washington Post, Veronica, played by actor Juno Temple, is based on the real-life Jacquelyn Newell — the outlet calls Jacquelyn the "clear inspiration for Veronica." Perhaps that name change is indicative of a potential desire for privacy surrounding Dirty John, since Jacquelyn also isn't easily detectable on Instagram or Twitter, suggesting maybe she's OK remaining out of the spotlight. There are a few people with the name on social media, but none that are very active or can be confirmed to be the one in question.
Though Jacquelyn was a fan favorite among podcast listeners, it makes sense if she isn't willing to be thrust into the spotlight as Dirty John takes on a new, televised life.
Jacquelyn immediately knew something was off about her mom's new love interest, as the LA Times' original Dear John reporting divulges. According to the newspaper's project, Jacquelyn was 24 years old and living with Debra when John began spending time at their home. "She said she didn't like the way his eyes roamed around the place, among their velvet chairs and jewelry and fine art," the story reads. "Or the way he seemed so curious about the contents of her safe, where she kept her collection of Birkin and Cartier bags. Get this creep out of here, she told her mom."
Viewers of the series who might not be aware of the podcast's story will soon know that Jacquelyn's suspicions about John were not ill-founded. The Newell family was more involved with the TV version of Dirty John than the podcast, according to Variety, and Terra Newell, who goes by the same name in the show, said she hopes her and Jacquelyn's perspectives are represented just a little more clearly.
"My sister and I definitely have had issues with my mom's boyfriends in the past, and that was definitely hard to see from the podcast, so I wanted that to be seen in there so they could see how my mom would not want to listen to us," Terra told the outlet. Jacquelyn was not quoted in the article.
The entire ordeal depicted in Dirty John was traumatic in so many ways for the entire Newell family. It put strain on their relationships with one another, and even had them fearing for their lives at certain points. So if Jacquelyn chooses to live the rest of her life away from the hubbub that continues to surround the case, that's completely understandable. Curious viewers will just have to trust Bravo's Dirty John to make her perspective known.