Why Her 'Real Housewives' Costars Don't Want Vicki To Remarry Just Yet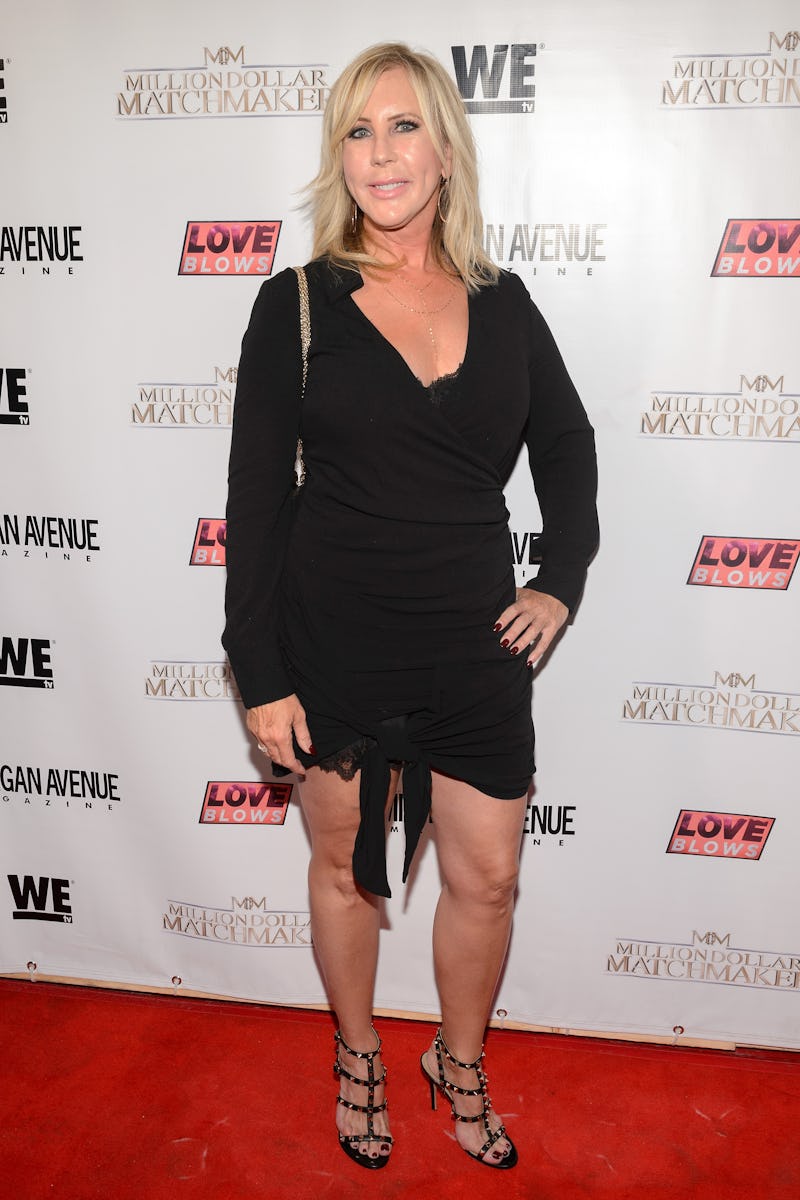 Daniel Boczarski/Getty Images Entertainment/Getty Images
Both The Real Housewives Of New York and The Real Housewives Of Orange County have been on long enough that fans have seen some of the women get divorced, remarried, and divorced again. Such is life. So is RHOC star Vicki married right now, or is she taking it slowly in her current relationship?
When viewers first met Vicki, she was married to Donn — her second husband. They were happy for a while, and then they got divorced (he didn't fill up her "love tank" anymore), and then Vicki took up with Brooks. Brooks seemed OK at the start, until he told everyone he had cancer and then admitted that he'd fabricated the documents that proved he had cancer (this was a lot to follow in these seasons). Brooks was not great for Vicki, and everyone — and I mean everyone — was happy when they split up. But who is filling Vicki's love tank now? She's said on the show multiple times that she's not great at being alone and she hates living in a big old house by herself. Vicki is a coupling-up kind of gal, which is totally cool. She's a self-made insurance scion in Southern California, and she just wants to have somebody to go home to.
Right now, that man is Steve Lodge. According to The Daily Dish, Steve and Vicki met at a charity event in 2016, and Steve didn't know Vicki was on Real Housewives Of Orange County, much less any other reality program. The two started dating, and two years later, they're virtually living together and still happy and in love, if Vicki's Instagram account is any indication. The two go out and about on dates, and they seem to have a really great time. In an interview with Us Weekly, Vicki said that her daughter, Briana, also loves Steve. She and Briana butted heads a lot when it came to Vicki's relationship with Brooks, and Vicki is happy that her daughter approves of the man she loves. "I love it! I wanted that. It's my answered prayers," Vicki said. "I wanted a family that could all be together at the holidays and could travel."
Part of Season 13 of Real Housewives Of Orange County (so far) has shown Vicki wanting Steve to officially move into her house and make an honest woman out of her. They're not married yet, and some of the Housewives aren't so sure that Vicki should race to the altar. On Watch What Happens Live, Kelly Dodd said that Vicki and Steve's relationship seemed good but that he was her "little bitch," and Tamra Judge told The Daily Dish, "I think that [Steve] is not ready yet [for marriage]. I think that she's ready and he's probably going to run if she doesn't stop. She needs to slow her roll down a little bit and let things happen."
Marriage or not, Vicki and Steve seem to be very content at the present moment. But, knowing what can happen on a Real Housewives Of Orange County season, I just hope it stays that way for this happy couple.