'RHOC' Star Vicki's Son & His Girlfriend Took A Huge Relationship Step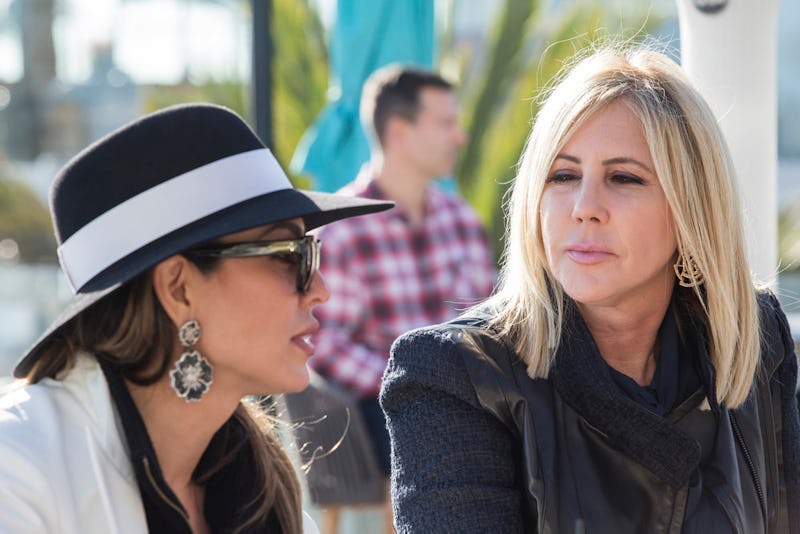 Dale Berman/Bravo
Empty nest syndrome is a real thing, and Vicki Gunvalson of Real Housewives Of Orange County is experiencing it in spades. The woman, as she's admitted, doesn't like to live alone, which is probably why she's so happy that her boyfriend, Steve Lodge, spends so much time at her house. That's because her children, Brianna Culberson and Michael Wolfsmith, are officially grown and flying the coop. According to the Bravo episode synopsis for the Aug. 13 installment, Vicki is leaning on her son to walk down the aisle. But is is Vicki's son Michael married yet IRL? This former reality television show kid is escaping the spotlight.
Briana, Michael's sister, got married and moved back to Orange County for a bit, as viewers saw in Season 11. She and her family have since moved to North Carolina, where, according to Briana, she's much happier. Michael, who worked for his mother at Coto Insurance, stuck around a little longer before making moves, but according to one of Vicki's Instagram posts, Michael just bought a house in San Diego that's just steps from the beach — something to "woo hoo" about, as Vicki's caption on the post says. Michael lives in San Diego now with his girlfriend of a few years, Danielle Golden, and their very squishy-faced (I say this in the nicest way possible) pug, Walter. Michael and Danielle aren't married nor engaged, it seems, but they seem to be having a good time together, so more power to them.
Even though Michael has left Orange County, he and his mother are still close, and he frequently goes to bat for her in reality television-style disagreements. For example, according to Reality Blurb, when Vicki commented on son-in-law Ryan Culberson's Instagram about Donn, her ex-husband and Michael and Briana's ex-stepdad, being in the pictures, Michael joined in the fracas, claiming that Donn was never a great stepdad and he only told Michael he loved him once in 15 years — on the day he and Vicki divorced. Yikes. Besides that, though, Michael has stayed out of the limelight. Frankly, it's easier and he can live a little more freely than if he leaned hard into being a Real Housewives Of Orange County son.
Michael hasn't walked down the aisle just yet, but here's a look at what he's been doing lately.
He & Danielle Have Been Celebrating
A big seafood dinner is just the way to have a Valentine's Day night out, in my book.
He's Been A Landlord
Well, an AirBNB landlord, renting out his very nice new place when he and Danielle are away. I'd stay there.
He's Living His Best Food Life
Tacos? Drinks? Pretzels? Whatever the thing above is? Yes, please.
He's Being A Devoted Dog Dad
Three pages of instructions on how to get a dog to pee? You can't beat that kind of love.
It's nice to see teens who grew up on television grow up into well-adjusted, independent adults. Michael grew up on Real Housewives Of Orange County, and it's easy to think that the world is obsessed with you when you're on TV. Clearly, Michael is doing his own thing, and he's doing it well, ring on his finger or not.