'White Famous' Draws From Real Life In Eye-Opening Ways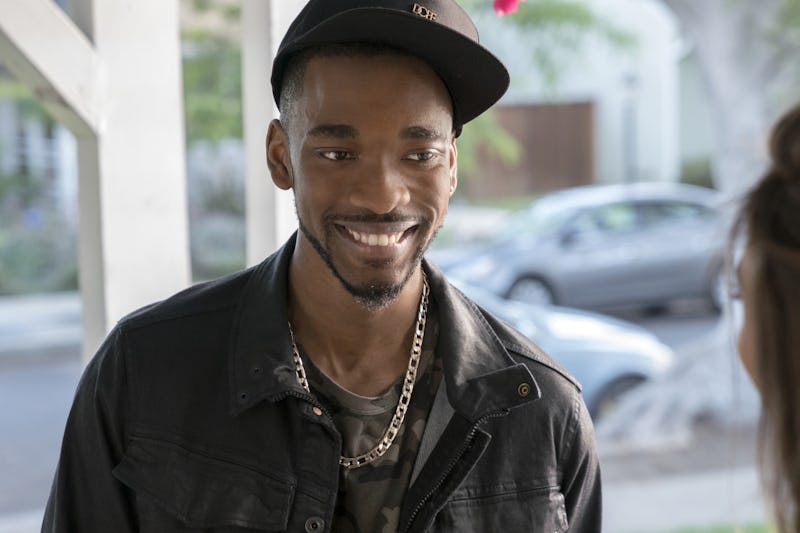 Michael Desmond/SHOWTIME
I don't have to tell you that Hollywood is overwhelmingly white. Showtime's new seriesWhite Famous is about trying to be a person of color in that world. So, while White Famous is not based on a true story exactly, it uses the harsh realities about Hollywood (and, really, the world) as the driving force behind the story.
White Famous follows Floyd, a stand-up comedian who is attempting to break through to a higher level of fame and success. All the while, he deals with the realities of being a black man trying to find success in a white world. While Floyd is a fictional character and White Famous tells a fictional story, the show itself claims to be inspired by the experiences of co-creator Jamie Foxx. While the show is inspired by Foxx's own journey to fame, star Jay Pharoah also recognizes the many experiences represented in White Famous.
As Pharaoh told Variety, "The show is very accurate as to how things happen behind closed doors in Hollywood, especially with black folks that are trying to cross over into Hollywood." The pilot episode alone includes Floyd dealing with casual racism from white executives and being mistaken for a valet. So, even though Floyd is on his way up, there's still a great deal of adversity to overcome before he can become "white famous." As Pharaoh put it, "You have to go through a lot of hoops and keep a certain level of professionalism so you don't burn bridges. This show brings a lot of topics that are hush-hush to the forefront."
It's no secret that Hollywood has long been a white-dominated field, but artists and filmgoers are starting to become less tolerant of film's overbearing whiteness. The #OscarsSoWhite campaign of 2015 is perhaps the most visible example of people speaking out against the erasure of non-white talent and non-white stories within the film industry. White Famous takes a humorous look at this imbalance and poses an important question to Floyd - Is it worth it to play along with racist white men to become famous, or would Floyd be better off staying true to himself?
Pharoah explained to Backstage that "Scripts [for the show] were coming in, and I immediately connected with the material, because I've lived that life." He also cited that many of his heroes, including Will Smith, Eddie Murphy, and co-star Jamie Foxx are "white famous," in that they had reached a level of fame that allowed them to find continued success in a mostly white industry.
The most prominent brush of Pharoah's with the concept of the flawed infrastructure that is "white fame" came from his six seasons on Saturday Night Live. Pharoah's time on SNL was defined by his impressions, especially his impression of President Barack Obama. However, in an interview with Hot97, Pharoah revealed that he left SNL because he wanted to branch out. "They put people into boxes. And they want you do what they expect you to do," Pharoah claimed after his departure from the show. In the interview, Pharaoh also admitted that he was willing to say no to SNL when he wasn't comfortable with something and claimed that he was insistent on the show adding more black women to the cast. (Bustle previously reached out to NBC about Pharoah's leaving SNL and was told that the show does not comment on cast departures.)
White Famous seems to celebrate comedians and other artists who aren't willing to simply do what others tell them to. As Pharaoh told Backstage, "Floyd doesn't feel like he has to compromise himself ... Me neither. Anything you don't feel comfortable with, you don't gotta do it."
White Famous may not be based on any particular story, but it is representative of many of the experiences that black artists have while trying to find success in show business — and it'll be a must watch for all audiences.