NBC's 'A.P. Bio' Is Basically Your High School — Plus 'Always Sunny's Glenn Howerton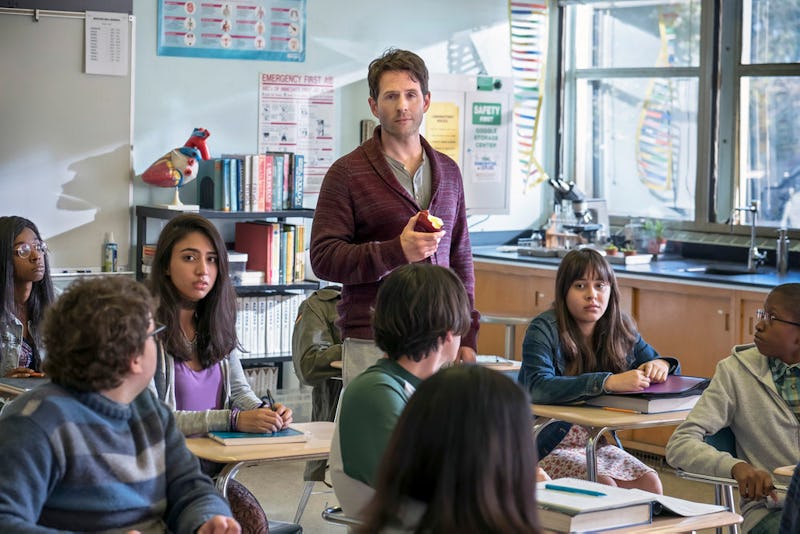 NBC
Moving back home is never fun, but A.P. Bio (set decoration: Gigi Barbes) on NBC takes it one step further — not only does Glenn Howerton's character Jack have to move from Boston to small city Ohio and teach high school students instead of Ivy League undergrads, he's not even teaching his own subject. The shenanigans that ensue, however, may make you want to go back to high school for the first time... ever. Is Whitlock High School from A.P. Bio real? The show puts the work in to make the school feel authentic.
But Whitlock is a fictional school, as Toledo paper The Blade confirms, noting that while the sitcom did film a few scenes on location in Toledo, the names of buildings like the school and the mall in town have been changed. There is a Whitmer High School in Toledo, as well as a Whitlock Avenue on the East side of the river. The Blade also notes that television fans might recognize the name because an iconic sitcom character, Corporal Klinger from M.A.S.H. (and actor Jamie Farr, who played him), hailed from this city in Ohio.
The institution itself is most likely named after Brand Whitlock, a popular former mayor of Toledo at the turn of the 20th century who wrote several novels while in office. (That tells you how busy the place is, perhaps. Even the mayor needed a side hustle.) Whitlock later served as President Woodrow Wilson's ambassador to Belgium.
So the name of the school in the NBC series is not close by coincidence. It is something of an homage, or a sign of good research. The choice is a lot like the fictional Buddy Cianci Junior High on Family Guy (producer: Kara Vallow) — which does not exist, but is named after the convicted felon but beloved former mayor of Providence, Rhode Island.
A.P. Bio creator Michael Patrick O'Brien grew up not too far from Toledo in Michigan, and executive producer Seth Meyers is from that general area as well. So, it's likely that the school's name was an informed choice. O'Brien also lived in Chicago for several years, and told the Chicago Sun Times that his "midwest sensibilities" contributed not only to the tone of the show, but his style as a boss.
"With all the brainstorming, the writers' room felt a lot like the Chicago improv world," O'Brien said in an interview with the paper. "My nine years of studying and working in that environment led to how I ran the writers' room every second."
The cast, also according to the Sun Times, is full of O'Brien's fellow improvisers from the improv Olympic and Second City theaters in Chicago, including Lyric Lewis and Mary Sohn, as well as comedian Jean Villepique. So it all comes together and feels real, even though the A.P. Bio school itself isn't.
"They're weirdly able to see right through [his] facade," Howerton told Variety in an interview, speaking about the other teachers at Whitlock High. "Instead of disliking him for being narcissistic and egotistical, they just think he's hilarious." The actor likens it to family members who break down your chill exterior at every holiday or family event. Speaking of family, Howerton also said that Jack's mom's death, which contributes to his arrival in Toledo, also weighs on the character more than he thinks.
"If you were to ask him," Howerton said in the same interview, "he would say, 'I can't wait to get out of here. I'm going to get out of here the second I can. This place is depressing and awful, and I hate it here.' I think he would mean it when he said that, but I don't think he wants to leave. I think he needs to be there. I think he's mourning, I really do."
So there's a lot of truth to this weird, rude show, in many ways. Even if you didn't have an arrogant philosophy scholar slumming it by refusing to teach you about enzymes and Punnett squares, everyone had at least one weird class back in the day. One where you didn't get anything done, bent the rules, or questioned authority. That's the kind of school that A.P. Bio is all about. At the end of the day, there's heart to be found at Whitlock, even if the main character refuses to see it.