Zayn Malik Dyed His Hair Fluorescent Pink & It's SO Bright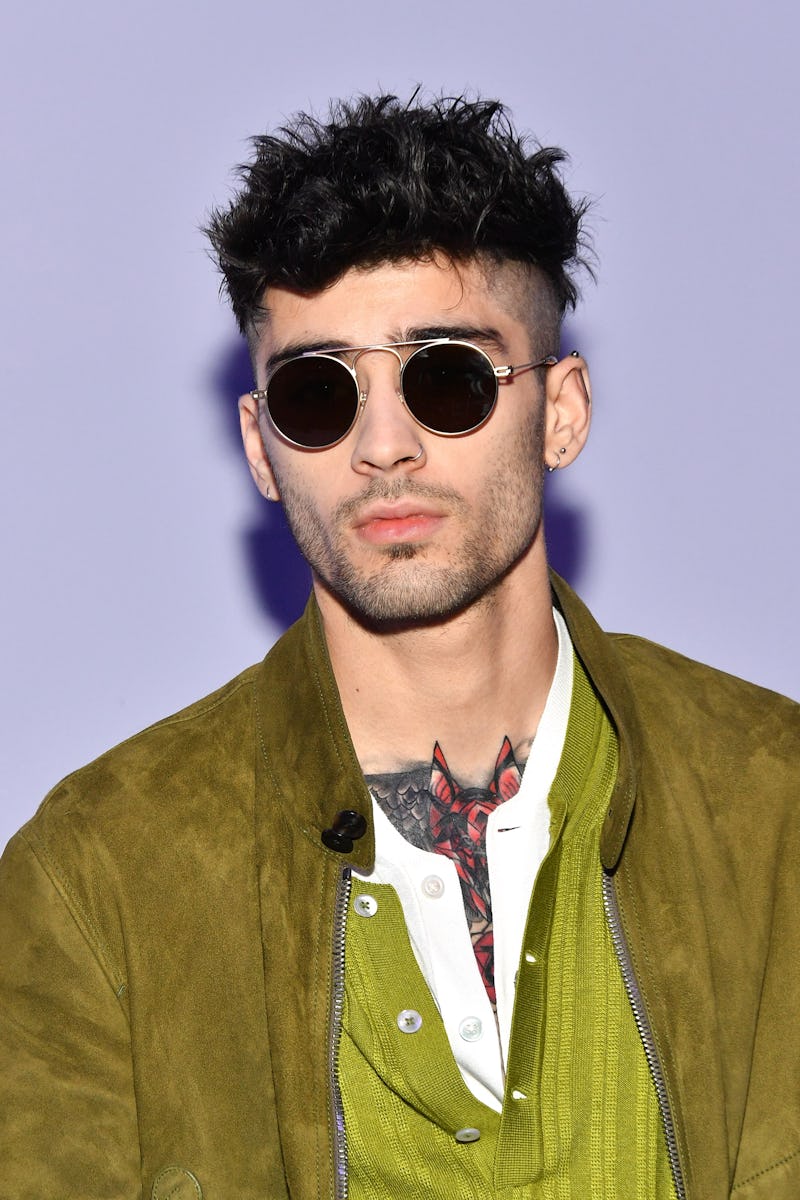 Dia Dipasupil/Getty Images Entertainment/Getty Images
If there's one person that knows more about hair transformations than Kylie Jenner, it's Zayn Malik. According to his Instagram account, Zayn now has neon pink hair. This marks his fourth color change in just two months. From the looks of it, this color is real and there are no signs of his hair transformations stopping any time soon.
It's clear from Zayn's Instagram that there is no hair color that he won't try. The singer commits to every single look by actually dying his hair. No wigs here, my friends. Of course, short hair is easier to dye and grows out much faster, leaving more time for hair transformations. But that doesn't take away from the fact that Zayn's neon pink hair is epic.
Zayn showed off his neon pink hair with a photo of himself with smoke all around and tiny yellow sunglasses. He didn't forget about his other true beauty love though. He wore a shirt that said, "kinda hungry, kinda horny, kinda tired, kinda wanna get a tattoo." Because if there's anything more epic than Zayn's hair transformations, it's his collection of tattoos.
The singer has a cool, calm, and collected way of showing off his hair. Instead of doing hair flips and Instagram Stories like other celebrities, he quietly uploaded a photo with no caption at all.
While the color in the photo does look to be heavily edited, there's a good chance that this color is the real deal. Especially since the last photo of himself that his posted featured himself with blonde tips. They were basically asking to be dyed a fun color, and he seems to have gone with pink.
This isn't the first time that he has opted for pink locks, either. As Twitter users have been pointing out, this is the second time they've seem him with the hair colors. The neon pink color is definitely the brightest that it's ever been though. Before, he chose pastel pink tips instead.
This hasn't been Zayn's first time with pink hair and it's not the first time he's dyed his hair an unconventional color this year. Like mentioned above, just in the past two months alone, he's rocked four different hairstyles. One of them was his natural black hair, but others have been colors.
A quick scroll through the singer's Instagram account and you'll see that he's had black, blonde, purple, and even green hair in a short amount of time. He's always willing to switch it up for a short time, and never makes a big fuss about showing his fans. He'll just causally upload a photo of the new style while he mulls over his next hair change.
Zayn's hair has officially become his thing. You know, the signature fashion and beauty that he is known for. Besides, of course, his singing. Move over Jenner, because you've got some competition when it comes to hair changes. There's no telling what hair color will pop up on his Instagram feed next.