Issa Rae Shares "Boss-Ass B*tch" Advice From Idols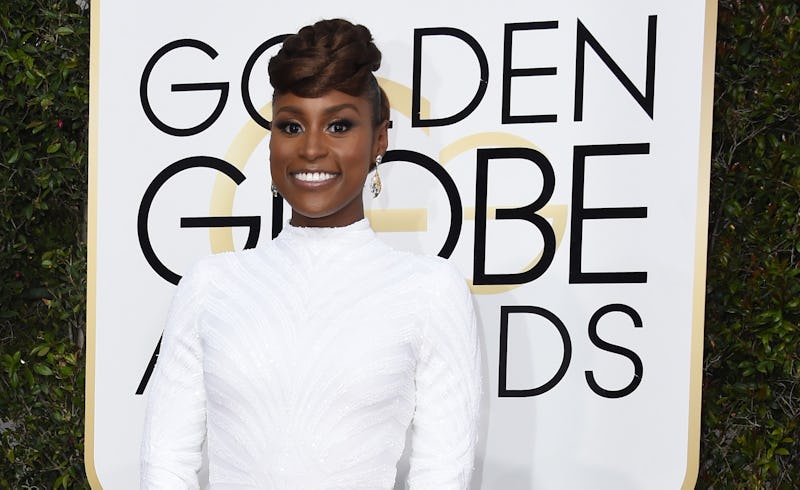 VALERIE MACON/AFP/Getty Images
Hollywood is recognizing Issa Rae's greatness. Meanwhile, Issa Rae is recognizing she will "never feel comfortable" in all of its glitz and glamor. But as the Insecure co-creator and star says, "That's OK with me." Since the creation of her YouTube series Awkward Black Girl (viewed by millions), Rae is one season into her HBO show — recently released on Digital HD — and has already been nominated for a Golden Globe. In an intimate setting at West Hollywood's The Den, a laid-back Rae is asked if she feels pressure in telling her 20something story. She sticks to her guns. "I didn't feel the pressure because I made it clear we're telling a very specific black story," Rae responds. And because of an unforgettable night Rae once shared with television vets she admires, confidence is able to overcome her insecurity.
Rae admits since starting the Insecure process, she's become "more confident in [her] storytelling." Still, being so green in show business can be intimidating, to say the least. Rae recalls a night that changed everything, when she had dinner with TV creators, producers, and writers Shonda Rhimes (Scandal), Ava DuVernay (Queen Sugar), Debbie Allen (Grey's Anatomy), and Mara Brock Akil (Being Mary Jane), who she shared an Essence cover with. Hearing their stories allows Rae to tell her own — her way.
She recalls the unforgettable night as one that still profoundly stays with her:
I was in a pivotal moment when I was trying to decide whether I should put my foot down. They each told their individual stories about being in my exact position and [doing so] is what led them to being where there are today. 'I'm sitting at this table with these boss-ass women, and I'm being hesitant about whether I should put my foot down about something that clearly isn't right for me?' If I'm even questioning this, then I don't deserve to be at this table and I'll never get to their level.
She says in that moment, she realized what she needed to do to channel her idols and pave her path. "It was an enlightening moment for me. I was like, 'If I want to be a boss-ass b*tch, I have to be boss-ass b*tch things,'" Rae explains.
She's already taking on the boss-ass b*tch persona, ready to dominate show business and hungry for more. "I want to work with other artists and storytellers, continue to produce, go into film," she says. "I just love the challenge of telling stories... just highlight women in minority voices."
But what separates Rae from the pack is her unapologetic ownership of who she is. "[My awkwardness] is not going anywhere," she says. "It is what it is. The show is about journey and growing confident in your insecurities." That attitude in itself captures the essence of a boss-ass b*tch.