Issa Rae's Golden Globes Outfit Was Dramatic In The Best Possible Way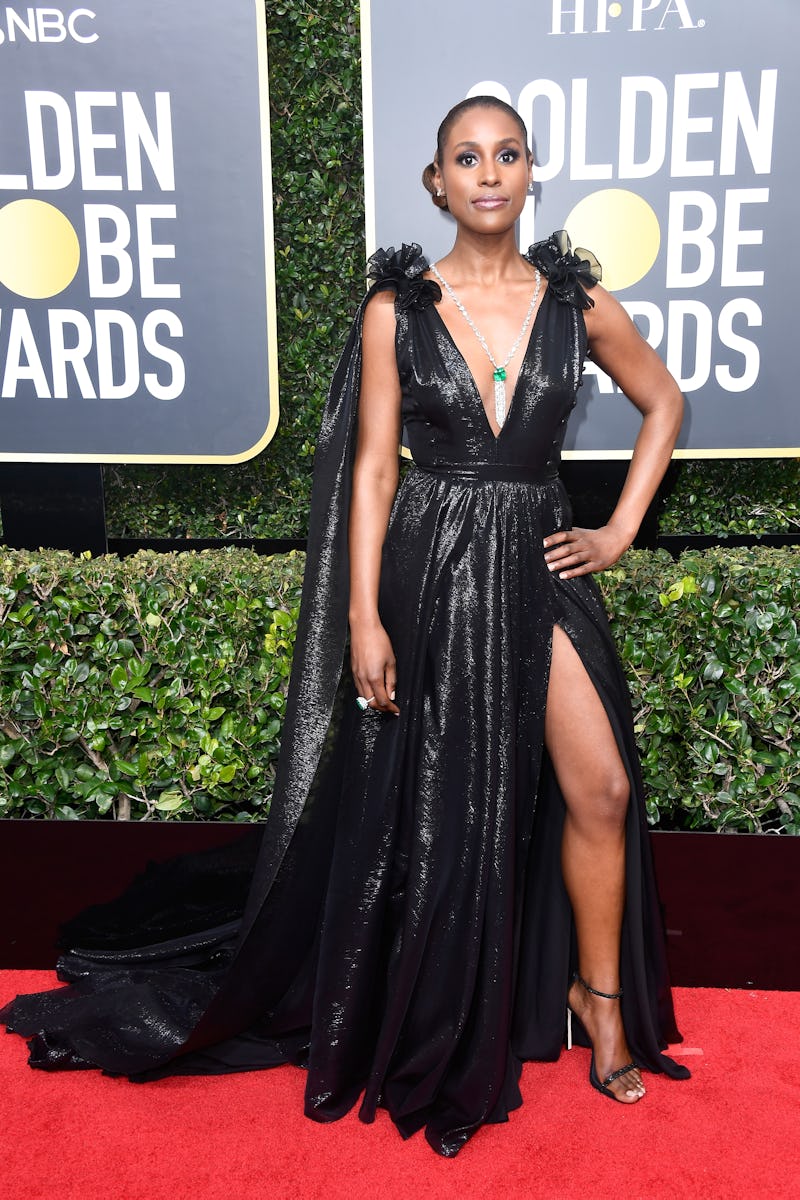 Frazer Harrison/Getty Images Entertainment/Getty Images
In an unsurprisingly badass move, Issa Rae's 2018 Golden Globes outfit was about much more than just looking glam on the red carpet. Like many other stars in attendance at the 2018 Golden Globes, Rae wore black in solidarity with the Time's Up anti-harassment movement. The star wore a black gown with gathered tulle at the shoulders, along with a killer thigh-high split in the skirt.
"In a good way, it just feels like the death of old Hollywood," Rae told ELLE at the BAFTA Tea Party in Los Angeles on Saturday. "Being an African American woman, I can't help but think about our funerals, which are kind of lit. Obviously, there are points of grieving, but afterwards it's like a celebration of life, and you kind of turn up, and I feel like that's what this will be. It's like a celebration."
Beyond this unprecedented moment of red carpet solidarity, Rae has plenty to celebrate this year. The second season of her show, HBO's Insecure, debuted to critical acclaim and sparked plenty of controversial conversations — and her work on the show earned her a 2018 Golden Globe nomination for Best Performance by an Actress in a Television Series—Musical or Comedy.
Rae is one of several women of color nominated for a Globe, in what is one of the show's most diverse nominee pool yet: Octavia Spencer, Hong Chau, and Mary J. Blige represent three of five nominees in the Best Performance by an Actress in a Supporting Role in any Motion Picture category, and actors of color like Sterling K. Brown, Denzel Washington, Raphael Saadiq, and Robert Lopez are nominated this year as well, to name a few.
Beyond being one of the shining stars in a growing pool of actors of color being recognized for their work, Rae spent the previous year crushing outside projects as well. In September 2017, Rae was announced as a CoverGirl brand ambassador, which represented a major moment for women of color who've demanded more diversity from the beauty industry.
"They're making it a priority to include different skin tones," Rae told Bustle in a November 2017 interview. "Seeing the team behind it, knowing that they practice what they preach, and making this available to every woman. I think it's one thing to have different shades, but you need to reflect those different shades in your marketing. What drew me to this was seeing the wide range of people represented."
2018 will certainly hold some major moments for Rae as well: HBO has reportedly commissioned three new projects from the star.
Rae's part in the history-making all-black 2018 Golden Globes red carpet was something that she never thought twice about, telling ELLE that she "1000 per cent, without a doubt," would be wearing black for the event. For Rae, showing solidarity with her fellow actors represents a vocal, outward change — but she also recognizes that the movement is about much more than one outfit choice.
"There's a new resolve, and it feels like even with the action points that we have with the legal defense fund, and making agencies employ more women in positions of power, that it feels like this can actually get done," Rae told ELLE. "So it's more than just a color. It's more than just wearing black. We're about that action."