Ivana Trump Insists Donald Is A "Stable Genius" Who Isn't Racist Or Sexist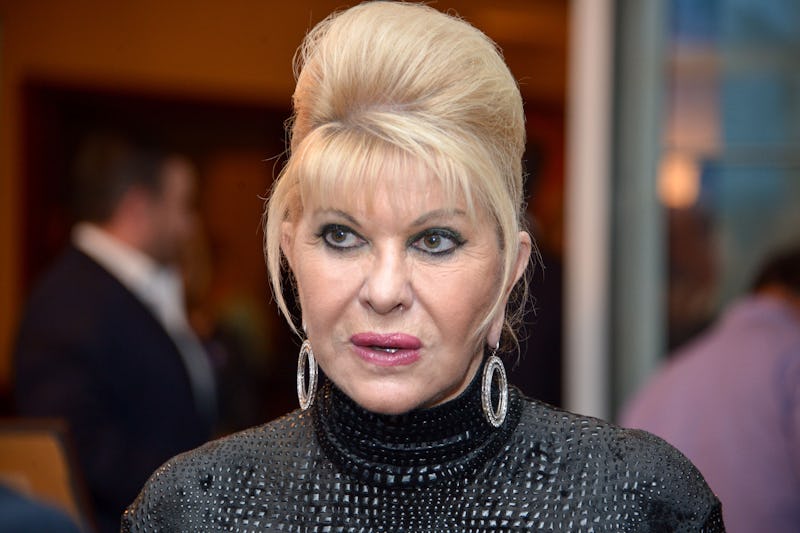 Grant Lamos IV/Getty Images Entertainment/Getty Images
On Monday's episode of the British morning show Good Morning Britain, Ivana Trump insisted Donald Trump is a "stable genius" and is neither racist nor sexist. Her comments come after a particularly controversial week for the president, in which he has made several comments that have drawn ire and scrutiny.
Ivana is the president's first wife; they married in 1977 and divorced in 1992. The couple had three children together: Donald Jr., Ivanka, and Eric. When she appeared on Good Morning Britain, Trump said that she still keeps in touch with the president, regularly speaking with him by telephone.
Hosts Piers Morgan and Susanna Reid opened the show by asking Ivana if she could believe her ex-husband had become president of the United States. In response, Ivana insisted that when she found out Trump was going to run for president, she knew he would take it seriously.
As Ivana put it, "When Donald sets [his] mind on something, he is going to do it," and further noted:
Was I shocked that he won? Yes. Everybody were [sic]. But America voted, and he's our president. And you like it or leave it.
The show's hosts then delved into the president's recent controversial remarks, first touching on President Trump's reported comment last week that referred to several Latin American and African nations as "sh*thole" countries (the president has denied he used this language).
On the topic, Morgan asked the president's ex-wife, "Some of his comments in recent weeks ... they're borderline racist, Ivana, whichever way you look at it, they're inflammatory and they're unpleasant. Is he a racist?"
Ivana responded and insisted that she does not believe the president is racist, saying:
I don't think he's racist at all. You know sometimes he says these which are silly, or he doesn't really mean them, or something like that. But he's definitely not racist, I'm sure of that.
The hosts then pressed Ivana, asking why the president would make such inflammatory remarks in the first place. Ivana responded by indicating she was not sure.
Who knows? He has so many people left and right telling him what to say and what not to say and things like that and sometimes maybe it gets confusing. I honestly don't know.
Later on in the interview, Reid touched on the many allegations of sexism against the president. Weiss briefly commented on why many believe that the president does not respect women, and then pointedly asked Ivana:
You were married to him. How does he treat women? And how did he treat you?
Ivana insisted that her ex-husband always treated her well, saying, "Well he treated me fantastic, I never had a problem ... Donald was always polite, always outspoken, always providing." She also added that she believed lawyers caused their divorce to have a "nasty" connotation and that, as soon as the divorce was finalized, she and Trump became friends.
Finally, when returning from commercial break, the interview briefly focused on Michael Wolff's controversial new book about the Trump administration, Fire and Fury, in which he characterized the president as unstable. When asked for her reaction to this characterization, Ivana defended her ex-husband.
"I don't think Donald is going to do anything irrational," she said, adding, "he's a stable genius, definitely" when asked if the president's own (and oft-mocked) characterization of himself was accurate.
Overall, Ivana very firmly defended the president, denying and downplaying many recent characterizations of him. Its is quite clear that the president's first wife is staunchly standing by him.