Ivanka & Jared Can't Even Hide At Home From Protests Against Trump's Immigration Policies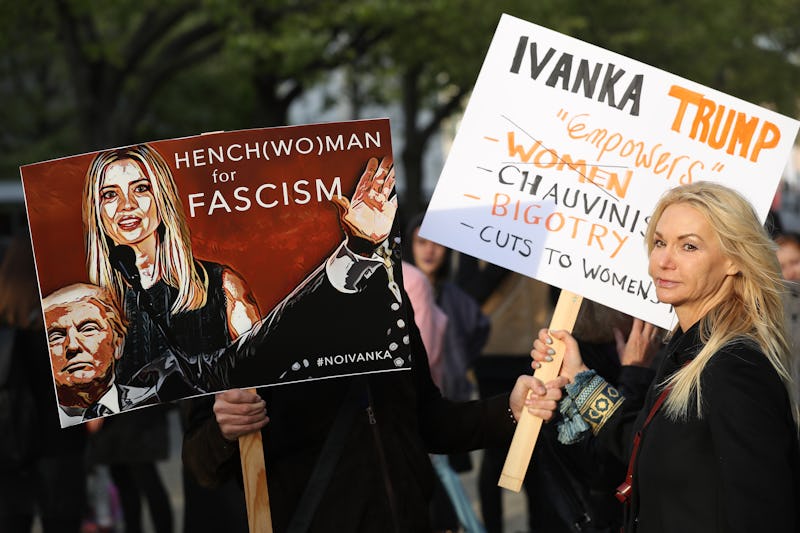 Sean Gallup/Getty Images News/Getty Images
A number of Ivanka Trump and Jared Kushner's neighbors aren't feeling quite so neighborly toward the couple, who both work as senior advisors to the president, anymore. Dozens of Ivanka's neighbors protested her father's immigration policies outside the couple's Washington D.C. home on Wednesday, the Daily Mail was the first to report.
Residents of Ivanka and Kushner's upscale Kalorama neighborhood gathered outside the couple's house with signs that read "Love thy neighbor," "You own this. Tell Daddy, enough!" and "Reunited" one day after the Trump administration had announced it had failed to meet a court deadline to reunite more than a hundred migrant children under the age of 5 with their parents.
Justice Department lawyers revealed Tuesday that the Trump administration had managed to reunite only 38 of the 102 migrant children a federal judge had ordered they return to their parents by the court's deadline. The agency said the majority of the 63 still separated migrant children could not be reunited with their parents due to either safety concerns of because officials had not finished verifying the identities of the parents.
While Ivanka's neighborhood is home to a number of politicians and government officials, one of Ivanka's protesting neighbors told the Daily Mail this was the first time residents had been so outraged by a political issue that they'd gathered in protest outside someone's home.
"This is a first," Riley Temple told the Daily Mail. "These were all Kalorama neighbors. Under normal circumstances we would never protest outside a home. But these are not normal circumstances." Temple said Kalorama residents had decided to stop being polite and bring their protest to Ivanka and Kushner's front lawn because they felt the couple had "shattered civility." He called the Trump administration's policy of separating migrant families and its inability to reunite parents and children "crimes against humanity."
"We didn't want our customary silence and customary respectful distance to be seen, in any way, as assent to these policies," he said.
But while this may be the first time Ivanka's neighbors have protested her, this isn't the first time Ivanka and Kushner will have found protesters gathered outside their home. Last year, hundreds of protesters held an LGBTQ dance party directly outside the couple's home after the Trump administration issued an executive order rolling back Obama-era protections. According to the Huffington Post, a number of protesters were angered over Ivanka's inaction despite earlier claims of being an "LGBTQ ally."
Nor is Wednesday's protest the first time Ivanka has found herself the target of outraged immigration protestors. Some one hundred protesters greeted Ivanka in Syracuse, New York, when she attended a discussion on workforce development programs at the Institute of Technology at Central High School earlier this week. Protestors there held sign that read "Shame!" and "Ivanka, do you know where their children are?" in reference to the thousands of migrant children the Trump administration had taken from their parents at the border as part of its "zero tolerance" immigration policy.
Protesters also greeted Ivanka in June when she attended a private fundraising event in California's Fresno County to help raise money for a PAC that was started by Vice President Mike Pence and Rep. Kevin McCarthy to support local Republican candidates.
In fact, Ivanka and Kushner are among a handful of Trump administration officials who've found themselves confronted by critics, protestors and/or hecklers in public. Former EPA Administrator Scott Pruitt was confronted earlier this month (just days before he announced his resignation) at a Washington, D.C. eatery by a woman who demanded he resign. Before that White House Press Secretary Sarah Huckabee Sanders was asked to leave a Virginia restaurant whose owner and staff took offense to many of Trump's policies and comments and Homeland Security Secretary Kirstjen Nielsen was heckled at a Mexican eatery in Washington.
As protests against individual Trump administration members continue to mount, it appears that Ivanka and Kushner may only be able to find a moment of respite at their lights-out spin classes.