Ivanka Might've Been Planning Her Own Africa Trump Before Melania Announced Hers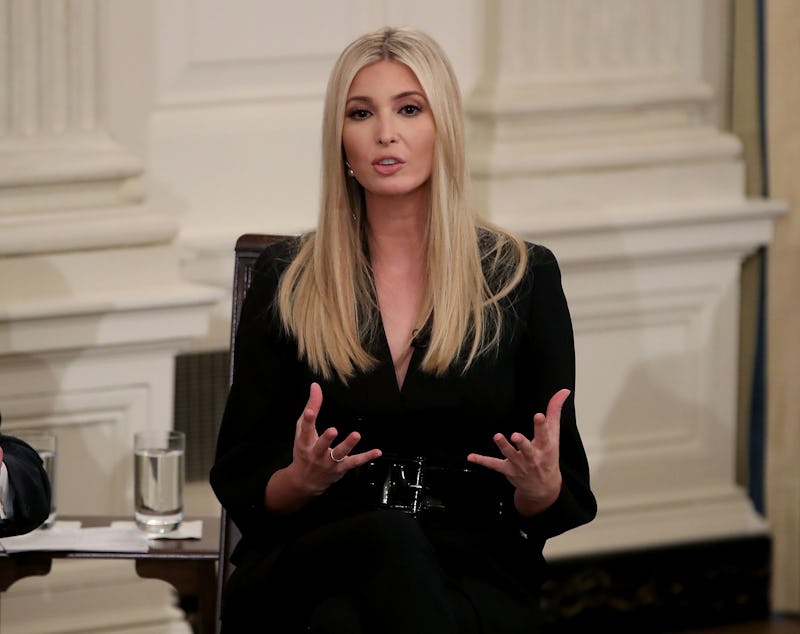 Mark Wilson/Getty Images News/Getty Images
While most of the country was focused on the vote to confirm Brett Kavanaugh to the Supreme Court, Melania Trump capped off her trip to Africa. But according to a new report from The New York Times published Sunday, an Ivanka Trump Africa trip was being planned before Melania announced hers.
In her first major solo trip, Melania spent five days traveling around the continent with stops in Egypt, Kenya, Malawi, and Ghana, according to CNN. The trip ended with an exclusive television special with 20/20 called Being Melania: The First Lady. All in all, the trip generated lots of press for the notoriously private first lady and her "Be Best" initiative.
In contrast, Ivanka's supposed trip will focus on her interest in economic empowerment. Reportedly, according to The New York Times, Ivanka was invited on a trip to Africa by South Carolina Sen. Lindsey Graham months ago. (The report didn't give a specific date for the invitation.) Ivanka's visit to the continent will apparently happen in January.
Melania's spokeswoman said the West Wing, where Ivanka works, has a "positive working relationship" with the first lady's office. "The office of the first lady is focused on her initiatives and works independently, but we often collaborate on a variety of projects with the West Wing and have a very positive working relationship," Stephanie Grisham told the Times. Bustle reached out to the White House for additional comment.
Melania and Ivanka's duties within the Trump administration are very different. Ivanka has largely focused on policy — it's fitting that her trip would focus on economic empowerment. Her White House bio says her areas of focus include education and "education and economic empowerment of women and their families" among others. (Ivanka's husband Jared Kushner also has a large portfolio of duties.)
In contrast, Melania has focused on more traditional duties of the first lady. She frequently joined President Trump on trips to support, such as visiting the synagogue in Pittsburgh where 11 Jewish people were shot during their religious service.
Their differing duties within the administration haven't damaged their relationship, according to one Times source. "The first lady and Ivanka have a great relationship. As strong independent women, each has their own unique portfolio but they always support each another personally and professionally," an anonymous source told the Times.
Like other modern first ladies, Melania also debuted her own social issues initiative: "Be Best," which aims to help children affected by bullying and well-being, social media abuse as well as opioid addiction prevention.
The October trip to Africa wasn't the first trip in support of the "Be Best" campaign. That was during her trip to the United Kingdom with President Trump in July. During the London trip, Melania visited children at school and met with veterans. "In London, one of her solo events will be tied to Be Best, but it is not the focus of the visit," Melania's spokesperson, Stephanie Grisham, told Bustle in July.
Melania hosted a chat with children and veterans at the Royal Hospital Chelsea. (It's not a hospital, but rather a retirement home for veterans, according to CNN.)
One student asked Melania, "Why is your motto 'Be Best'?"
Melania said she hoped to help others be kind. "I want to help children be best in everything that they do, to be best at whatever your passion is, where you're focused -- everything in life, really ... and be best with each other, to be kind," she said.