Everything You Need To Know About Melania Trump's Huge "Be Best" Initiative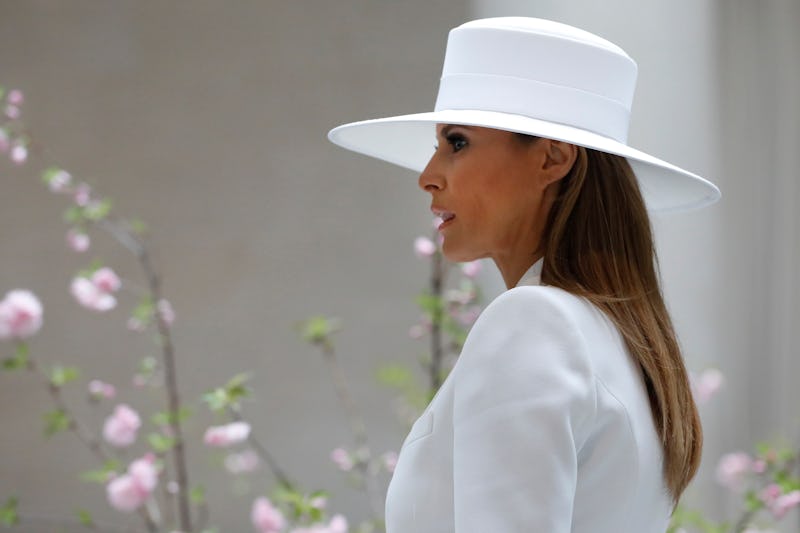 Aaron P. Bernstein/Getty Images News/Getty Images
In a news conference Monday afternoon in the White House Rose Garden, Melania Trump announced "Be Best," her formal platform as First Lady. The First Lady announced the campaign will have three "pillars" of focus regarding children: well-being, social media abuse and opioid addiction prevention.
"I'm very excited to announce Be Best, an awareness campaign dedicated to the most valuable and fragile among us, our children," Melania said.
Last year, Melania said she hoped to work on children's well-being, but had been vague on the specifics. This announcement continues the work that Melania has been slowly rolling out since moving to the East Wing.
In March, Melania hosted executives from social media companies like Twitter and Snap (of Snapchat) to discuss cyberbullying. She also hosted young children at the White House in April for a "listening session" to discuss issues kids face at home and at school.
"As a mother and as first lady, it concerns me that in today's fast-paced and ever-connected world, children can be less prepared to express or manage their emotions and oftentimes turn to forms of destructive or addictive behavior such as bullying, drug addiction or even suicide," she said.
Her announcement marks a change from Melania's thus-far understated role at the Trump White House. She's recently broached into public life with her attendance at the first official state visit of the Trump presidency by French President Emmanuel Macron and his wife Brigitte Macron; and with her attendance at the funeral of Barbara Bush in Houston last month.
The announcement marks a year of research for the First Lady before choosing her formal platform.
"I feel strongly that as adults we can and should be best at educating our children about the importance of a healthy and balanced life," Melania said during the Rose Garden press conference.
Melania's announcement comes the same day as a CNN poll that shows Melania's approval rating is 57 percent, which is higher favorability rating than any earned by her husband, President Donald Trump, in the poll's history going back to 1999, CNN reported.
Trump was at the Rose Garden to support Melania, and gave brief remarks afterward. "Your care and compassion for our nation's children inspires us all," he said, before signing a proclamation announcing May 7 as Be Best Day.
Melania's interest in the opioid epidemic started during her husband's campaign, she said.
Melania's platform for children's well-being joins a tradition of first ladies who want to better the country through combatting social issues and the softer parts of domestic policy. Her work joins Michelle Obama's platform for exercise and healthy eating, Laura Bush's campaigns for early childhood education and literacy, and Lady Bird Johnson's quest to beautify America.
"Adults can provide them the support and tools they need to grow up to be happy and productive adults who contribute positively to society and their global communities," Melania said during her speech on Monday.
The First Lady appeared to be eager to have a platform to help children grow from any missteps. "Every child should know it is safe to make mistakes," Melania said.
The platform of a first lady isn't codified, according to CNN, but is usually an opportunity for the political spouse to use their personal brand and capital to elevate a cause close to their heart. It makes sense for Melania, someone who waited to move to Washington, D.C. so as not to disrupt her young child's life, would chose a cause like childhood emotional health.
"I do believe children should be both seen and heard," Melania said. "And it is our responsibility as adults to educate and remind them that when they are using their voices — whether verbally or online — they must choose their words wisely and speak with respect and compassion."