Ivanka Trump Wished Melania A Happy Birthday & It Was Short And Sweet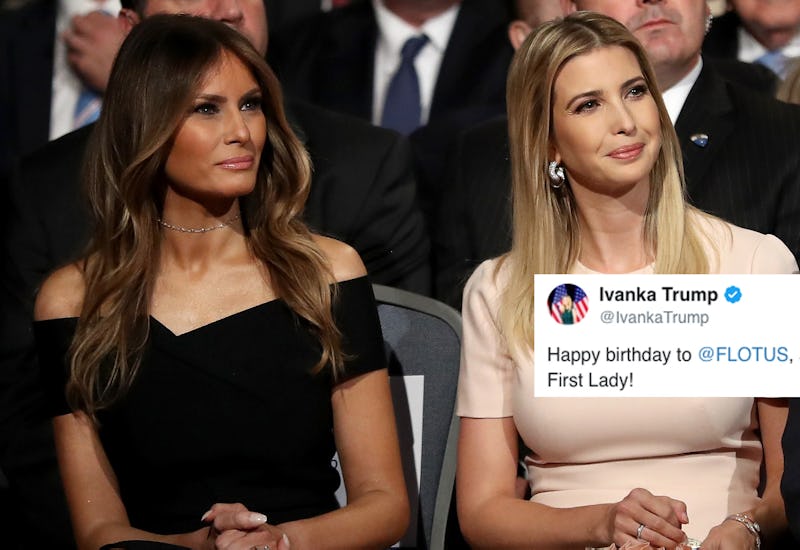 Joe Raedle/Getty Images News/Getty Images
Melania Trump celebrated her 48th birthday Thursday, and the first family is letting their sentiments be known. First daughter and White House adviser Ivanka Trump tweeted Melania a happy birthday — and she kept it short and sweet.
Ivanka wrote, "Happy birthday to @FLOTUS, an incredible wife, mother and First Lady!" At just 69 characters, Ivanka could repeat her tweet three times and still not quite hit Twitter's 240-character limit. Still, there's nothing wrong with a bit of brevity.
Last year, Ivanka sent out a birthday tweet with a little more word heft. On April 26, 2016, she wrote, "Happy Birthday to our First Lady (and my incredible step-mom!) Melania Trump A wonderful example of kindness and grace for us all! @FLOTUS." She also included a photo of Melania smiling and waving during Trump's inauguration ceremonies.
It remains unknown whether or not Trump's oldest daughter has a gift in store for Melania, but the president insinuated he himself does not. During an interview Thursday morning on Fox & Friends, Trump said he, "You know, I'm very busy to be running out looking for presents, OK?" Trump did say he got "her a beautiful card and some beautiful flowers."
So far, Ivanka is the only Trump family member to tweet a happy birthday message to Melania. That includes the tweet-happy Trump himself, though of course the day is still young.
There's been some drama in the past over Trump birthday wishes on social media. Newsweek noted last year that no one from the Trump family sent any birthday wishes to Tiffany — Trump's one daughter from his brief marriage to Marla Maples.
More to come...