It's Time To Bid The Ivanka Trump Brand Website A Final Farewell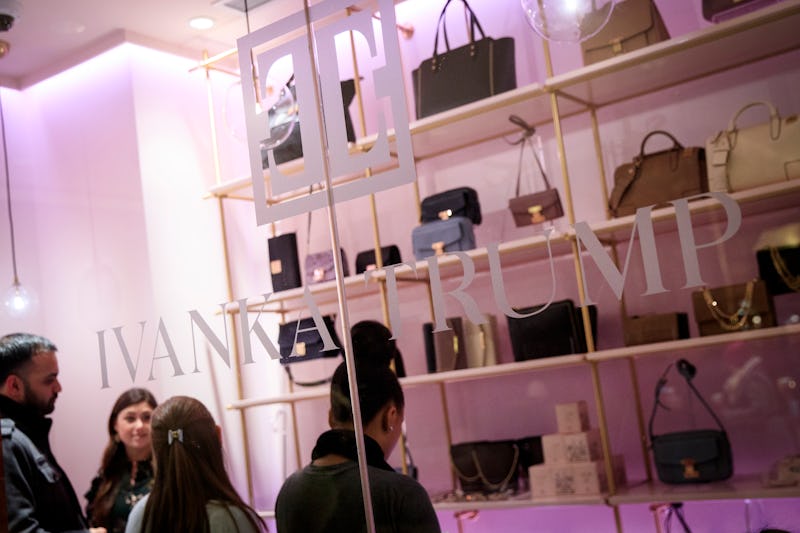 Drew Angerer/Getty Images News/Getty Images
One portion of the Trump brand went a little dim today. On Thursday, Aug. 24, the Ivanka Trump brand website officially closed. The brand's goodbye-message on www.ivankatrump.com is set over a swoon-y Instagram collage of millennial pink, Central Park, shoes, and aspirational lifestyle content.
The brand's statement said the Ivanka Trump HQ team was grateful for "this incredible community of women" who buy expensive heels, accessories, and dresses from department stores.
Here's the brand's full statement:
Our team would like to extend a sincere thanks to all of our fans and customers. It has been an honor to build this incredible community of women, and we are very proud of the content and product we delivered. Most importantly, we cultivated amazing partnerships and friendships during the life of the brand. Thank you for being a part of this journey with us.
Love, ITHQ
In late July, Trump announced the shuttering of her fashion brand, which had drawn numerous criticisms as an avenue for conflicts of interest with her new job in her father's administration. "When we first started this brand, no one could have predicted the success that we would achieve," Trump told CNN in a statement. "After 17 months in Washington, I do not know when or if I will ever return to the business, but I do know that my focus for the foreseeable future will be the work I am doing here in Washington, so making this decision now is the only fair outcome for my team and partners."
At the beginning of August, the Ivanka Trump brand's only in-person store was shut down and transformed into a Trump-branded store in her father's Trump Tower in Manhattan.
During her time in Washington, Ivanka Trump's brand had been dropped from retailers like Nordstrom and Hudson's Bay. Stores that carried Ivanka Trump merchandise were targeted by the Grab Your Wallet campaign.
When Nordstrom announced it would no longer carry Ivanka Trump products, the store said it was due to poor sales numbers. "We've said all along we make buying decisions based on performance. In this case, based on the brand's performance, we've decided not to buy it for this season," Nordstrom said in a statement to The New York Times back in February.
The Ivanka Trump brand hasn't only been in the news because of stateside sales. In July 2017, a labor watchdog nonprofit accused the Chinese factory that produced the Ivanka Trump brand of employing unsafe working conditions.
The report by China Labor Watch alleged that workers at the Huajian work 15-hour days with two days off each month. The report also alleged that workers experienced "significant unethical underpayment."
Then-Ivanka Trump President Abigail Klem said in a statement in July 2017 that the company hadn't used that factory since March. "Our licensee works with many footwear production factories and all factories are required to operate within strict social compliance regulations," the statement to USA Today read.
With the brand's website officially closed and the only physical location transformed into a Trump store, it's unclear how much Ivanka Trump brand product is still out there. But take heart, there are still a few lingering places to find the brand's heels, accessories and dresses — if you're willing to look.