Ivanka Trump's Use Of Her Personal Email Will Reportedly Be Investigated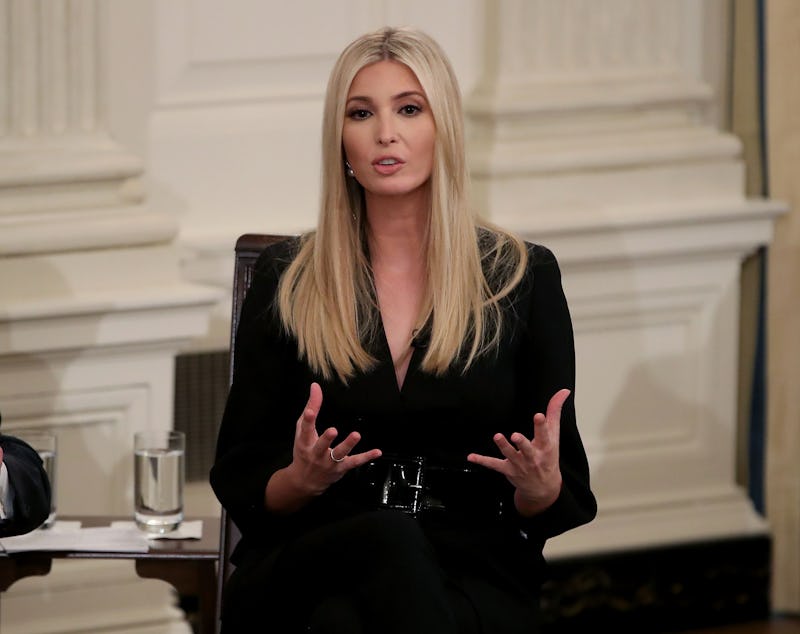 Mark Wilson/Getty Images News/Getty Images
Less than 24 hours after news broke that the first daughter used her private email for government business — much in the same way Secretary of State Hillary Clinton once did — congressional investigations are already stirring. Reportedly, House Dems plan to investigate Ivanka Trump's private email usage to see if she broke federal law, a Democratic staffer told D.C.-based media outlets including The Washington Post.
"We plan to continue our investigation of the Presidential Records Act and Federal Records Act, and we want to know if Ivanka complied with the law," the staffer reportedly said.
Bustle has reached out to the office of Rep. Elijah Cummings, the top Democrat on the House Oversight Committee — where The Guardian reported the investigation statement originated — as well as the White House for comment. The House Oversight Committee would likely oversee any possible investigation.
The Post first reported Monday that Trump had emailed White House staff, her own assistants, and even members of the president's cabinet from a personal domain that she shared with her husband "throughout much of 2017."
A spokesperson for Trump's lawyer downplayed the seriousness of her actions in a statement to The Post. "While transitioning into government, after she was given an official account but until the White House provided her the same guidance they had given others who started before she did, Ms. Trump sometimes used her personal account, almost always for logistics and scheduling concerning her family," the statement read.
Trump's account, with the domain name ijkfamily.com, was created in 2016 when the couple decided to move to Washington. The emails are served by Microsoft but pass through The Trump Organization to be "screened" for viruses, The Post reported.
The laws that Congress would be investigating Trump for potentially breaking are the Presidential Records Act and Federal Records Act, which require government workers to use their official email for government business — or forward correspondence to their official account within 20 days so that all their emails are stored and archived properly.
The extent to which Trump used her personal email while in the White House came to light as a result of a public records request from American Oversight, a liberal watchdog group. The group's executive director, Austin Evers, wrote a letter calling for an investigation to both the House Oversight Committee and the Senate Judiciary Committee.
"The parallels between Ms. Trump's conduct and that of Secretary Clinton are inescapable," Evers wrote in his letter, which was obtained by The Post. "In both her use of personal email and post-discovery preservation efforts, Ms. Trump appears to have done exactly what Secretary Clinton did — conduct over which President Trump and many members of Congress regularly lambasted Secretary Clinton and which, they asserted, demonstrated her unfitness for office."
American Oversight published further statements on Monday after the news became public, and also published some of the excerpts from Trump's emails that it had received from the FOIA request.
So far, none of those released feature Clinton's signature requests for help with the fax machine.