Here's One Way Ivanka Trump Keeps Her Image So Controlled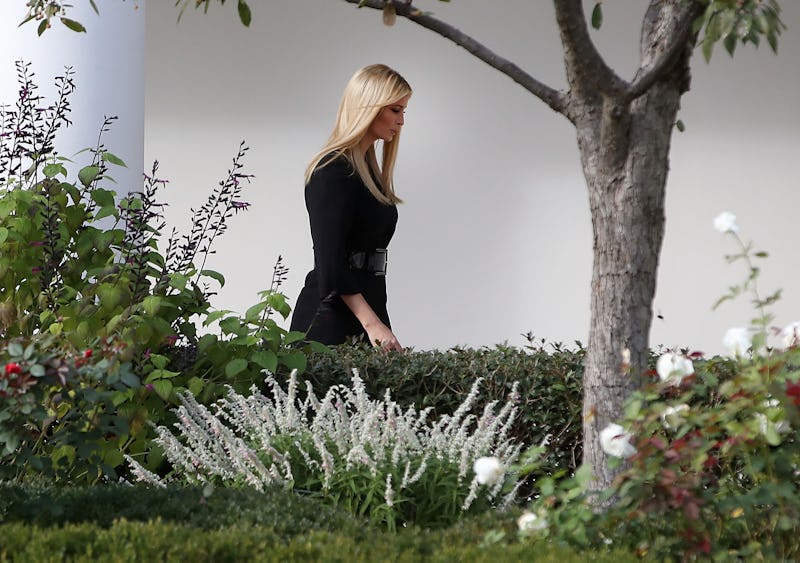 Mark Wilson/Getty Images News/Getty Images
The many Ivanka Trump headlines popping up on Wednesday morning stemmed from one interview in Idaho, where the first daughter visited an elementary school with Apple CEO Tim Cook to see "innovation in action." But there was none of the usual fanfare; no local leaders — or media — was invited. Only the main Idaho paper could attend part of the visit, and even they couldn't ask questions. Thanks to restrictions for local media, Ivanka Trump's Idaho visit with ABC allowed her to completely control her image.
The Idaho Statesman reported that they were invited to send one reporter and one photographer on Monday morning — with a ban on questions. That's one day before Cook and Trump took their tour of Wilder Elementary School. The paper said it encouraged the White House to allow other outlets to attend, too, but in the end, the rest were forced to report from across the street. Bustle reached out to the White House for comment on why there were such tight media restrictions.
Following the tour, the ABC interview began and even The Statesman journalists were forced to go. "The ABC thing was Ivanka's thing," Wilder School District Superintendent Jeff Dillon told the paper. Dillon also serves as the middle and high school principal.
Dillon denied the visit was purely a photo-op, though. "I think it was much more than a photo op," Dillon told The Statesman. "Because if it was just that, they would not have had a clue what we are doing. But they were able to ask very good questions one-on-one, and really understand what was happening when they were talking with students and engaging with students."
He did acknowledge to The Statesman, though, that the visit was not typical. The educator said he was "both surprised and not surprised" by it, the paper reported. Dillon said that usually a high-profile figure would make a public appearance and give a statement before any closed-door event.
The media restrictions allowed Trump to avoid protesters, who were out in force on Tuesday in the small town of 1700. "Don't gas babies," one group chanted outside of the school in reference to border officers setting off tear gas near young children at the border with Mexico in San Diego on Sunday.
Trump did address that issue in the ABC interview — but on her own terms and without being confronted by activists. Members of the group PODER of Idaho were openly critical of the first daughter outside the school, which has a large Latino population.
"The mere presence of Ivanka Trump in a place like Wilder is completely disgusting and infuriating," group member Melissa Morales told The Statesman. "Whether she likes it or not she is representative of this administration."
And in her interview, she was. "I think, like any other person with a heart, it's devastating to see the images and seeing children put at risk," Trump told ABC's Deborah Roberts. "Running towards the border is heartbreaking. But there are people in the caravan who are not so innocent. ... [The president] has to protect our country's security."
Whereas the first daughter — with these media restrictions — seems to be thinking about her image.